September 28, 2010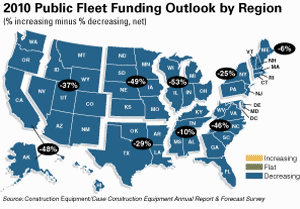 State fleets knew it was coming; local fleets appear to have been blindsided by the significant cuts their fleet budgets were dealt in 2009. State fleets forecast a decline in 2009 fleet funding with a net of -52 percent (14 percent increasing minus 66 percent declining), then reported a net of -60 percent (9 percent minus 69 percent). Local fleets, on the other hand, had a net of 21 percent (18 percent increasing minus 39 percent decreasing) for their 2009 forecast and reported an actual 2009 net of -50 percent (8 percent minus 58 percent).
More forecasts: Economic, Contractors, Nonconstruction, Rental Dealers, Distributors.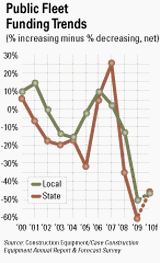 Governments used money from the stimulus package to staunch bleeding budgets, and construction projects benefited, reported 22 percent of public fleets. Not much money trickled into fleet management, however. Only 2.6 percent of fleets reported using stimulus money to rent, lease or buy construction equipment. Fleets were mildly successful (4.7 percent), though, at applying stimulus funds to upgrade machines for emissions compliance.
Managers maintained fleet sizes last year, with 72 percent saying the number of machines in their fleets had stayed the same. About 12 percent reported an increase, and 15 percent reported a decrease for a net of -3 percent. Forecasts for this year are identical for those keeping the same number of machines, but the net falls to -10 percent (9 percent increasing minus 19 percent decreasing).
Replacement rates are also down. In 2009, public fleets reported a machine-replacement rate of 5.3 percent, the lowest in recent history. That will decline further this year, with a replacement rate of 4.8 forecast by public fleets.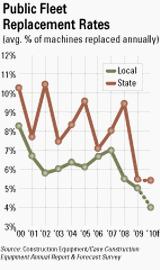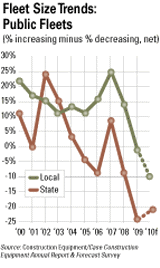 Overall government fleet condition continues to slide. In 2007, 49 percent said fleets were in "excellent" or "very good" shape. In 2008, that percent dipped to 47 percent, and last year 44 percent of government-fleet managers said their fleets were in this condition. The bottom tier, "fair" or "poor" condition, remains at 13 percent.