September 28, 2010
All three nonconstruction vocations were down last year, with expectations limited for 2010. Materials producer were hardest hit, but utilities reported a decent 2009 and some optimism for 2010. What follows is a detailed look at the results for each vocation.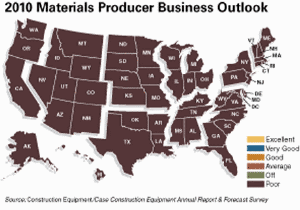 Materials producers
Materials producers have seen business-year ratings declining since 2005, when they reported a "good" year. Each year since has dropped a level, with 2008 hitting the bottom. Neither 2009 nor 2010 show signs of upturn, with both actual and forecast at "poor." 
Work volume trends have also fallen short of expectations since 2005, with each year's actuals falling below expectations. These fleet managers began to sense declines in 2007, forecasting a down year for 2008. It's been simply worse each year since. Last year, 10 percent forecast contract volume to increase, but 64 percent forecast decreases, for a net of -54, far below the net of -12 percent expected (21 percent for an increase minus 33 percent for a decrease).
More forecasts: Economic, Contractors, Government, Rental Dealers, Distributors.
With contract volume declines overwhelming the market, competition has intensified: 80 percent say the market in which they compete is "very" or "intensely" competitive. In response, 43 percent of material producing firms have reduced total workforce. Only 25 percent have reduced service and maintenance personnel.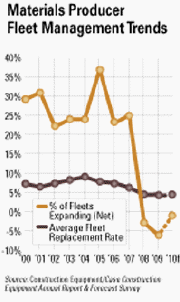 Fleet size trends dipped into negative numbers in 2008, although forecasts stayed positive. Not this time. In 2009, fleet size (measured in number of machines) increased for 14 percent of respondents and decreased for 20 percent for a net of -6 percent. This compares to an projection of 3 percent made late in 2008. The projection for 2010, however, stays negative at -1 with 10 percent expecting to grow fleet and 11 percent expecting to downsize.
Fleet-replacement rates, after a high of 9 percent in 2004, have not stopped falling. In 2009, material producers replaced 4.1 percent of their fleets, compared to an anticipated rate of 5.6 percent. Their outlook for 2010 is hopeful, expecting to replace 4.7 percent of their fleets. Still, this rate is half the peak rate for the past decade.
These negative trends in replacement rate and, to a lesser degree, fleet size show in fleet condition reports. The percentage of fleet managers reporting "excellent" fleet condition is down to 3 percent, and 29 percent label it "very good." On the other hand, fewer managers put their fleet condition at the bottom: 13 percent rated it "fair" or "poor" in 2009, down from 16 percent in 2008.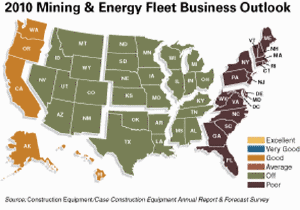 Mining and energy
Mining and energy respondents expected 2009 to be level compared to 2008 following the economic downturn. But it didn't work out that way for the nation, nor did it for mining and energy firms. Fleet managers in this vocation rated 2009 "poor," just like most every other vocation surveyed this year.
For 2010, managers see a slight improvement in their firms' business prospects but still forecast a "poor" year. The notable exception is the Pacific region, which expects this year to be "good."
The trend in work volume (measured in machine hours) was down for the second consecutive year in 2009. Fifteen percent said volume was up in 2009, but 57 percent said it had decreased for a net of -42 percent. The anticipated volume trend for 2009 was 13 percent. Looking to this year, the forecast is 8 percent, with 29 percent expected more work and 21 expecting less.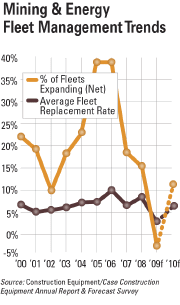 Mining and energy fleets recorded a fleet size trend of -3 percent (17 percent increasing minus 20 percent decreasing) in 2009 against a forecast of 22 percent. For this year, fleets are pojected to trend up in size with a net forecast of 12 percent (20 percent minus 8 percent).
The rate at which managers replace machines had rebounded in 2008 a bit but then more than halved itself in 2009 to 3.6 percent. That rate will bounce back in 2010, managers expect, to 6.4 percent. 
Fleet condition last year was rated as "excellent" or "very good" by 45 percent of mining and energy fleet managers. This figure mirrors 2008 responses, which were down significantly from 2007. The percentage of fleets rated as "fair" or "poor" declined slightly compared to 2008: 16 percent compared to 18 percent.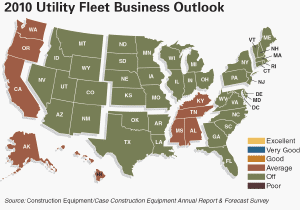 Utilities
Equipment-owning firms involved in utilities returned the highest expectations for 2009, in the face of a dismal national economy. Unfortunately, 2009 turned out just as poorly for utilities as it did for the rest of the vocations surveyed. Although the forecast was "good," the business year rating was "poor."
Lesson learned. The 2010 outlook is tempered, although still more positive than the other sectors, with fleets projecting an "off" year.
Work volume trends, measured in machine hours, in 2009 repeated the negative showing returned in 2008, in spite of continued optimism in forecasts. Fleet managers in this sector projected a net of 13 percent for 2009 (30 percent expected volume to increase minus 17 expecting a decrease). Actual data, however, showed 40 percent reporting decreased volume and 14 percent reporting increased for a net of -26 percent. Despite the down year, managers are mirroring their forecast in 2010, returning a net of 10 percent. Some 26 percent say volume will increase and 16 percent say it will decrease.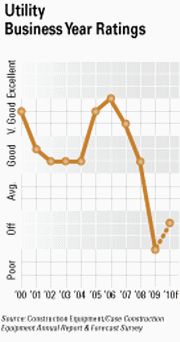 On the fleet side, however, utilities managers have reported fleet expansion trends at a decreasing rate since 2007. Both 2008 and 2009 were below expectations, with the 2009 net of -3 percent falling short of the projected 14 percent. Some 23 percent expected to increase fleet size in 2009, minus 9 percent who expected to decrease. The 2009 showed, though, that 12 percent decreased fleet and 9 increased. That said, nearly eight in 10 fleets stayed the same size.
 
For 2010, 84 percent expect fleet size to be stable, 13 expect to increase fleet size and 3 expect to decrease. The net is 10 percent.
The projected replacement rate for 2010 is 7.4 percent. This is similar to the actual rate reported for 2009, which was off from the 10 percent projected. 
Utility fleets are in great shape, according to managers. More than half, 52 percent, report fleet condition as "excellent" or "very good." This is in line with historical reports, so utilities seem to be maintaining fleet quality during the downturn. Only 8 percent report fleets in "fair" or "poor" condition.