October 10, 2013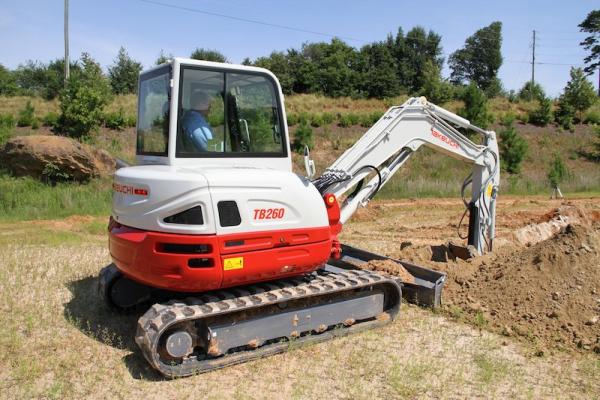 According to Takeuchi US, perhaps the most noticeable aspect of its new TB260 compact hydraulic excavator is its exterior appearance, which "has been totally redesigned and updated to provide a more modern appearance, better visibility, and improved service access." The new automotive-styled interior, says Takeuchi, includes a multi-function monitor and switch panel, electronic throttle control, and pilot controls with dual proportional slide switches for auxiliary hydraulic functions.
The TB260 is a completely new model, weighing in at just over 12,500 pounds and featuring a long digging arm, reinforced for durability, that is fitted with an integrated thumb mount. The new model digs to 12 feet 9.4 inches and reaches to 20 feet 6.9 inches.
Powering the TB260 is the Tier 4-Final Yanmar 4TNV86CT diesel engine, delivering 47.6 net horsepower and featuring an automatic-idle system that reduces engine speed when hydraulic functions are inactive, trimming both fuel consumption and engine-sound levels. In addition, the TB260's engine's ECO Mode, says Takeuchi, results in further fuel savings, and its power and high-altitude modes allow tailoring performance to the application.
Standard auxiliary functions, primary and secondary, use independent, proportional controls, and an in-cab monitor allows selecting pre-configured work tools or customizing the system for specific attachments. The continuous-run mode helps reduce operator fatigue when operating motor-driven attachments for extended intervals. To facilitate backfilling and cleanup, the dozer blade is equipped with a float feature.
The automotive-styled interior of the TB260 features a high-capacity HVAC system, and the large LCD color monitor panel is designed to keep the operator informed in all lighting conditions. Interior amenities also include a high-back suspension seat with multiple height adjustments
"Takeuchi is excited about this new excavator, and we look forward to providing today's contractors with machines that meet the requirements of their demanding job sites," says Clay Eubanks, president of Takeuchi US. "We listen to our customers to understand the needs of the job, we then take that feedback and channel it into our products to build quality, purpose-built machines."
Takeuchi TB260 Specifications
Power rating, net: 47.6 horsepower
Operating weight: 12,509 pounds
Max dig depth: 153.4 inches
Max reach: 247 inches
Arm digging force: 5,752 pounds
Arm length: 70 inches
Hydraulic flow, max: 45.3 gpm
Auxiliary flow, primary: 27 gpm
Auxiliary flow, secondary: 11.6 gpm
Main relief pressure: 3,480 psi
Track on ground: 80.7 inches
Traction force: 13,997 pounds
Travel speed, low/high: 1.7/3 mph