By Walt Moore, Senior Editor | September 28, 2010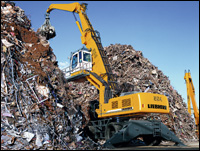 Liebherr's new A 954 C wheeled excavator, which replaces its B-Series counterpart, uses a new Tier-3-compliant engine, carries more weight and has increased lifting power. It has, basically, become even more of a brute than before, with a massive undercarriage that is wider, longer and heavier — resulting, says Liebherr, in greater stability when handling long attachments. Equipped with a 34.5-foot straight boom, 25.6-foot stick and 1.8-cubic-yard grapple, this new scrap handler weighs in at about 166,000 pounds. Liebherr's VarioLift-Plus system allows variable cylinder mounting positions to provide added depth, reach or lift capacity as the operating situation demands.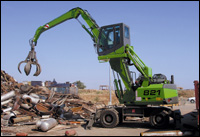 The new Sennebogen 821 Series is available as a wheeled model (821M) or as a crawler model (821R). With operating weights of 54,000 and 51,600 pounds, respectively, the new models both use a John Deere diesel engine rated at 142 horsepower. According to Sennebogen, the new models are "equipped with one large hydraulic axial-piston pump and a 'computer-free,' load-sensing hydraulic system." The cab-riser system employs two hydraulic cylinders, and the machines feature a 13-kw generator driven from the front of the engine.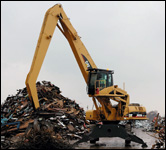 Caterpillar's new M325D MH and M325D LMH Wheel Material Handlers are designed for the scrap, demolition and bulk-materials-handling industries. The new models, which replace C-Series counterparts, feature Tier-3-compliant, Cat C7 diesel engines with ACERT technology. The C7 is a six-cylinder, 7.2-liter, turbocharged model rated at 190 horsepower in the M325D MH and 204 in the M325D LMH. The M325D MH, with four sets of dual 12.00-20 solid rubber tires, has an operating weight of 68,059 pounds. The M325D LMH weighs in at 77,737 pounds and is equipped with four single 16.00-25 solid rubber tires. Optional pneumatic tires are available.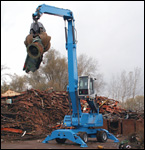 The increased weight and lift capability of the Terex/Fuchs 350 MHL material handler, compared to its predecessor model, enables it to use larger grapples and magnets, as well as to employ longer-reach packages. A new boom design enables greater lifting capability across the full operating range, and a wider undercarriage features larger outrigger cylinders and wider stabilizer-support beams. Swing torque is up nearly 20 percent, and a dual-circuit hydraulic system, with a rated flow of 169 gpm, uses two pumps — one dedicated to the digging arm and the other to all other hydraulic functions. The machine is fitted with a Tier-3, 198-hp Deutz diesel.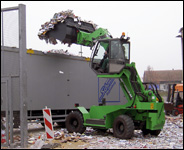 According to Sennebogen, the new 305 Multihandler Series-C is the first telehandler with a hydraulically actuated high-rise cab (with an eye-level height of 13.3 feet) and the capability to attain a lifting height of 24 feet. With the optional two-part XL telescopic boom, lift height increases to 30 feet. The load-bearing capacity of the new diesel-powered, 100-hp machine is slightly more than 11,000 pounds. The material handler is fitted with a hydrostatic drive system (all-wheel drive) and features three steering modes (front-wheel, all-wheel and crab).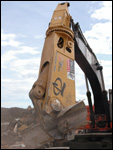 Stanley LaBounty makes bold claims for its new MSD Saber-Lube Series, which includes 12 shears ranging in weight from 8,700 to 42,000 pounds. At the heart of the design is a patent-pending lubrication system that automatically delivers grease to several areas of the upper jaw and blades, as well as to both slide pucks and the upper-jaw/cylinder connection. Extensive field-testing, says the company, proves that this strategic application of lubricant can double blade life, reduce by half the time required for build-up welding in the jaw areas and reduce downtime by two weeks or more per year. Also, says the company, reduced friction results in up to 10 percent more cutting efficiency.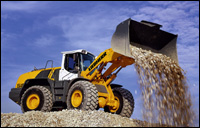 Liebherr's newest wheel loaders, the L 566 2plus2 and the L 580 2plus2, which replace the L 564 and L 580, respectively, can be fitted with solid tires, added guarding (for the cab and hydraulic components) and an enclosed drive train to equip them to work competently in scrap applications. New Tier-3-compliant engines, manufactured in Liebherr's Bulle, Switzerland, factory, use an "advanced" cooling system that combines larger capacity with a hydraulically driven fan. These new loaders consume up to 25 percent less fuel than comparable competitive machines working in similar conditions, says Liebherr, the result of their "2plus2" hydrostatic-drive technology, which employs two hydraulic drive motors that are used singly or in tandem as operating conditions dictate.