By Walt Moore, Editor | October 26, 2011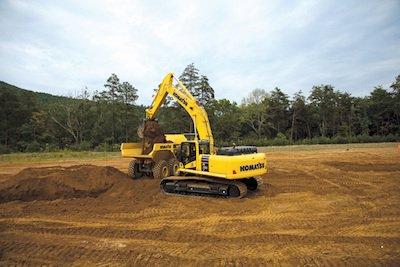 Komatsu America's PC390LC-10 hydraulic excavator, with a maximum operating weight of 89,072 pounds, uses a Komatsu SAA6D114E-5 engine that develops 257 flywheel horsepower and is Tier 4 Interim certified. Complementing the new engine in the PC390LC-10, says Komatsu, are design features that include improved hydraulic efficiency, improved operator comfort, simplified maintenance, and a larger undercarriage that significantly increases lift capacity.
The new 8.9-liter engine, says Komatsu, uses an advanced electronic control system in conjunction with a Komatsu-designed variable-geometry turbocharger, an exhaust-gas-recirculation system (with a Komatsu-designed EGR valve), and a diesel particulate filter that, according to Komatsu, will not interfere with daily operation.
The new excavator is covered by Komatsu's CARE program, providing complimentary factory scheduled maintenance for 2,000 hours or the first three years and includes two complimentary diesel particulate filter exchanges within the first five years. In addition, the PC390LC-10 incorporates the company's KOMTRAX fleet-monitoring system that sends machine operating information to a secure website via wireless technology for use in fleet management.
Excavator design details
The PC390LC-10 features an undercarriage that uses components from the larger PC450LC-8. Benefits of this design include reliability and long component life, as well as up to a 20-percent increase in over-side lifting capacity, compared with the PC360LC-10. The design, according to Komatsu, provides improved lateral stability in applications that require long arms or heavy lifting at maximum reach.  Larger final drives provide up to 13 percent more drawbar pull than the PC360LC-10.
All major hydraulic components for the PC390LC-10, including the pumps, motors and valves, are designed and manufactured by Komatsu. The implement hydraulic system is a closed-center, load-sensing type that employs Komatsu's variable-speed-matching technology, which allows engine speed to adjust based on pump output for both light and heavy-duty applications. 
The PC390LC-10 also is fitted with a ROPS-certified cab that is specifically designed for hydraulic excavators and uses a reinforced-pipe framework for optimal strength. In the cab, a new high-resolution LCD monitor features enhanced capabilities, including a choice of five working modes, operating guidance, operating records, fuel consumption history and utilization rates. A rearview camera is standard, and the air-suspension seat is heated for improved comfort.
The PC390LC-10 also is equipped with the Komatsu EMMS (Equipment Management Monitoring System), which, according to Komatsu, provides diagnostic features that give the operator and technician greater monitoring and troubleshooting capability. Service-friendly features include extended handrails on the upper structure and a side-by-side mounting for the radiator and hydraulic oil cooler to facilitate cleaning.
Komatsu PC390LC-10 Excavator Specifications
257 horsepower
Maximum dig depth: 26.83 feet
Operating weight range: 86,998 - 89,071 pounds
Hydraulic flow: 141 gpm
Main relief pressure: 5,400 psi
Swing speed: 9.5 rpm
Maximum travel speed: 3.4 mph