September 18, 2015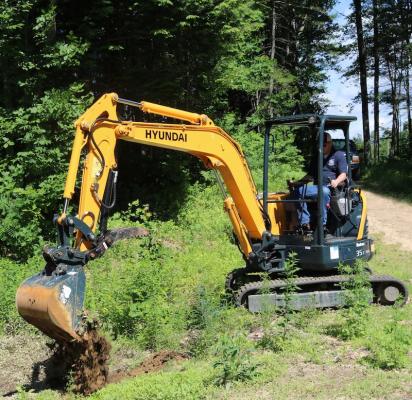 Hyundai Construction Equipment Americas recently began delivering its new 9A Series Tier 4-Final compact excavators throughout the United States and Canada. The new compacts range from 1.7 to 8.2 metric tons, and include the R17Z-9A, R25Z-9A, R35Z-9A, R55-9A and R60CR-9A "mini" models and the "midi" R80CR-9A.
"The new Hyundai 9A series compact excavators are all about bringing big power to small spaces," says Corey Rogers, marketing manager, Hyundai Construction Equipment Americas. "Each model features an environmentally friendly engine that provides impressive performance and reduced fuel consumption. Our customers in the building, landscaping, road and bridge, site-prep and underground markets in particular will appreciate the power, durability and reliability of these compact machines, along with their ability to work productively in confined spaces."
The new Hyundai 9A series models R17Z-9A and R25Z-9A are powered by Kubota engines, and the R35Z-9A, R55-9A, R60CR-9A and R80CR-9A are powered by Yanmar engines. Both the Kubota and Yanmar engines provide efficient fuel combustion and reduced noise, says Hyundai. The product line gives buyers a choice of models in each of six popular weight classes: 1.7-, 2.5-, 3.5-, 5.5-, 6.0- and 8.2-metric tons.
According to Hyundai, the spacious, ergonomically designed cabs deliver reduced noise and increased comfort and visibility. A tilting left-side console makes it easier for the operator to enter and exit the cab, and the left and right control levers are located for convenient access. An adjustable-suspension seat helps reduce operator stress and fatigue, says the company, and cabs on the Hyundai 9A series machines are all TOPS, ROPS and FOPS certified. Other safety features include optional boom and arm cylinder locks and an optional overload alarm.
An optional lever-pattern-change valve on the R25Z-9A and R35Z-9A models (positioned for easy access) allows joystick controls to be changed from an SAE to an ISO pattern, depending on operator preference. The LCD cluster on the Hyundai R55-9A, R60CR-9A and R80CR-9A allows the operator to select other machine preferences. The same monitor also displays engine rpm, oil and water temperature and information for all onboard electronic devices. Button selections are provided for auto idle mode, max power mode and travel speed.
To achieve optimum hydraulic performance on the R55-9A, R60CR-9A and R80CR-9A models, says Hyundai, ther hydraulic system was redesigned for improved controllability. An arm-flow summation system provides energy savings, reduced cavitation and increased speed, says the company.
The boom swing function on the 9A Series compact excavators is designed for efficient work in congested areas. The boom can be offset left or right. Zero-tail swing on the R17Z-9A, R25Z-9A and R35Z-9A allows operators to work near buildings, in single lanes on roadways or in other confined settings, says the company. The variable undercarriage on the R17Z-9A, which can be adjusted from 3 feet 3 inches and 4 feet 3 inches wide, allows the most compact machine in the line to work in even the tightest limited-space work environments, says Hyundai.
Enhanced reliability features on the 9A Series, according to Hyundai, include bushings designed for long-life lube intervals, wear-resistant and noise-reducing polymer shims, and integrated preheating systems that extend service intervals and reduce machine downtime. Serviceability enhancements, says the company, include wide-open engine hoods, centralized grease fittings and easy-change plastic air cleaners. The R60CR-9A and R80CR-9A models feature a tilting cabin for convenient maintenance and service.