October 5, 2013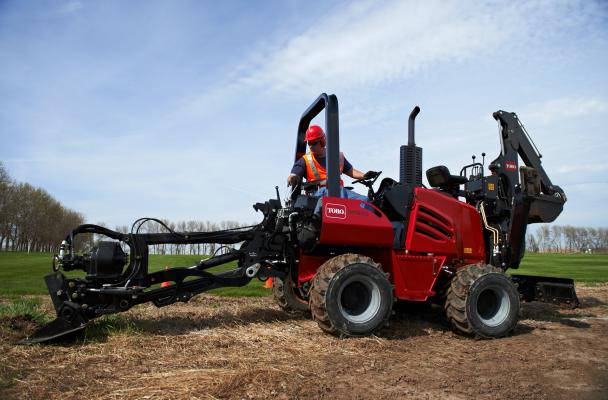 Toro says its RT600 trencher is the only trencher in its class using a flywheel, torsion shaft and planetary gear reduction system.
The flywheel minimizes trencher stalls, the torsion shaft absorbs shock loads from the drive train, and the planetary gears multiply hydrostatic motor torque to provide trenching power. The RT600 is equipped with a 65-horsepower, CumminsB3.3 4-cylinder, liquid-cooled diesel engine, and a dual hydrostatic system for both trenching and plowing. The unit also features four-wheel steering for maneuverability and incorporates crab steering for improved handling on slopes.
In addition to the heavy-duty trencher, optional backhoe loader, rock saw, and vibratory plow attachments are also available. The unit also comes with a standard six-way backfill blade with ground-following float functionality. The operator platform is open for visibility, and the RT600 has a pivoting, suspended seat.