By Rod Sutton, Editor in Chief | September 28, 2010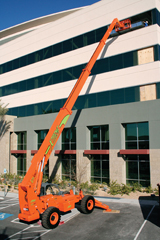 Xtreme XRM1267 lifts 3,000 pounds to a maximum reach of 53 feet 9 inches.
---
In the range of telehandlers with lift height greater than 55 inches, Xtreme Manufacturing's XRM1267 pushes the performance range. According to the company, this telehandler will take 6,800 pounds to 67 feet high, and 3,000 pounds to its maximum horizontal reach of 53 feet 9 inches. It has a lift capacity of 12,000 pounds.
The telehandler has "the ability to be able to load material into the fifth floor of a building," says Lee Kramer, vice president, engineering for Xtreme. "Both the lift height and reach are prime features."
Launched earlier this year at World of Concrete, the XRM1267 is manufactured by Xtreme. Xtreme is owned by Don Ahern, who also owns Las Vegas-based Ahern Rentals.
A key feature on the XRM1267, Kramer says, is the roller boom. "The roller boom replaces the wear pad, which is a maintenance issue," he says. "It also improves the performance of the boom." Daily service points are grouped together at one location, he says. In addition, all electrical wiring terminates at one central location for ease of troubleshooting.
Other features include a 130-hp Perkins turbocharged diesel, 360-degree visibility, and planetary four-wheel drive. Operating weight is 46,300 pounds.
List price for the XRM1267 is $245,000. Warranty on the telehandler is 10 years on the frame and chassis, five years on the roller boom, three years on hydraulics, and two years on the power train.
Spec Comparison of High-Reach Telehandlers
Model
Max. lift height
Lift capacity @ max. height (lb.)
Max. lift capacity (lb.)
Max. reach
Note: List may not include all of a manufacturer's models; see Spec-Check.com for more comparisons.
Source: Spec-Check.com
Xtreme XRM1267
67Œ
6,800
12,000
53Œ 8
Ingersoll Rand VR-1056C
56Œ 2
6,000
10,000
41Œ 6
Genie GTH-1056
56Œ
4,000
10,000
40Œ
Pettibone 10056 Extendo
56Œ
4,500
10,000
42Œ 1
ZoomBoom ZB10056
55Œ 10
5,000
10,000
41Œ
Caterpillar TL1055
55Œ
5,000
10,000
42Œ 6
Gehl DL-10H / 55
55Œ
5,500
10,000
40Œ 9
Gradall 544D10-55
55Œ
5,000
10,000
42Œ
Omega Lift 10T55-E ARM
55Œ
4,000
10,000
36Œ
JLG G12-55A
55Œ
5,000
12,000
42Œ
LiftKing LK 120R Traverse Action
55Œ
4,000
12,000
37Œ 1