Staff | September 28, 2010
Walt Moore, senior editor for Construction Equipment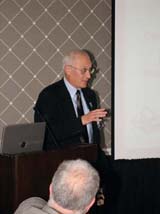 and ConstructionEquipment.com, was awarded the Construction Writers Association's (CWA) highest honor earlier this month. CWA gave Moore the Silver Hard Hat Award at its annual meeting in Washington, D.C.
The Award was conferred by CWA's board of directors for Moore's service to the construction industry. Testimonials noted Moore's "thoroughness and attention to detail"; his "dedication, knowledge, and perseverance to get the best information and transform this into very readable, interesting articles"; and his "distinct, down-home style of writing that lets him communicate the most complex information imaginable."
Moore has been senior editor with Construction Equipment for more than 25 years, racking up 50 journalism awards, including several from CWA and five Jesse H. Neal Awards. Moore created "Field Test," the industry's only independent testing of new construction equipment, and he also writes the magazine's Hands-on Earthmoving articles.
"I've always just done the job that's before me," Moore told attendees at CWA's annual meeting. "And if you think I've done that with distinction then I'm humbled, because you all do your jobs so well and with such dedication."