By Tom Berg, Truck Editor | March 30, 2012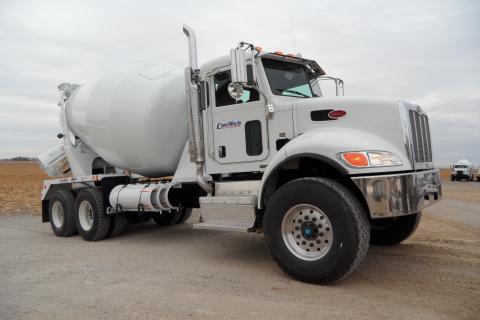 Customers order lots of concrete at less than what producers consider full loads, so it makes sense to have trucks that can deliver them at a lower cost. For this, truck builders have "Baby 8" models: Class 8 chassis with midrange engines. One of the latest is this Peterbilt 382 that, like a growing number of competitors, uses Cummins' ISL9 diesel.
The 382 is an aerodynamically styled model that looks a lot like Peterbilt's medium-duty conventionals. It debuted as a local and regional road tractor about the time that EPA-2010 diesels were adopted. Now it can be built with vocational specifications to handle jobs such as concrete delivery and the hauling of dirt, sand and gravel. Among other things, its aluminum cab can be beefed up with extra structural members to take the twisting and shaking inherent in off-road running.
Peterbilt 382 Specifications

Truck: 2012 Peterbilt 382 conventional, vocational straight truck; BBC 110 in.; GVW rating 66,000 lb.
Engine: Cummins ISL9; 8.9 liters (544 cu. in.); 380 hp @ 2,100 rpm; 1,300 lb.-ft. @ 1,400 rpm; w/ rear-engine power take-off
Clutch: 15.5-in. Eaton Easy Pedal Advantage
Transmission: 11-speed Eaton Fuller RTO14909ALL
Front axle: 20,000-lb. Dana Spicer D2000F on 20,000-lb. taperleafs
Rear axles: 46,000-lb. Dana Spicer D46-170 w/ 4.78 ratio, on 46,000-lb. Chalmers 854 walking beam/torque tube
Wheelbase: 224 in.
Brakes: Bendix S-cam drums, 16.5x6-in. front, 16.5x7-in. rear
Tires: Front—425/65R22.5 Bridgestone M844F on Alcoa aluminum discs; rear—11R22.5 G182 Bridgestone G182 on Accuride steel discs
Fuel tank: 26-in. diameter 50-gal. aluminum
Body: Con-Tech 10.5-yd. Extreme Duty Paving Mixer
Of course, a Pete customer needing more weight capacity would still use a Model 365, 367 or even a 388 or 389 with vocational components. But this 10-wheel 382 with its 66,000-pound gross vehicle weight rating is ideal for lighter work. By now it should be available with one or two factory-installed pusher axles, not to increase GVW, which Wentworth said is imposed by Cummins due to the engine's moderate size, but to distribute weight in bridge-formula states.
The 8.9-liter ISL is based on the ISC8.3 but has rugged innards to handle heavy-duty stresses. It easily fits under the 382's hood and is the only engine available in this model, except that the natural gas-burning ISL-G has just been added. The diesel ISL is gutsy and makes nice guttural sounds as it's working, though with the drum being empty on this day, it didn't have to work hard.
I drove this Pete near Dodge Center, Minn., home of Con-Tech Manufacturing, a maker of mixer bodies and associated apparatus. It built and mounted the rear-discharge body on the chassis, and the truck is labeled for the company (though it's owned by Allstate Peterbilt's Winona store). Con-Tech is run by Grant McNeilus, grandson of Garwin McNeilus, who founded the McNeilus Co., a major manufacturer of mixer and refuse bodies. He sold it to Oshkosh Corp. several years ago. Afterward, he helped Grant start Con-Tech and remains active in it by assembling the barrels that Con-Tech uses.  
Tom Wentworth, sales manager at Allstate's main store in St. Louis Park, near the Twin Cities, met me at the plant. Although the 382 is compact, this one's hefty chassis components caused the cab to sit high, making for a healthy climb during entry. But there were three well-placed steps and enough hand rails to ease that chore. 
Inside, things were businesslike but pleasant, with grey plastic panels covering most surfaces. A smooth-faced curvy dash—what people in the truck business call "automotive"—sported smallish gauges, nice-sized rocker switches, and rotary switches for headlamps and heater and air conditioning controls. It was all nicely laid out and easy to use.
The windshield was a two-piecer, a sensible design that limits damage when stray stones smash into one side or the other. The view through it and over the sloped hood was good, even if the front still sat high. Nice-size glass was also in the doors and the cab's rear wall. Rear corners had curved glass windows that complete a 360-degree view of the world, except of course to the rear where the barrel resides. As with any mixer truck, there's a big gap between cab and barrel that aids visibility to the right-rear.
The Con-Tech plant is at the junction of two dusty gravel roads, so I shot my pics before driving the truck and getting it dirty. It was cold and windy, and clouds kept obscuring the sun. Snow was forecast, and it came the next day.
Wentworth and I jumped in the warm, draft-free cab and left the premises with him in the shotgun seat and me rowing the gearshift lever while punching the clutch pedal. This came straight out of the floor, a feature that Petes have had as long as I can remember. Sometimes this makes for a good left-leg workout, but not on this truck because the pedal was easily operated.
Even better, the truck had an Eaton Fuller 9LL transmission which shifted so smoothly that I purposely slowed down and sped up the truck just so I could go through the gears. I float-shifted a few times just to see if it could be done easily, and it could. "Who needs an automatic when there's something as fun to drive as this?" I thought. This was the nicest-shifting Pete that I can remember driving.
We meandered over county and state roads, and I quickly began admiring the 382's quick and nimble behavior. The steering was precise and had a nice feel, and I was able to make some respectably tight turns, even with the big 425-series front tires that limit wheel cut. I backed around corners a couple of times, one of them into a country driveway where I yelled toward the farm house, "Here's that load of cee-ment you ordered!" Just funnin', 'cause I know it's concrete. From this I can imagine that truck would be fairly easy to maneuver on city streets and job sites.
Time was tight, so we returned to the plant where Wentworth and I said goodbye. Every so often I end one of these experiences with regret because the truck's not only well suited to its purpose but also fun to drive, and I'd have liked to keep it much longer. This was one of those trucks, and I'll bet the guy assigned to this Pete will be happy to work in it.