Larry Stewart, Executive Editor | September 28, 2010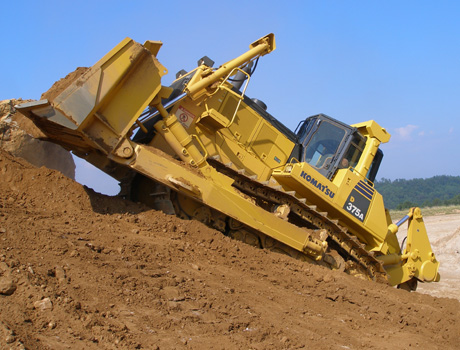 Komatsu's thorough product-development survey said the D375A-5 crawler dozer's replacement would have to demonstrate production equal to or better than Caterpillar's D10T to take market share from the cross-Peoria rival.
So the Dash-6 version of the D375A was launched with its Komatsu SAA6D170E-5 engine boosted 85 horses to 610 net horsepower – 30 more than the D10T. In fact, Komatsu claims that even with parasitic load at maximum (the SAE standard for measuring net horsepower pre-scribes an intermediate load level) the D375A-6 still delivers 580 horsepower, which equals the D10T's SAE net power output.
Komatsu says the SAA6D170E-5 diesel is not over-taxed, developing 610 horsepower at 1,800 rpm. In fact the maker pushes that same engine platform to 672 horsepower in the PC1250LC-8 excavator and 715 horsepower in the HD465-7 rock truck.
Komatsu replaced the Dash-5's twin gear pumps with a single variable piston pump and closed-center, load-sensing hydraulic system. The hydraulic design is derived from the successful D475A-5EO hydraulic system. Not only did the update reduce pump drag on the engine, but it also improved blade-response time. That's one of the three top characteristics professional operator Guy Eldringhoff, from Barrick's Goldstrike Mine in Elko, Nev. – a Cat D10 user – appreciates.
"The three most important things you look for in a dozer are visibility, power and operation of the blade and other equipment," he said, appraising the machine after some stick time during an August D375A-6 introduction event at Komatsu's Cartersville, Ga., training facility. "This one's controls are really responsive, the visibility from the seat is good, and it's got lots of power." 
[Video of Eldringhoff slot dozing]
"Faster hydraulics are definitely an advantage, especially when cutting benches for drills and doing reclamation work," adds Pat Carr, equipment manager with Virginia coal miner, Alpha Natural Resources. "And because the pump destrokes, you've got more power to push after you get the blade loaded up."
Komatsu was kind enough to invite industry media to the D375A-6-introduction where many mine and quarry equipment buyers were getting their first chance to operate the new tractor. Even my own novice dozer hands were able to discern a difference in blade response compared to large construction-sized dozers with gear pumps that I'd operated recently. I guess at least one of the experienced dozer operators at the event was as surprised as I was at how well a greenhorn could do with the refined controls, as he took the time to point out, "Not bad for a reporter," when I climbed down from the machine.
The D375A-6 transmits torque to final drives through an automatic powershift transmission with locking torque converter. Integrated engine and transmission controllers allowed Komatsu to create an economy mode in addition to its full-power mode. The maker claims a 3-percent fuel-efficiency advantage in Production mode over the D10T, and a 7-percent efficiency advantage in Economy mode.
The Dash-6 weighs 157,900 pounds, about 12 percent more (16,750 pounds) than the D375A-5, and 27,000 pounds more than the Cat D10T.
With more power and weight came blades designed to carry more material. A semi-U blade at 24.2 cubic yards and a full-U at 28.8 cubic yards were created to boost production without increasing blade width or reducing digging force. The curve of the upper half of the blades was relaxed, deepening the blade cross section. Shoulder slopes are also relaxed, resulting in more forward-facing blade surface. The shape is similar to Komatsu's next size larger, the D475A-5EO dozer. Capacity is increased without compromising visibility or balance.
It was interesting to watch Carr work the D375A-6 on the steepest terrain he could find in Komatsu's Cartersville sandbox. He explained that the D375A-5 dozers Alpha currently runs in mine reclamation often have to circle wide after working down particularly steep slopes to get back to the top for another run.
"It's a little blade heavy," Carr said of the Dash-6 bearing Serial No. 1 in the new series. "But with a counterweight, I think it'll climb the steepest stuff we've got." That should be good for production and undercarriage life. 
A new 7-inch LCD (liquid crystal display) multi-color monitor gives operators information to help them work efficiently and accurately. Screen visibility is good from various angles and in many lighting conditions thanks to thin-film-transistor (TFT) technology. Komatsu designed an exclusive set of function keys to simplify operators' interaction with the multi-lingual interface.
Various meters, gauges and warning functions are arranged for simple start-up, inspection and warning about operating abnormalities. An easy-to-read "eco gauge" is displayed on the right side of the multi-monitor screen. Operators can save fuel by simply operating the machine so that the eco gauge's needle indicates the green range.
There are sixteen new, standard mining features on the D375A-6, including high-mounted headlights to shine over the blade when it is raised, battery and starter isolator box with re-mote jump-start receptacle, centralized grease points, fast fuel fill, engine prelube, rear-view camera and two manual engine-stop switches. Optional mining features include two optional, additional camera locations, right- and left-hand platforms with handrails and HID work lights.
Komatsu plans to market the new Dash-6 dozer at 10 to 15 percent higher price than the D375A-5EO.