Staff | September 28, 2010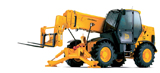 In 2005, JCB, Pooler, Ga., introduced the Model 550-170 Loadall as a replacement for its 5508. The 550-170 is the largest of JCB's 14 Loadall telescopic tool carriers.
The low boom configuration increases strength, which translates to an 11,000-pound on-grade breakout force. The unit's boom works with twin extension cylinders, which have been extensively tested to ensure durability.
Incorporating a unique driveline layout, the 100-hp JCB Dieselmax engine is mounted transversely on the right side of the chassis and located under a cylinder-assisted, swing-up engine compartment. A JCB four-speed power-shift transmission incorporates the torque converter and gearbox in one mounted unit.
The unit also incorporates JCB-brand epicyclic hub reduction drive/steer axles with Max-Trac torque proportioning differentials. Self-adjusting, multi-disc service brakes operate on the front and rear axle. The parking brake is a hand-operated disc brake on the output of the gearbox. Operators use a single multifunction joystick to control the machine, and a tri-control is available as an option. The rear window can open and close, allowing operators to adjust the environment.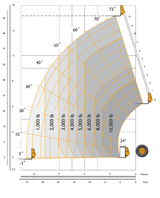 Auxiliary hydraulics come standard, and with the option of additional auxiliary services, a wide selection of powered attachments can be used.
JCB also offers the Assetcare machinery protection plan on the 550-170. This program protects equipment owners against unexpected failure for up to five years.