By Lynn Landberg | September 28, 2010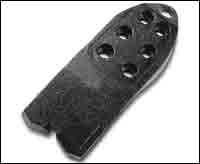 Chevron bits perform well in most soil conditions and have been improved to provide even better performance and greater durability than its predecessor, Vermeer says. Bits are 0.25 inches thicker. For the D16x20 through D40x40, the bits are now 1 inch; D50x100 and D80x100 models are now 1.25 inches. In addition, the steering face has been lengthened and the steering angle is increased for better maneuverability.

For rocky and abrasive bores, there's the new Excalibur directional blade. Tungsten carbide tips along the bullnose front end give a grinding and crushing cutting action. The bullnose front end also greatly reduces the amount of rotational drag and wear on the blade. Additional carbide tips placed along the side give the blade a long, productive service life. A hole at the front of the blade allows a swivel to be attached to pull back small diameter product. It is available in many different bolt patterns from 3.5 to 6 inches.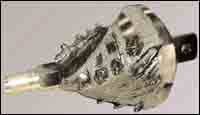 A newly designed fluted reamer features a compact design that increases the attack angle and reduces weight. Deeper, wider flutes pump fluids to the product and allow for better pressure and flow. Multiple fluid ports in the flutes accelerate hole development and minimize torque, while rear-facing fluid ports contribute in lubricating the product being filled. The reamer cuts and packs in a wide variety of ground conditions. It is offered with a built-in swivel or static lug bolt-on plate, plus crossover adapters to fit nearly all machines.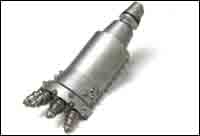 The Aggressive Talon Rock Bit is a multi-use bit that's design for use in a variety of soil conditions, including sandstone, shale and chunk rock. Carbide-tipped cutting teeth in the front of the tool are replaceable. The angle of the cutting teeth enables the bit to more effectively carve into rock and operate smoother, with less drill pipe chatter, while carbide buttons in the abrasion-resistant steel body reduce wear when working in tough conditions. For fast installation and easy removal after completion of a pilot hole, the bit is equipped with the Ditch Witch taper head beacon.