By Tom Berg, Truck Editor | September 28, 2010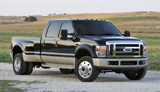 F-450 Pickup combines a versatile hauling bed with a stronger chassis for towing a trailer weighing up to 24,500 pounds. The bed comes in lengths of 6-3/4 or 8 feet.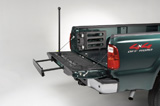 A new tailgate comes standard with lift-assist feature and can be ordered with a built-in folding step with grab handle.
Ford Motor Co. says it will retain its sales leadership in pickup trucks by extensively redesigning its F-250, 350 and 450 Super Duty series with new "in-your-face" styling, an extensively reworked diesel engine, and a newly offered F-450 factory pickup option. The redesigned models will be titled as 2008s; they went into production in mid-December, just in time to meet tighter federal diesel exhaust emissions limits in January.
The F-450 Pickup with a 6-3/4- or 8-foot-long bed allows customers to tow extra-heavy trailers without the need to buy and install a custom-built tow body on a 450 series cab/chassis truck, Ford executives said. The F-450 comes only with dual rear wheels and, depending on cab style and power train, can haul up to 6,000 pounds and tow a trailer weighing 16,000 to 24,500 pounds.
The new model includes the same forward frame, axle and suspension as Ford's medium-duty F-450 cab/chassis truck, but its rear frame has splayed main rails to support the pickup body's floor. Aftermarket pickup conversions use cab/chassis vehicles with straight frame rails and suspensions better suited for various work-truck bodies, executives said.
Exterior styling of the '08 Super Duties includes a high, sculpted hood, large grill, stacked headlamp pods, crisp fender flares, and liberal splashes of chrome. Windows remain tall for good visibility. The grill sits 4 inches higher to accommodate a larger radiator needed to cool the EPA '07-spec diesel.
Functional air vents on the fenders are painted red for diesel or black for gasoline engines. Power telescoping/power fold mirrors allow easy adjustment for trailer towing and for squeezing through tight spaces. Both mirrors extend or retract at the touch of a single switch, and pushing another switch causes both to fold back against the doors or deploy outward.
Interiors have a modular look; a radio-navigation system is available on some models, and new audio and DVD options will keep backseat passengers occupied. "Quiet steel," a composite of steel and sound-deadening compounds, is used behind the dashboard, as well as in the floor and rear wall. This reduces road noise and lets people converse in normal tones of voice.
The pickup box has a new tailgate with a standard lift-assist system; a built-in step with pole-type grab handle is optional. New tail lamps are at the corners. And the larger, wider rear bumper — housing the four-pin/seven-pin trailer connector with shared hinge — was toughened to improve capability and to help balance the overall design.
The International-built Power Stroke V-8 diesel meets the Environmental Protection Agency's January 2007 emissions limits with a larger, 6.4-liter displacement, advanced electronic controls, high-pressure fuel delivery through Piezo-electric injectors, double turbocharging and exhaust after-treatment. The standard rating is 350 horsepower and 650 pounds-feet. The new diesel is said to be quieter and more fuel-efficient than the current 6-liter V-8.
Still available are two Triton gasoline engines: the 6.8-liter V-10, rated at 362 horsepower and 457 pounds-feet, and the 5.4-liter V-8, with 300 horsepower and 365 pounds-feet. Both engines use new air box and exhaust systems, and electronic throttle control with stationary elevated idle control to drive power take-offs.
Standard transmission is a six-speed manual, while the five-speed TorqShift automatic is optional. The TorqShift has new gear sets and a three-plate, two-stage torque converter to reduce turbine noise when the converter is locked.
Like other Super Duties, the F-450 Pickup can be bought with a 2-door Regular Cab, 4-door Super Cab or 4-door Crew Cab. XL, XLT, FX4 and Lariat trim levels are available, as is the King Ranch leather interior package. Ten wheel styles in 16-, 18- and 20-inch sizes are available in F-250 and F-350 trucks; the F-450 Pickup, like the 450 chassis/cab, comes with 19.5-inch wheels.