By Katie Weiler, Managing Editor | September 28, 2010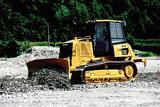 Designed for finish grading, the D6K track-type tractor features a new hydrostatic drive system that provides independent power and control of each track for excellent maneuvering and quick direction changes.
---
Medium to large crawler dozers from Caterpillar are easy to recognize because of their elevated sprocket design. Not so with the new D6K track-type tractor. The new model — which replaces the D5N — features a conventional, oscillating undercarriage, which increases stability while traveling on uneven terrain and provides a smoother ride.
Caterpillar says its SystemOne undercarriage comes standard on the D6K, and it can reduce operating costs and extend undercarriage life by up to 70 percent. Further, the company says SystemOne has proved to outperform sealed and lubricated track and heavy-duty track across a wide range of applications. The system combines rotating bushings with a center-tread idler, which is said to eliminate link scalloping and bushing turns, while allowing high-speed operation in both forward and reverse.
Another standard feature is the new hydrostatic drive system, providing independent power and control of each track for excellent maneuvering, fast acceleration, and quick direction changes. By using the hydrostatic control located on the left armrest, operators can deliver smooth power turns and choose from infinite speed selection from 0 to 6.2 mph in forward and reverse. The operator can also program certain speeds and recall them for specific ground conditions.
Powering the new drive system is the six-cylinder Cat C6.6 engine with ACERT technology, said to deliver 125 flywheel horsepower — the most in its size class while meeting worldwide emissions requirements. It provides quiet operation, and it automatically adjusts engine power to maintain peak implement and power-train performance. Also, a hydraulically driven Automatic Demand Fan offers increased cooling performance and improves fuel efficiency. An optional reversible fan is available for improved cooling performance in high-debris or dusty environments.
In addition to Caterpillar's "industry-leading performance" claim comes "industry-leading comfort" for the operator. The new operator station features seat-mounted electro-hydraulic controls, combined decel/brake pedal, integrated AccuGrade display (optional), and excellent visibility to the blade. The left joystick provides control of machine direction and speed. It also has buttons for programming independent operating speeds. The right joystick controls the dozer blade, including a button for automatic blade shake and thumbwheel for blade-angle adjustment. In addition, an Automatic Temperature Control provides "intelligent" A/C and heating functions.
With a full complement of standard features, the estimated list price for the D6K is around $200,000. 
Basic Specifications
D6K XL
D6K LGP
Engine
Cat C6.6
Cat C6.6
Operating weight
28,409 lbs.
29,690 lbs.
Track length on ground
104 in.
104 in.
Track gauge
70 in.
79 in.
Blade capacity
3.5 cu. yd.
3.8 cu. yd.