Staff | September 28, 2010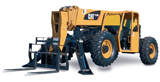 Shipments of Peoria, Ill.-based Caterpillar's TL1055 telehandler, built by JLG Industries, began in late October 2006, missing the Telehandler Showcase by a couple of weeks. Although not at the event, this machine offers some unique features worth mentioning.
According to Caterpillar, ease of operation was important in designing the TL1055. A single, pilot-operated joystick allows three simultaneous boom functions. It also operates the auxiliary hydraulic function and has an option for a second auxiliary service for work tools that require more than one hydraulic service. Hydraulic functions are achieved using a full flow-sharing hydraulic valve. A load-sensing, variable displacement pump allows full hydraulic power even at low rpm.
Powered by a 125-hp Cat C4.4 TA diesel engine, the TL1055 also utilizes a ZFWG98-TSC power-shift transmission. Inboard wet disc brakes are mounted to the front axle, supplied by Dana. The machine also features a wet disc, spring-applied hydraulically released parking brake.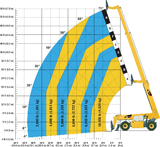 For optimum versatility, the TL1055 is equipped with the hydraulic quick coupler, allowing the operator to quickly and easily change non-hydraulic work tools without leaving the cab. Pneumatic tires are standard, but Caterpillar offers a variety of optional tires, including rock lug and foam filled.
The combined hydraulic/transmission oil filter requires changing at 1,000 hours, and engine oil, filter changes, and routine lubrication are now only required every 500 hours.