September 28, 2010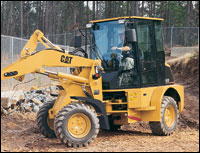 Works Well in Confined Spaces
Caterpillar's 904B, with a standard-bucket capacity of 0.78 cubic yard, stands just 94 inches tall and 67 inches wide, allowing it, says Cat, to pass through 8-foot doors, as well as into trailers and containers. The machine features a universal (skid-steer-type) coupler and an auxiliary hydraulic system that provides flows to 22 gpm, which, says Cat, allows the 904B to operate many standard-flow skid-steer-loader work tools.
Number of models: 1
New models: 904B
Product-line features: Caterpillar's compact-wheel-loader line presently includes four models, ranging from the 52-net-hp 904B to the 95-net-hp IT14G, which is a compact tool carrier.
Heavy-Duty Main Frames
The Atlas AR 50 is powered with a 50-net-hp Perkins 404C-22 diesel engine and uses a variable-speed travel motor in conjunction with rigid planetary axles that incorporate differential locks. Loader linkage is the parallel-lift type, and the machine's standard bucket is rated at 0.9 cubic yard. Payload at the pallet forks, says Atlas, is 3,740 pounds.
Number of models: 6
Product-line features: Atlas loaders feature heavy-duty main frames built on a platform design, says the company, a design that allows for customer-specific features and options, including hand throttles and air-suspension seats. A wide selection of models, says Atlas, assures a machine size that best suits the user's needs.
Twin Auxiliaries and Optional Backhoe
Kubota's R20 Super Series wheel loaders, the R420S and R520S, are powered by the company's own E-TVCS diesel engines and feature a load-sensing drive system, electric shuttle shift, limited-slip front differential and rear-frame oscillation.
Number of models: 2
Product-line features: Kubota's R20 Super Series models use a universal-style quick coupler, provide auxiliary hydraulics front and rear, and can be equipped with a rear-mounted backhoe in lieu of the counterweight.
Choice of Transmission Control
Yanmar's two compact wheel loaders, the V3-5 and V4-5, feature a "Two-Mode" controller for their load-sensing hydrostatic drive systems. The operator can select "fully automatic shifting" or a fixed-speed mode for controlled travel speed in restricted areas.
Number of models: 2
Product-line features: An "Auto-Leveler" feature in Yanmar loaders places the bucket flat on the ground, and oscillating rear axles allow the machine to traverse rough terrain and reduce operator fatigue.
Parallel-Lift with Quick-Attach
The Terex models SKL814, SKL824 and SKL834 are equipped with "four-bar" parallel-lift linkage and an integrated "quick-attach" system. The SKL824 also is available with an optional universal coupler. These machines range in net horsepower from 50 to 60, and in operating weight from 8,600 to 11,200 pounds.
Number of models: 3
New models: SKL814
Product-line features: Terex wheel loaders use a closed-circuit, two-speed hydrostatic drive system that provides automatic adjustment of drawbar pull and speed. Except for the SKL814, these machines can be equipped with an available four-speed drive system that provides a top speed of 22 mph.
Four Hard-Working Wheels
A load-sensing hydrostatic drive system automatically adjusts the speed and pushing power of its compact wheel loaders' four driving wheels, says Mustang, but these four hard-working wheels also steer. The all-wheel-steering concept, says the company, provides exceptional maneuverability and a solid stance in any steering attitude.
Number of models: 3
New models: ML28, ML48, ML48T
Product-line features: With a one-piece-chassis and all-wheel steering, says Mustang, its wheel loaders can handle tight corners without the need for three-point turns.
Rugged Design
Manufactured in Fairview, Okla., since 1968, Waldon wheel loaders feature heavy-duty construction including a "rugged" articulated frame and boom assembly, plus 1-inch-thick front and rear fenders.
Number of models: 2
Product-line features: Waldon loaders feature a low-pressure hydraulic/mechanical drive system that provides two speeds. The 4100 is available with Continental gas or diesel engines, and the 5100, says the company, has four engine options.
New Competitor in Expanding Market
Ingersoll Rand entered the compact-wheel-loader market just a year ago with two models, the 60-hp WL-350 and 73-hp WL-440. The WL-350, says IR, combines parallel-lift loader linkage with high breakout force to allow the machine to move easily from tool-carrier to earthmover.
Number of models: 1
New models: WL-350
Product-line features: IR notes that its wheel loaders provide good all-around visibility, thanks to the cab's large glass area and the short, rounded rear cowling. All functions of the attachment are integrated into a single joystick controller.
All-Wheel Steering
Gehl's compact wheel loaders with horsepower ratings less than 65 net include the Advantage AL20DX, AWS 280, AWS 480 and AWS 480T. The AL20DX is an articulated, 20-hp model, and the AWS models feature a rigid, one-piece chassis with all-wheel steering.
Number of models: 4
New models: 280, 480, 480T
Product-line features: All-wheel steering, says Gehl, contributes to extremely tight turning circles and enhanced maneuverability, exacts no loss of lift capacity when turning the machine, and works with the non-articulating frame "to improve safety, stability and performance."
Z-Bar Linkage Power
New Holland says its LW50.B, with an operating weight of 10,038 pounds, brings large-loader features into a compact package, including a powerful Z-bar loader linkage that can handle a multi-purpose bucket, augers, brooms, scrap buckets and snow blades.
Number of models: 1
New models: LW50.B
Product-line features: New Holland's cab design is aimed at visibility, with a one-piece, curved front windshield, one-piece, flat glass at the rear and slender posts. The sloping rear deck also enhances rearward visibility in this machine, which has a new Tier-2-compliant engine with a 1,000-hour oil-change interval.
Low-Speed Hold
The TCM E820-2 is powered by the Kubota V3300DI diesel engine, rated at 59.2 net horsepower and features heavy-duty planetary final drives with limited-slip differentials and a side-by-side transmission/hydraulic-system cooler.
Number of models: 3
New models: E804-2, E806-2, E820-2 (in 2004)
Product-line features: These three TCM models are powered by Kubota diesel engines and use an auto-shift, two-speed motor in their electrically controlled, load-sensing hydrostatic drive systems. A low-speed-hold feature in the hydrostatic system limits machine speed for digging and loading functions.
Attachment Versatility
According to Power Trac, more than 30 attachments are available for each of its small wheel loaders, including specialty buckets, mowers, trenchers and augers, which can be swapped quickly, says the company, with its Quick-Attach coupler.
Number of models: 4
Product-line features: Power Trac calls attention to the sturdy construction of its loaders, saying that the machines and their attachments are made from 1/4- to 3/4-inch steel plate for durability.
Stereo Steering and Fast Travel
The smallest of John Deere's four-model compact-loader line, the 59-net-hp 244J, features a two-range hydrostatic-drive system and speeds up to 19 mph, with the added control of an inching pedal that permits high hydraulic flows at low ground speeds. An optional Worksite Pro Coupler allows interchange with skid-steer attachments.
Number of models: 1
New models: 244J
Product-line features: The hallmark feature of Deere's compact-wheel-loader lineup is Stereo Steering, which combines the coordinated action of frame articulation with rear-axle steering. The concept results in exceptionally tight turns, says Deere, and can reduce the angle of articulation required when maneuvering with heavy payloads.
Standard Hydraulic Coupler
New this year are the Case 221D and 21D Series II compact wheel loaders. Case says both machines come equipped with a standard hydraulic coupler that fits a full line of attachments, including general-purpose buckets, multi-purpose buckets, pallet forks, snow blades, angle brooms, augers, scrap-grapple buckets and jib booms. Options include ride control and a high-speed transmission that provides speeds to 20 mph.
Number of models: 2
New models: 221D-Series II, 21D-Series II
Product-line features: These new Case models feature Tier-2 engines, limited-slip front axles, hydraulically driven cooling fans and 41-degree articulation for tight turns. Operator amenities, says Case, include spacious cabs and easy control.
Patented Center Joint
According to Volvo, more than 60 attachments are available for use with its compact wheel loaders. These machines feature an articulating/oscillating joint between the frames, a patented design that contributes to maneuvering ability, says Volvo.
Number of models: 2
Product-line features: Volvo's compact-wheel-loader range includes six models, ranging from 55 to 110 gross horsepower. These machines feature differential locks, integrated electronics with diagnostic functions and, on select models, the company's Torque-Parallel loader linkage. 
Strong and Silent
Among the newest models in Komatsu's compact-wheel-loader range is the WA65-5, which features a redesigned bucket for more aggressive digging and easier filling, parallel movement and high payloads in pallet-fork applications, and a standard hydraulic coupler.
Number of models: 5
New models: WA30-5, WA70-5, WA80-5
Product-line features: Komatsu's small loaders borrow technology from their larger counterparts in the company's range, including a load-sensing hydrostatic drive system, limited slip differentials front and rear, plus optional ride control and air conditioning.
High-Pressure Drive System
The North-American-built Buhler B56 wheel loader features a 56-net-horsepower Kubota four-cylinder, turbocharged engine, and a hydrostatic drive system that operates at 6,000 psi and provides speeds to 15 miles per hour. Height under the hinge pin is 134.5 inches, and breakout force is rated at nearly 9,200 pounds.
Number of models: 5
Product-line features: Smaller models in the Buhler line feature Perkins power and four-wheel hydrostatic drive. Hinge-pin heights range from 106 to 135 inches. Maximum travel speeds range from 9 to 15 mph in the larger two-speed-travel models.
Hydraulic Coupler and Wet-Disc Brakes
A 59-net-hp Deutz diesel engine powers the Coyote C14C, which has a standard bucket capacity of 1.0 cubic yard, a straight tipping load of 8,200 pounds and a rated fork lifting capacity of 4,500 pounds. The C14C's two-speed hydrostatic drive system can be shifted on-the-go and provides a top speed of 13 mph.
Number of models: 7
Product-line features: All models in Coyote's compact loader line feature two-speed drive, sealed wet-disc brakes and hydraulic attachment couplers.