By Lynn Landberg, Senior Editor | September 28, 2010
Single Work Mode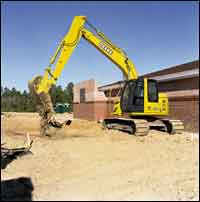 The 135C from John Deere operates efficiently within a 12-foot track, resulting in enhanced production and faster cycle times. With a reduced tail swing, the excavator works well in urban areas. Using Deere's Powerwize II hydraulic system, the machine features a single work mode for increased operator efficiency. Other features include a bucket regenerative system mechanism that makes light-duty operation quicker, and a cab with improved visibility, lower noise design and smooth lever control. As for maintenance, the 135C has a 500-hour oil change interval and a 4,000-hour hydraulic oil change interval.
Number of 20,000- to 40,000-lb. models: 3.
New 20,000- to 40,000-lb. models: 120C, 135C RTS, 160CLC.
Noteworthy features: Reduced tail swing, refined hydraulic system, single dig mode, operator-friendly cab, rugged front attachment mechanism.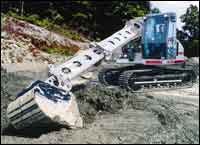 Boom Rotates 220 Degrees
With a boom that imitates the movements of the human arm and wrist, the Gradall XL 3200 is able to swing from side to side, reach up for loading and unloading as well as dig straight down. The 220-degree boom rotation allows the machine to handle delicate grading work quickly and easily, while the telescoping action maintains full power throughout the entire digging cycle. Without the need for mode selection, the hydraulic system automatically adjusts for the job at hand. The XL 3200 is equipped with a 114-hp John Deere 4045 engine.
Number of 20,000- to 40,000-lb. models: 1.
Noteworthy features: High-pressure load-sensing hydraulics, telescoping tilting boom.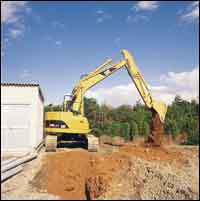 Tracks Take Rubber Pads
Three blades of differing widths are available for the Caterpillar 314C LR. The bolt-on cutting edge can be reused by turning it upside down. Rubber pads can be fitted over the standard track shoes to minimize ground damage. The compact radius makes the excavator a good choice for urban work, while the shorter tail swing radius provides tight-quarters operation. Power comes from the new Cat 3064 T compact engine—a low-noise, fuel-efficient plant. Other features include an enlarged cab and new window design. Sliding doors allow easy operator access, even in tight quarters.
Number of 20,000- to 40,000-lb. models: 4.
New 20,000- to 40,000-lb. models: 314C CR.
Noteworthy features: Automatic boom and swing priority functions, bolt-on rubber pads, undercarriage length options.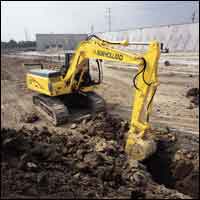 Three-Pump Hydraulic System
A three-pump hydraulic system on the New Holland EC130 produces faster, smoother work cycles and also reduces fuel consumption and hydraulic oil heating. A dedicated swing pump provides top performance during combined swing and attachment function, allowing for four simultaneous movements without compromising attachment and swing speed. The operator can choose between either a backhoe operation pattern or an excavator operation pattern. The EC130 has a rating of 95 horsepower and a digging depth of 17 feet 8 inches.
Number of 20,000- to 40,000-lb. models: 2.
Noteworthy features: Three-pump hydraulic system, full-height carbody-to-track frame connections, removable front window, easy servicing.
Roomy, Soundproof Cab
The new CX135 from Case, part of the CX Series, has a 2 foot-1 inch swing radius for work under tight conditions. The soundproof cab is very roomy, with a skylight and sliding front window for ventilation and view. Heater and air conditioning are standard. The Isomount system cushions the cab from vibration for added comfort. The controls include selectable one-touch or auto accelerator/decelerator and one- or two-position mode selector. A power boost feature delivers added power in tough conditions.
Number of 20,000- to 40,000-lb. models: 3.
New 20,000- to 40,000-lb. models: CX135.
Noteworthy features: Pro Control hydraulic system, high-pressure fuel injection engines, insulated cab with good visibility.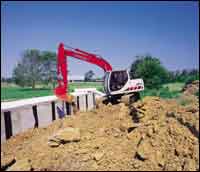 Two-Speed Boom Function
Inte-LX, the computer command control system on the Link-Belt 130LX, monitors hydraulic output, pressures, and regulates engine performance for the maximum balance between speed, power and fuel efficiency needed on the job. A two-speed boom and arm opening and closing function provides greater lifting speed, especially in swing/excavating simultaneous operations. Also, a built-in special cushion valve greatly reduces the shock and vibration at the end of each swing cycle.
Number of 20,000- to 40,000-lb. models: 2.
Noteworthy features: Nephron filtration system, fast cycle times, Inte-LX computer-controlled hydraulics, operator-friendly control station.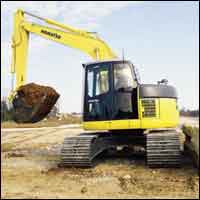 Convex-Shaped Cab
The cab on the Komatsu PC128US-2 employs a new convex-shaped cab that provides ample space throughout. Multi-position, pressure proportional control levers allow the operator to work in comfort while maintaining precise control. Viscous mountings dampen noise, with sliding convex doors making entrance easy in confined areas. With reduced tail swing, the machine occupies a road width of 11 feet 4 inches or less. Increased digging and dumping ranges provide a longer upper reach for jobs such as demolition or slope cutting.
Number of 20,000- to 40,000-lb. models: 6.
New 20,000- to 40,000-lb. models: PC158USLC-2, PC160LC-7, PC138USLC-2.
Noteworthy features: Tight tail swing, comfortable cab, high mobility, oil cooler, highly stable.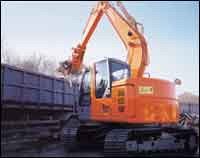 Stores Performance Data
The Machine Information Center on the Zaxis 135US from Hitachi captures and stores vital machine performance data such as engine speeds, hydraulic temperatures, pump pressures, alarms and faults, hours of operation, and more. The data can be downloaded through an mSeries Palm Pilot and transferred to a PC. Special PC software interprets the data and generates reports and graphs. A single work mode simplifies excavating operations. Engine speed is automatically controlled in response to the amount of lever operation.
Number of 20,000- to 40,000-lb. models: 3.
New 20,000- to 40,000-lb. models: Zaxis 120, Zaxis 135US, Zaxis 160.
Noteworthy features: Low operating costs, high productivity, fast cycle times, information center, two work modes.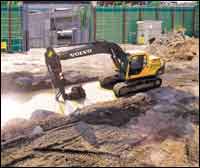 Numerous Cab Improvements
The Volvo EC160B excavator carries such enhancements as state-of-the-art hydraulics and operator cab improvements including automatic temperature control, improved visibility, air suspension heated seating, and a reconfigured electronic system for a more efficient balance of available engine power and hydraulic output. Powered by a low-emission Volvo D6D engine with charged-air cooler, the EC160B has four power modes that respond automatically to the operator's joystick movements and application requirements.
Number of 20,000- to 40,000-lb. models: 1.
New 20,000- to 40,000-lb. models: EC160B.
Noteworthy features: Volvo engine, efficient and comfortable cab, lower running costs, advanced service tools for engine/systems monitoring.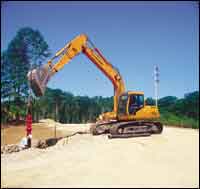 10-Percent Power Boost
Among the control features on the Hyundai 180C-3 is power boost, which increases power 10 percent in hard digging; automatic warm-up; a total horsepower control system consisting of two hydraulic pumps that utilize total engine output; and four working modes. Automatic deceleration adjusts engine speed when control levers are returned to neutral. The excavator is powered by a 116-hp Cummins engine.
Number of 20,000- to 40,000-lb. models: 10.
New 20,000- to 40,000-lb. models: R140LC-7.
Noteworthy features: Computer Aided Power Optimization (CAPO), three work modes, large cab, high-strength undercarriage.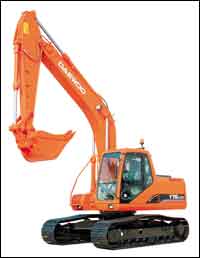 Power and Fuel Economy
An air-to-water intercooled engine on the Daewoo Solar 175LCV excavator provides power and fuel economy. In addition, the machine is equipped with the upgraded e-EPOS system that is designed to maximize work efficiency. Features of the system include a hydraulic system that ensures fully independent and combined operations, an automatic two-speed travel system, cross-sensing and fuel pump system, auto idle system, two working modes, and computer aided engine-pump control.
Number of 20,000- to 40,000-lb. models: 1.
New 20,000- to 40,000-lb. models: S175LCV.
Noteworthy features: Low fuel consumption, easy servicing, large cab with good visibility.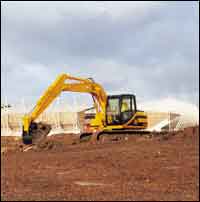 Frame Built to Last
With an X-frame undercarriage, the JCB JS130 excavator has good ground clearance, a large-diameter swing ring and belly guards. The AMS Advanced Management System maximizes machine performance and minimizes fuel consumption by matching the engine to hydraulic output. In the cab, there's a deluxe suspension seat, new shorter control levers, clear all-around visibility, cushion control, and Auto Plus one-touch idle controls and air conditioning.
Number of 20,000- to 40,000-lb. models: 2.
Noteworthy features: AMS management system, Plexus filtration system, boom priority hydraulic system, increased in-system pressure, powerful swing system, durable build, low emission Isuzu engine.
Buying File Feature: Excavators Combine Compactness and Power