By Walt Moore, Senior Editor | September 28, 2010
The new Bobcat S330 skid-steer loader has the hydraulic horsepowerto handle demanding attachments, such as stump grinders.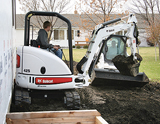 The 425 ZTS adds depth to Bobcat's zero-tail-swing excavator range.
With a rated operating capacity of 3,300 pounds, the new Bobcat S330 skid-steer loader is now the largest model in the company's loader range. Featuring a vertical lift-arm path and a lift height of 10 feet 10 inches to the bucket hinge, the 9,185-pound machine produces 85 horsepower from its turbocharged, liquid-cooled diesel engine.
The loader has a standard auxiliary flow of 20.7 gpm, and its high-flow option delivers 37.0 gpm; both systems operate at 3,300 psi. Also standard are fingertip controls for the auxiliary-hydraulic system, allowing selection of maximum or variable flow and providing a forward/reverse-flow detent. As an option, the deluxe panel provides information on the function of specific attachments and illustrates how best to control them. Two-speed travel, a standard feature, allows speed ranges to 6.9 and to 12 mph.
Optional operator-comfort features include an attachment-control kit, the deluxe instrumentation package, and Bobcat's Selectable Joystick Controls (SJC), which provides all-hand control of the machine. Included with the SJC package are horsepower-management and speed-management features. The former automatically adjusts the drive system to maximize pushing and digging power, says the company, and the latter allows the operator to "dial in" a suitable travel speed up to 7 mph.
Also new from Bobcat is a fourth zero-tail-swing (ZTS) compact excavator, the 425 ZTS, weighing in at 5,849 pounds with its standard digging arm. The standard arm allows dig depths to 8 feet 4 inches, but a long-arm option can increase that dimension to 9 feet 4 inches. The long-arm configuration adds about 400 pounds in counterweight to the machine, and the larger counterweight does protrude 3 inches beyond the tracks.
The machine's four-cylinder, liquid-cooled diesel engine produces 26 horsepower, and its working hydraulic system uses a variable-displacement pump with an auxiliary flow of 13.2 gpm. Auxiliary-hydraulic relief pressure is 2,610 psi for the standard-arm version and 2,900 psi for the long arm. Rubber tracks are standard, but steel versions are available for severe-duty applications. And with an overall width of slightly less than 61 inches, the 425 ZTS, says Bobcat, fits neatly into tight work spaces.