September 28, 2010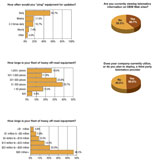 In this story:
Early in September, AEMP members were surveyed on their current usage and future needs for telematics data. The information members said they'd find most valuable if it were available were run and idle time (94 percent); start and stop time (75 percent); production data, such as cycle time (60 percent); and fuel usage and consumption (49 percent). Others want to see:
faults, warning lights, alarm codes

low coolant, low oil, overheating, over-speed

GPS detailed location

information on machine abuse

hydraulic pressures and certain voltages

temperature of coolant, transmission and hydraulics
The data is so important to fleet management, the majority of AEMP members (53.7 percent) said they would "ping" the machine (refresh the available data) daily and 7.4 percent would check it hourly.
While some of the information is currently available from OEM Web sites, only 40.7 percent of respondents are accessing the data. Among those that do, however, 47.7 percent must retrieve the information manually to use it to manage their fleets; 43.2 percent said they look at the numbers but don't use them. Only 6.8 percent have developed a way to integrate the information into their enterprise solution software.
Currently 50.5 percent of AEMP members use or plan to use a third-party telematics provider, citing ease of integration (64 percent) and competitive pricing (52 percent) as the top two reasons.
AEMP is working with several manufacturers on an industry-wide solution to providing key telematics data directly to end users. Representatives from Caterpillar, John Deere, Komatsu, Manitowoc, Qualcomm and Volvo recently agreed standardized file transfers of non-proprietary information to end users will allow more effective management.
Initial planning calls for development of a standard file format to allow end users to pull certain data streams from OEMs' servers automatically, eliminating the need for the end user to retrieve data manually.