By Rod Sutton, Editorial Director | August 4, 2011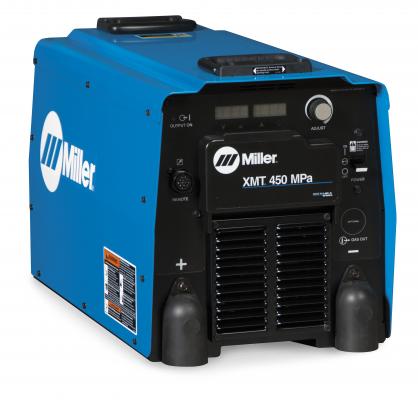 XMT 450 MPa multiprocess welder is an inverter-based power source that promises to improve maintenance and repair effectiveness, and includes synergistic capabilities that link into other Miller Electric products for automatic adjustments.
Rated at 450 amps at 100-percent duty cycle, the unit builds on the smaller XMT 350 Mpa with better power efficiency and additional programs for Pulsed MIG welding with up to 0.052- and 1/16-inch wires. It also has remote-control capabilities with Miller's XMT WCC or wireless remote control products.
Pulsed MIG welding capabilities come into play when the welder is matched with 74 MPa Plus and AlumaFeed feeders and an XR-AlumaPro or XR-Piston MIG gun. As the operator manipulates the wire feed speed on the gun, the system automatically adjusts pulse parameters as the welder is working to match that wire feed speed. The welder, then, can weld on thick or thin materials without having to change multiple parameters. This eliminates the need to change wire speed and then reset the weld output, the company says.
The unit also has Miller's advanced arc control using the company's SharpArc technology. Operators can lower the settings to widen the arc cone, increase puddle fluidity, and flatten the weld bead. By increasing the SharpArc settings, the operator can create a narrower bead for use in tight joints and fixtures.
Other features of the XMT series include Lift-Art TIG for starting the arc without the use of high frequency in TIG welding; Adaptive Hot Start for increased amperage at the start of the weld to eliminate electrode sticking; Line Voltage Compensation for keeping the welding output consistent even if input power varies; Fan-on-Demand cooling system that operates only when needed, reducing noise, energy use and contaminants pulled in to the machine; and Wind Tunnel Technology that protects electrical components and PC boards from contamination.
The unit measures 17-1/4 inches high, 14-1/2 inches wide, and 27-1/8 inches deep and weighs 122 pounds.
The XMT 450 MPa retails for $5,600; with Auxiliary power, the price is $5,990. The power source is warranted for 3 years, parts and labor; original main power rectified parts are warranted for 5 years; and the gun is warranted for 90 days, parts and labor.