By Larry Stewart, Executive Editor | September 28, 2010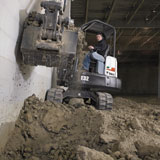 Three new compact excavators have been added to Bobcat's M-Series lineup: E42, E45 and E50. The E42 has an operating weight of 9,246 pounds and is powered by a 41.8-horsepower liquid-cooled diesel. The E45 is a zero-tail-swing model, weighs 10,077 pounds, and has the same 41.8-horsepower engine. The minimal-tail swing E50 weighs 10,677 pounds and has a 48.8-horsepower engine. All of the new models are available with a long-arm option that maximizes dig depth, reach and dump-height clearance.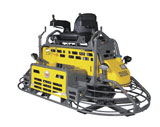 Wacker Neuson says electronic-joystick controls make the 48-inch CRT 48-35L-PS ride-on trowel handle and perform like a lighter weight finishing machine, dramatically easing operator fatigue. A steering-mode switch allows operators to select the response of the joysticks to satisfy their preferences and concrete conditions. It is powered by a 35-horsepower Lombardini diesel engine and offers high speed range of 25 to 165 rpm.
Wirtgen's acquisition of Belgian slipform-paver maker SGME has finally produced a North American curb-and-gutter machine, the SP15, a three-track machine that wields an offset mold to the right or left side. The 27,500-pound slipformer handles barrier-wall molds up to 4 feet 3 inches high and offset paving widths up to 6 feet. The three-way adjustable trimmer can cut up to 48 inches wide. The SP15 is powered by a 123-horsepower Deutz four-cylinder diesel. It is expected to sell for about $220,000.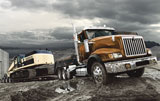 International improved its severe-service Paystar by making electronic stability control available on all models; offering factory-installed 8,000-, 13,200- and 20,000-pound lift axles; and making 10 ¼- by 3/8-inch frame rails standard on the 5900 SBA (set-back axle). The MaxxForce 11 and 13 diesel engines will be available in the coming weeks, and the 15-liter will be available late in 2010. International's 2010 MaxxForce Advanced EGR (exhaust gas recirculation) engines offer the only diesel truck power in the industry that doesn't require SCR (selective catalytic reduction) and associated urea service.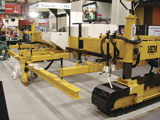 The HEM Magna Cut is a unique solution to the challenge of sawing longitudinal expansion joints into continuous concrete slabs before they crack. To avoid marring the green concrete, only the blade touches the surface. Crawler tracks straddle slabs as wide as 50 feet, and the saw suspended from a beam moves across it at the operator's control. The unit can handle crowned slabs and curbs, skewed joints and full-depth cuts.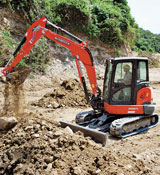 Kubota introduces the five-ton-class KX057-4 conventional-tail-swing mini excavator, offering an optional hydraulic float angle blade with 25-degree pivot angle. The Kubota diesel delivers 47.6 gross horsepower, and auto idle conserves fuel and reduces noise. Kubota says its new three-pump load-sensing hydraulic system combines closed and open center controls for "optimum oil flow to each cylinder for smooth multifunction operation and enhanced fuel economy." Full pilot-hydraulic controls and high-back suspension seat help reduce operator fatigue. Kubota's own theft-prevention system is standard equipment.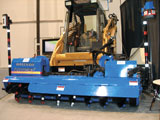 The Wakeham Skid Steer Trimmer uses direct hydrostatic drive to trim 88 inches wide. The 2,000-pound attachment will work on a 6,800-pound skid steer of 65 horsepower with high-flow hydraulics, but its designer says the machine is most at home on a heavier compact track loader. The hydraulic system relies on Vickers valves and an Eaton motor. The Skid Steer Trimmer costs about $35,000 when it is outfitted with a Leica Power Grade Control system with sonic elevation sensor to control both elevation and grade.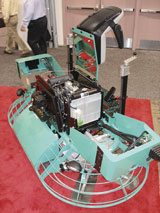 Multiquip patented the "swing-away upper frame design" that exposes the engine and other internals of the new HHX ride-on trowel for maintenance and repair. The 48-inch trowel uses helical gearboxes and a continuously variable transmission for smooth performance and proportional hydraulic steering reduces operator lever effort. A turbocharged option takes the standard 31-horsepower unit up to 34 horsepower.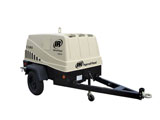 Ingersoll Rand C185 portable air compressor produces 185 cfm at 100 psi. Powered by a 49-horsepower Kubota diesel, the unit weighs 1,825 pounds and measures 66 inches wide and 58 inches tall. Two service air ports allow for use of multiple tools. Single-piece canopy is lockable and lightweight. Design enables cool air to enter the rear and cool internal components. Curbside controls and service valves keep operators away from traffic.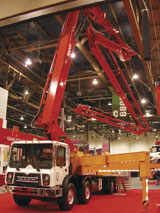 Sany announced three concrete pumps not only new to North America, but assembled in the company's Georgian facility. The five-section boom on the 46-meter pump truck shown here reaches just short of 151 vertical feet and 134 feet 6 inches horizontally. The pump can push 222 cubic feet of concrete per hour. Sany claims the X-shaped outrigger deployment accommodates congested sites better and it is capable of one-sided support. Sany's 45-meter pump transports at just over 41 feet and weighs 76,650 pounds.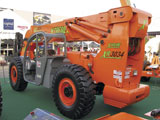 Xtreme's 48,000-pound XR3040 telehandler can lift its maximum capacity, 30,000 pounds, to 25 feet high. Maximum lift height is 34 feet. Rear axle stabilization and center-line-mounted engine and transmission give the machine a stable base. A Perkins diesel delivers 130 horsepower through Dana transmission and Kessler axles. Xtreme warranties its roller booms for five years.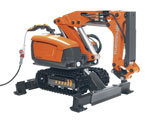 The DXR 250 demolition robot has an extra-low-weight fixed arm to ensure stability at the end of its 15-foot reach, according to Husqvarna. Low-profile body gives the operator a clear line of sight, and dozer blades make the chassis shorter for maneuvering in restricted spaces. The unit weighs 3,594 pounds with a 25-horsepower engine; a 30-horsepower unit is optional. Remote control hasa 3.5-inch display and can be operated with one hand.

MZ Imer
Compact Excavator Sales, importer of IHI brand skid steers and mini excavators, now markets the MZ Imer site dumper in North America. The MZ 2000 HD carries 4,400 pounds of payload, heaped to 1.85 cubic yards, on a rigid front axle and oscillating rear. The four-wheel drive dumper is powered by an air-cooled Kohler 25.6 horsepower diesel through a four-speed mechanical transmission. Total width is just 64 inches, with a 62-inch wheelbase.