By Tom Berg, Truck Editor | September 28, 2010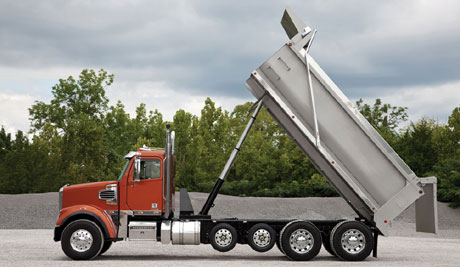 Freightliner Truck's next-generation heavy vocational model is the Coronado SD, a severe-duty version of the Coronado highway tractor with a beefed-up cab, hood and other components designed specifically for hauling heavy loads on- and off-highway. It was announced yesterday [Oct. 6] at the International Construction and Utility Equipment Expo in Louisville.
The Coronado SD, which will replace the FLD-SD that goes out of production in a few months, is a traditionally styled Class 8 model that can be ordered with big-bore Detroit and Cummins diesels rated up to 600 horsepower, forward- or setback steer axles rated up to 20,000 pounds, rear tandems up to 70,000 pounds, and lift axles rated at up to 20,000 pounds.
The reinforced fiberglass hood features impact-resistant fender edges, a stainless steel grille and projector-beam headlamps that use common, easily replaceable bulbs. Dual chrome steel intakes feed intake air to a single air filter under the hood. Optional pre-cleaners create a vortex effect to spin dust and heavy water particles out of the air before it reaches the filter. Combined dust holding capacity is equal to or better than traditional twin external cleaners, executives said.
The cab consists of an outer door frame and belt rail made from aluminum and combined with a steel inner reinforcement, resulting in sturdiness and light weight. It opens 70 degrees for easy entry and exit, Freightliner executives said. Doors and windows are sealed tightly against noise and moisture. The cab uses noise-absorbent panels in the floor, front wall, sides and back panel.
The interior features a new "intricate" dash with controls and switches located within easy reach, and gauges that are well-lit and easily seen. All switches and instruments are backlit by LED lights for non-glare nighttime viewing, and extra-large panels provide greater flexibility and convenience in gauge combinations, allowing for the installation of radios and navigation systems. The dashboard has minimal joints to prevent rattles and squeaks, making it one of the quietest dashboards Freightliner engineers have ever designed.
Detroit Diesel's DD13, DD15 and DD16 and Cummins' ISX meet the upcoming EPA 2010 exhaust emissions standards. Detroit Diesel engines are equipped with BlueTec exhaust aftreatment equipment that deliver a fuel economy improvement of up to 5 percent compared to EPA 2007 engines. A variety of exhaust configurations, including a compact 1-Box design, can be ordered. The 1-Box has low back pressure and allows for a clean back-of-cab for close mounting of dump beds and other bodies.
The Coronado SD will be available as a straight truck or tractor. Freightliner dealers have detailed specifications, availability and pricing.