March 7, 2016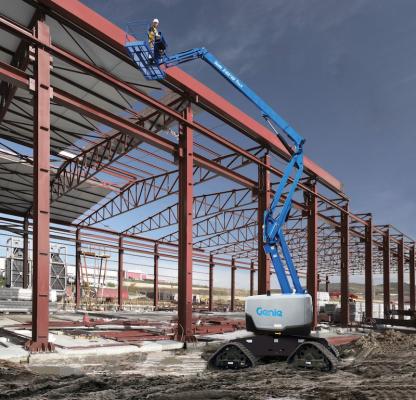 The Z-62/40 articulated boom aerial work platform is available with three additional options:  four-wheel steering, TraX track drive system, and a Deutz 74-horsepower Tier 4-Final engine. The four-wheel steering provides the ability to steer the front wheels and the rear wheels at the same time, resulting in steering responsiveness and precision, a small turning radius, and maneuverability in tight or limited-access areas.T
The Genie four-point TraX track drive system provides terrainability and low contact pressure for reduced damage to sensitive ground surfaces. The TraX unit has wide, rubber tracks for increased flotation and traction.
The engine utilizes a DVERT oxidation catalytic converter (DOC) for maintenance-free operation, and the package is required when using the TraX track drive system option.
Working height is 67 feet 11 inches; horizontal outreach is 40 feet 11 inches, up and over clearance is 25 feet 7 inches, and maximum lift capacity is 500 pounds.