Staff | September 28, 2010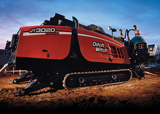 The new Ditch Witch JT3020 Mach 1 is a self-contained horizontal directional drilling machine rack-and-pinion thrust drive with a double rack that is welded on to prevent misalignment with the pinion. Powered by a quiet-running 148-horsepower engine, the JT3020 develops 30,000 pounds of thrust, 4,000 foot-pounds of torque, and spindle speeds to 225 rpm. Features include a new cooling system; redesigned anchor system; state-of-the-art operator station; field-proven wrenches, pipe loader and stabilizers; and efficient drilling fluid pumping system. 
Ingersoll Rand has introduced two Onboard Power Solutions reciprocating air compressors. The VHP40RMD is a diesel-powered air compressor and the VHP40RMG is gasoline-powered. Both units are designed to fit on standard-sized utility trucks, and both are powered by three-cylinder, four-stroke Kubota engines equipped with glow plugs for cold-weather operation.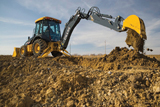 New John Deere J-Series backhoe-loaders have all new power-train components and numerous structural and electrical enhancements. All models provide exclusive, standard power shift transmission for fast, smooth, on-the fly, clutch-free gear shifts. Key features include a completely redesigned outboard planetary rear axle with improved lubrication and larger differential components, enhancements to the electrical system, new single-radiator cooling system, new top-hook, single-pin backhoe coupler, and updated structural areas to improve productivity and uptime.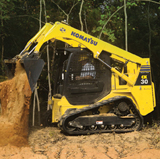 Komatsu offers two new compact rubber-tracked loaders — the CK30-1 with a 2,385-pound operating capacity and the CK35-1 with an operating capacity of 2,755 pounds. Both units are powered by an 84-horsepower Komatsu high-torque, turbocharged diesel engine. The CK30-1 loader utilizes radial lift path technology for ground-engaging applications, and the CK35-1 is a vertical lift-path loader more suited to material handling and truck-loading operations. Low 4- to 5-psi ground pressure of the machines make them ideal for many jobs, but especially in soft conditions or where minimum soil compaction is desired.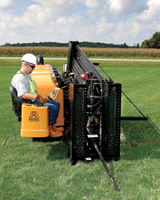 The new Astec EarthPro Series DD-2024 horizontal directional drill from Astec offers 20,000 pounds of thrust and pullback force with up to 2,400 foot-pounds of rotary torque. Powered by an 85-horsepower B3.3C Cummins diesel engine, it features field-proven dual rack-and-pinion drive with adjustable force limiter. The DD-2024 offers independent rear stabilizers and a dual stake-down system. Equipped with a tethered travel control unit to improve operator visibility during tramming and transport, it has a front-drive track system for traction and balance. The patented Es!Lok system is integrated into the drill controls for added safety.
See ConstructionEquipment.com's video report.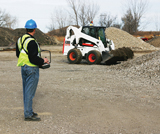 The new Bobcat radio remote-control system for loaders allows operators to start the loader engine and operate the drive, lift, tilt and auxiliary hydraulic functions from about 1,500 feet away. The joystick on the radio remote control transmitter activates the loader's joystick controls in the ISO control pattern. The system is usable for up to 15 hours on a rechargeable battery. In addition to being able to operate the remote system in various climate conditions, operators can easily switch between "remote" control mode and "machine/direct" control mode.
See ConstructionEquipment.com's video report.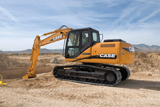 Case Construction Equipment has introduced the first models in its new CX B series line of full-sized excavators. Case says the new models feature measurable increases in fuel efficiency and productivity, noticeable improvements to operator comfort, easier maintenance, and enhancements to durability and reliability with 17 percent more horsepower than earlier models of comparable sizes and 20 percent better fuel efficiency. More hydraulic horsepower and faster cycle times increase productivity. Cabs are quieter inside and designed to be more comfortable, and have been modified to provide more convenient access to key functions.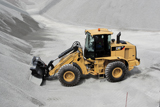 Caterpillar introduced three H-series small wheel loaders — the 128-horsepower 924H and 149-horsepower 928Hz and 930H models. They comply with EPA Tier III and EC Stage 3 emissions regulations. Notable features on the 924H and 930H are 3-inch valve hydraulics, 95-amp brushless alternator, and heavy-duty hydraulic oil cooler. In addition to the 95-amp brushless alternator and new hydraulic oil cooler, horsepower on the 928 Hz has been increased. New instrument panels have white-faced gauges and incorporate large LED ground speed and hour meter display.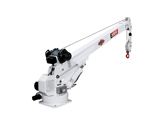 Iowa Mold Tooling (IMT) has added the 5005i crane to its lineup of electric telescopic cranes. The unit has a lifting capacity of 5,000 pounds (25,000 foot-pounds) and a maximum horizontal reach of 16 to 20 feet, depending on options. It joins the other IMT electric crane models specifically designed for lighter lifting applications in the construction, utility, public works, energy and railroad markets, as well as for equipment dealers and rental-equipment providers. IMT electric cranes have reach capabilities from 7 to 22 feet and lift capacities from 2,000 pounds (7,000 foot-pounds) to 6,000 pounds (36,000 foot-pounds).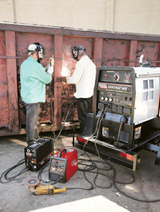 Lincoln Electric's Vantage 400 is one of the most compact 400 amp welder/generators on the market. The rugged unit features Chopper Technology to deliver great starts and a smooth arc for stick, downhill pipe, TIG or wire welding, as well as arc gouging. Its 1,800-rpm water-cooled, four-cylinder Perkins diesel engine delivers 400 amps, 36 volts and up to 450 amps, 32 volts of rated DC welding output at 100 percent duty cycle; and it generates 19,000 watts (peak) of 3-Phase 240V AC generator power for industrial equipment, such as a plasma cutter, pump, or an inverter welder.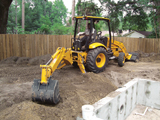 JCB has introduced the Midi CX mid-size backhoe-loader with 10-foot digging depth. The Midi CX is positioned between the Mini CX and 2CX. The 50-horsepower unit has two-speed hydrostatic drive and permanent four-wheel drive. Designed primarily for backhoe-loader work, it has the versatility of a compact industrial tractor with optional three-point hitch and power take off. Other key features include its compact size, mobility and durability. Auxiliary hydraulics power a six-in-one loader bucket and other attachments. A spacious cab offers excellent visibility and easy access to controls.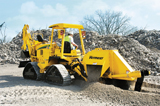 Lower ground pressure, increased traction, less ground disturbance, and greater stability are some of the benefits offered by the RTX1250 ride-on tractor. It features an exclusive quad-track design, which has virtually no break-over point, and maximizes tractive effort and stability with constant four-point ground contact. The RTX1250 design allows switching between rubber tires or quad tracks to match the unit to the job application and ground conditions. A 120-horsepower turbocharged Cummins engine provides an aggressive power curve resulting in a 5-horsepower power bulge allowing for maximum horsepower in the work mode.
See ConstructionEquipment.com's video report.