By Larry Stewart, Executive Editor | September 28, 2010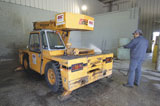 Discharging water to the storm sewer was an option, but RSC East Chicago modified a wash-rack separator to recycle water because, "recycling is the right thing to do for the environment and the community."
---
Although much of the equipment industry's environmental attention today is devoted to reducing exhaust emissions from diesel machinery, operating heavy equipment also creates some regulated solid waste. Doing the wrong thing with used oil and filters, wash-rack waste, coolant, spent solvent, tires and a host of other wastes can bring penalties of more than $32,000 per day until the mess is cleaned up.
The Resource Conservation & Recovery Act (RCRA) defines wastes that are hazardous, and prescribes how generators should handle them. The Act lists many hazardous wastes specifically, and describes characteristics that make other wastes hazardous. RCRA specifies the Toxicity Characteristic Leaching Procedure (TCLIP) test that is used to determine if a waste is hazardous.
Waste generators are lightly regulated, relative to those who treat, store, and dispose of waste. And RCRA assigns progressively easier paperwork and handling requirements to generators based on the volume they generate. There are three waste-generator sizes:
1. Large Quantity Generators generate 1,000 kilograms (about 2,200 pounds) or more of hazardous waste per month, or more than one kilogram (about 2.2 pounds) of acutely hazardous waste per month.
2. Small Quantity Generators produce more than 100 kilograms (about 220 pounds, or about half of a 55-gallon drum full of most liquids) up to 1,000 kilograms of hazardous waste per month.
3. Conditionally-Exempt Small Quantity Generators generate 100 kilograms or less of hazardous waste per month, and one kilogram or less of acutely hazardous waste per month. It's important to remember that state environmental quality agencies can impose more-stringent regulations on wastes in their jurisdictions.
"If you get water or some other contaminant in fuel tanks and have to remove the fuel and dispose of it, your generation rate gets that much higher, even if it's a one-time event," says Ed Buckner, an environmental engineer specializing in RCRA enforcement for EPA's Region 7. "You have to notify the agency and follow the procedures applicable to the larger generator's status. But your status will go right back down the next month."
Large- and small-quantity generators have to archive a copy of each manifest for wastes transported off their site and records of test results, waste analyses, and other hazardous waste determinations for three years. Most equipment organizations will be regulated as small quantity generators and very many can be conditionally exempt, especially if they take advantage of opportunities to reduce waste.