Staff | September 28, 2010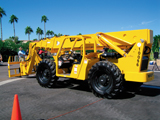 The name Pettibone is synonymous with telehandlers, and the 125-year-old Baraga, Mich.-based company has a heritage with this product category that reaches back nearly four decades. The 10056 is part of the company's Extendo product line, and although very mainstream in appearance, it incorporates several unique features.
On the boom, the telescoping sections ride on steel rollers, and the two wide-stance main lift cylinders are mounted to angle in ever so slightly at the top. This design is intended to help keep the boom centered as it elevates to relieve stress and is accomplished by mounting the cylinders with a spherical bearing. One of the main lift cylinders also pulls double-duty as a master cylinder, eliminating the need for a dedicated cylinder to keep the forks and carriage in proper balance.
Power comes from a Tier II-compliant, 4.5-liter Cummins electronically controlled engine, which belts out a peak 110 turbocharged horses. The engine is mid-mounted at an in-frame location.
It is apparent that Pettibone has made serious efforts to maximize service access while minimizing preventive-maintenance needs. One way is to minimize oil contamination with the utilization of a Parker dirt box, or a tank within a tank. All oil added to the system goes into the primary tank, where it is then filtered through a 10 micron pre-filter when entering the secondary tank. Removing the tank's filler cap requires a large wrench, which all but eliminates the chance of accidental fuel contamination.
The 10056's fuel and oil tanks are split on either side of the frame. Fuel is stored in a tank that hugs the back of the cab, while the hydraulic tank is located on the opposite side of the frame. Pettibone made the hydraulic tank as narrow as possible to allow for better access to the engine.
Power is transferred through a Carraro-supplied TLB2 four-speed (forward and reverse) power-shift transmission. The transmission is fully modulated, which allows the telehandler to decelerate to a safe rpm before down-shifting. Carraro also supplies the entire driveline, which incorporates the new Precision Steer axle system. Developed to correct the Ackermann steering geometry, Precision Steer is the first axle designed for four-wheel drive and four-wheel steering applications. Prior to using this axle, Pettibone's telehandler tires were toed in 9° in four-wheel steering; with this axle, misalignment has been reduced to only 4°.
The 10056's unique hydraulic system consists of a Parker-supplied pressure-compensating, variable-displacement piston pump. Pettibone asserts that this design offers a quicker response to controller input. The key to this system is that it runs at a constant 2,850 psi, producing zero hydraulic flow until it is asked to supply it. Once requested, the flow peaks at a maximum 38 gpm.
For priority steering and braking, a Sun Hydraulics-supplied sequencing valve diverts all flow for braking and steering, should the system's pressure drop below 2,600 psi. Proportionality for the main and auxiliary boom functions come from a combination of pilot-operated hydraulic and fully proportional electro/hydraulic valves.
Main boom functions are controlled through a single dual-axis joystick with an integral Hall-effect thumb rocker switch for secondary or auxiliary functions. The set-up allows for true variable flow for three functions simultaneously.