Frank Raczon, Senior Editor | September 28, 2017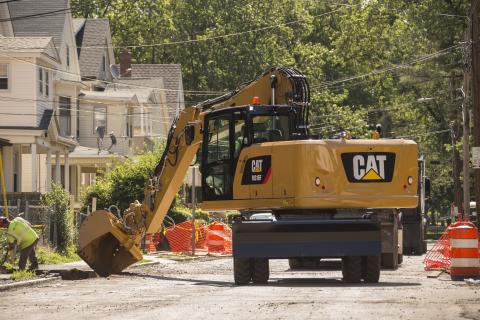 It's no surprise to find out that a winner of both Construction Equipment's Under 40 in Construction Equipment and Fleet Masters awards is an adopter of object detection technology.
Before delving into his motivations for purchasing object detection systems and their performance on the job so far, it's helpful to set the object detection playing field.
The goal: collision avoidance
Preventing vehicle-to-ground-worker- or vehicle-to-vehicle-contact can save lives and assets. Despite company meetings and on-site safety efforts, struck-by accidents and vehicle collisions on job sites are still all too common.
OSHA reports that 21.4 percent of all worker fatalities in 2015 (the latest year available) were in construction. Of these, 9.6 percent were struck-by deaths and 7.2 percent were "caught in/between" fatalities. And those numbers exclude highway work zone collisions.
One answer to these incidents is proximity warning systems, designed to warn vehicle operators that ground workers or other vehicles or objects are too close. They use a number of technologies ranging from relatively simple to more exotic, including video, GPS, radar, radio-frequency identification (RFID), ultrasonics, and thermal imaging cameras. Following are capsules on the most basic technology.
Video systems usually consist of rearview cameras with a display available on an in-cab monitor.
Caterpillar has the Detect system on its mining and other large equipment that can combine multiple video cameras positioned around a machine with radar sensors. This gives operators visual and audible indicators that alert them objects are nearby. Distance details are also included in the Cat system.
GPS shows the position of objects (along with speed and heading) to the machine operator. It can be combined with a vehicle-to-vehicle radio network so vehicles can communicate. Think IoT.
Radar sends a signal from the equipment that bounces off other objects, triggering a warning of proximity. RFID technology consists of a radio wave sent out from an antenna on the machine, which is then reflected by a tag worn by a ground worker. As a result, the operator receives an audio and visual alert. The tag can either be passive, warning just the equipment operator, or active, meaning the ground worker can receive his or her own warning.
Application: overhead hazards
Under 40 in Construction Equipment award winner Elliott Stanton, CEM, EMS, fleet manager for Strike LLC, a Texas-based energy and pipeline contractor (and 2017 Fleet Masters large-fleet winner) is a staunch believer in object detection technology.
In his case, the objects are high-voltage electric lines, which often follow, or cross, pipeline right of way.
"We put power line detection systems on anything with a boom that goes in the air," Elliott says. "That means excavators, forklifts, cranes, sidebooms, and backhoes."
Strike has about 1,700 pieces of its own equipment, but it will also install them on any rental piece it has on a job site, Elliott says.
"These systems don't prevent contact with power lines but they do alert you as you come in close proximity to a power line," he says.
"We have two types: one that is an audible alarm in the cab; and another that will tie into the solenoids of the machine so as you come into contact with the power lines with the tractor, it starts to limit and can ultimately stop the tractor from doing certain functions, like raise the boom," Elliott says.
The technology on the power line detection systems Strike is using can be divided into old school versus new school in terms of sophistication.
"There are older-generation and newer-generation systems—we have both," Elliott says. "There's a hardwired setup with a line, as well as a wireless setup. The wireless rig out is interesting because you can place up to 12 sensors on a machine, and with the wired setup, you put the signal sensor on the highest point of the machine."
Sigalarm, out of Sanford, Fla., makes one of the systems Elliott uses. Its power line proximity alarm performs in two different modes. Any time the system is turned on, whether activated at engine startup—wired through the ignition—or by the power switch on the front of the control panel, it will automatically be set at the most sensitive setting.
At this setting, the system can sense as little as 110v AC, Sigalarm says, warning the operator and crew that they are in the vicinity of a high-voltage power line.
Elliott also uses a power line warning system from Voltek, made by United Safety, Kalispell, Mont. Its basic power line proximity alarm model gives a warning by audible and visual clues, and has the ability to integrate with the E-stop or electric-over-hydraulic controls of a machine, allowing it to shut down or stop hydraulic action when used in the Shutdown mode.
A more sophisticated Voltek model adds the capability to work with external limit switches to provide a limit feature for specialized applications. When limit switches are activated, an alarm sounds and the equipment goes into a shutdown mode.
Cost versus benefits
"The typical cost for parts is roughly $5,500 per machine," Elliott says. "So taking care of these systems is crucial as cost can get expensive quick when you tear them up. For example, when hauling the boom and counterweights for a sideboom, you may accidently hit the sensor with the forklift during loading or unloading, and you'll have to purchase it again."
Strike has been installing object detection technology for power lines on its equipment for four years.
"We began implementing this process on our machines with certain clients in late 2013 as an added upsell for safety and damage prevention," Elliott says. "It has since grown, and even though there are no laws mandating such technology, nearly all of our customers demand it. They all appreciate it being on the project."
The company installs the technology itself on new pieces as they're delivered, and also on rentals as they are delivered to jobs.
Elliott has weighed the benefits of the system versus initial costs.
"The age-old saying an ounce of prevention is worth a pound of cure applies for us," he says. "Purchasing and maintaining power line detection systems is cheap in cost compared to hitting a line, causing a fatality, destroying the electrical system in a $400,000 excavator, and getting kicked off a job.
"And that's not to mention the aspect of other fines and fees when you stop the power supply," Elliott says. "We have hit lines before and it's not pretty, so the cost is cheap compared to the alternative."
Elliott thinks acquisition price, however, is a deterrent to more managers adopting object detection technology.
Do your homework
"Although the technology is proven, I think a lot of the hesitation is due to price," he explains. "Also, there are several power line detection companies and they are not all equal. You hear horror stories about doing business with some of the bad ones and that drowns out the good things you hear.
"This industry has no regulation, so it's important to do your homework before making a purchase. Ask for references and call them," Elliott says.
"In the future, we think we'll see our clients make them mandatory for equipment on the job, but right now, they are an insurance policy that's worth every dollar."