By Rod Sutton, Editor in Chief | September 28, 2010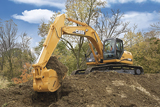 Case CX B series excavators have Isuzu Tier III diesels that boost horsepower in the series by up to 17 percent.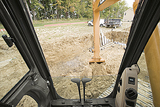 Reinforced posts in the corners of the cab improve visibility by providing more glass and a broader view to the jobsite. See-through skylight is optional.
---
Case put its numbers where its mouth is when it introduced the new CX B series excavators at World of Concrete in January. Citing operator comfort, serviceability, durability and reliability, marketing manager Dave Wolf provided percentages to show just how much improvement to expect.
Included in the CX B series are: CX160B, CX210B, CS240B and CX290B, with long-reach configurations available for the CX210B and CX240B and a narrow version for the CX210B.
The most significant improvement, in raw percentages, is a 39-percent improvement in maintainability and serviceability as measured by the SAE maintenance score. Features that led to this improvement include moving the hydraulic engine oil filter into the pump house so it can be changed without going underneath the machine, repositioning the engine oil filter for easier access, ganging together grease zerks, and flip-open panels.
Case also registered a 20-percent gain in fuel efficiency. "That's huge," Wolf says. "During testing, we were seeing almost a gallon an hour difference in fuel use. If you multiply that times 2,000 hours of operation per year times $2.50 a gallon for diesel fuel, that's a savings of $5,000 per year that goes straight to the bottom line."
Electronically controlled, common rail Tier III engines from Isuzu deliver up to a 17-percent increase in horsepower, Wolf says. Respectively, the CX160B, CX210B, CX240B and CX290B offer 120, 157, 177 and 207 net horsepower. Wolf suggests that with the combined increases in fuel efficiency and horsepower, the new series of excavators can move 25 percent more cubic yards per gallon of fuel.
Hydraulic horsepower has increased 4 to 10 percent as a result of increases Case has made in delivering flow. Wolf says the extra boost comes from using regenerative hydraulics to the bucket curl, a tactic the company already employs in the boom and arm.
Noise levels in the cab came down 4.7 percent to 68.6 dB(A), Wolf says, comparing it to being in a car. External noise was reduced by 3.0 dB(A). Other creature comforts include a seat that adjusts independently of the joysticks and remembers the settings selected by the operator. B series excavators will also store up to 10 auxiliary hydraulic flow patterns, so operators can quickly adapt to various attachments.
Basic Specifications: Case CX B Series
CX160B
CX210B
CX240B
CX290B
*with longest arm
Operating weight (lbs.)
37,700
47,400
55,120
65,697
Engine
Isuzu 4JJ1X
Isuzu 4HK1X
Isuzu 4HK1X
Isuzu 6HK1YSS
Net HP
120
157
177
207
Bucket dig force (lb.)
25,179
31,923
36,419
39,252
Max. dig depth*
21' 4"
21' 10"
24' 4"
36' 7"