By Walt Moore, Senior Editor | September 28, 2010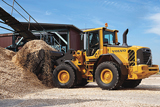 Estimated maximum operating weights for Volvo's new F-Series wheel loaders — L60F, L70F and L90F — are 27,120, 30,860 and 37,480 pounds, respectively.
Sometimes things stay the same, and that can be good. Sometimes things change, and that also can be good. For example, one design feature Volvo has kept the same on in its three new F-Series wheel loaders — the L60F, L70F and L90F — is the "all-rounder" concept. This concept employs the company's patented torque-parallel (TP) loader linkage, designed to combine high breakout forces with parallel lift action throughout the lifting range, while working in concert with a Volvo coupler for handling a selection of buckets, forks and attachments, including brooms, log grapples and material-handling arms.
Also retained in the design of the F-Series models is Volvo's Contronic machine-intelligence system. The system monitors operating systems, stores operating data, facilitates troubleshooting and allows updating and adapting machine performance and function to changing operating conditions. The Contronic system also has the ability to automatically restrict engine power if it senses that a potential malfunction will damage the engine or transmission.
But since change also can be good, the F-Series models are fitted with a new engine, new transmission and new cab. Powered by the 5.7-liter, Tier-III-compliant Volvo D6E engine, the loaders deliver 6 to 13 percent more horsepower and up to 15 percent more torque, compared with their E-Series predecessors. The new machines have net horsepower ratings of 154, 168 and 172, respectively. According to Volvo, the new engines produce high torque at relatively low speeds, contributing to high rimpull, low fuel consumption, and reduced sound levels both inside and outside the cab.
The new Full Automatic Power Shift transmission, with four gear ranges forward and reverse, is designed to change ratios independent of machine speed and engine speed, thus allowing precise gear selection to match operating conditions. New software in the electronic control unit, says Volvo, adapts to an operator's style of driving by "optimizing gear-changing parameters." The new transmission is notably quieter than its predecessor, says the company, and maximum speed in the L90F is up by 25 percent.
Volvo's Care Cab is also a new design highlight of the F-Series models. The cab is not only longer and wider than that of predecessor models, says the company, but it's also quieter and provides enhanced visibility. The new laminated front windshield is nearly 25 percent larger, and thinner pillars allow better sight lines in all directions.
Also in the cab, Volvo's lever-steering system is an option, allowing the operator to steer the machine and make directional changes from controls in the left armrest. Other options include Boom Suspension System, designed to absorb the shock of boom movement during travel, as well as a long boom, providing extra height for loading tall trucks and hoppers.