By Rod Sutton, Editor in Chief | September 28, 2010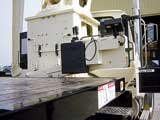 Easy Reach control console folds in-line with the crane turret for transport. Operators can then easily access the truck bed.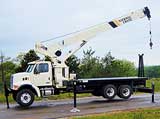 National Crane's 1300H series stand-up control crane has a 30-ton capacity, and it canbe mounted on a three-axle truck.
National Crane's new Series 1300H stand-up control crane introduces the Easy Reach control console, which moves from one operator station to the other. This patent-pending technology has been so successful, says Chris Bratthauar, marketing communications manager, that it will be incorporated into other models in the National Crane lineup.
The control panel folds up in-line with the turret for transport. Unlatching the spring-assisted console allows for "effortless" movement into the operation positions, says Mike Herbert, senior project engineer. "When the operator has to move between the load on the ground and the controls on the truck, he doesn't have to constantly walk around the bed to reach the controls or climb over the payload to reach the ground," he says.
The new technology also provides pilot-operated hydraulics, which Herbert says no other stand-up control crane has. Valves are located behind a hinge door for easy service access, he says. "Service technicians can open the hinged door and easily reach the crane's plumbing, hydraulics, gear box, and other components," says Herbert. Outriggers can be fully controlled, front and rear, and the front stabilizer controls feature "first-up" functionality when retracting outriggers. Other amenities of the operator station include a 12-volt power outlet, hourmeter, cup holder and stop/start switch.
The 1300H is a brand new model for National, filling the gap between the 1100 series and 1400H series. The 30-ton-capacity crane can be mounted on a three-axle truck, while maintaining an overall vehicle length of less than 40 feet and carrying more than 3 tons of payload, the company says.
The four-section boom is available in 69-, 100- or 110-foot lengths. Maximum tip height is 162 feet with the110-foot boom and 44-foot jib. An optional 25- to 44-foottwo-section jib is available.
Other options on the 1300H include front stabilizer for a 410-degree working area, radio remote controls, personnel baskets, and a removable steel bulkhead.