Tom Berg, Truck Editor | October 14, 2010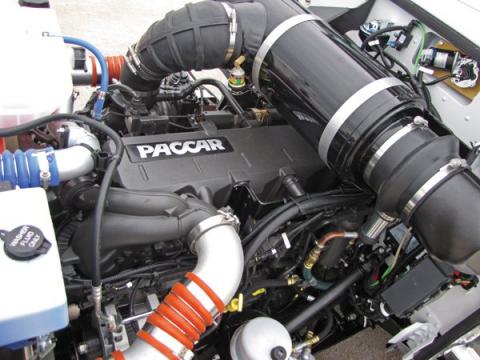 It takes guts to go to the market in the midst of an economic downturn with a brand-new diesel that has unfamiliar exhaust emissions equipment, then stand back and expect people to buy it. But that's not exactly what Paccar, the corporate parent of Kenworth Truck and Peterbilt Motors, has done.
Paccar engineers have Americanized a proven European diesel with an also-proven urea aftertreatment system; tested everything thoroughly; then prepared its factory and dealer people to fully support it; and launched a concerted promotional effort to make the engine highly visible to potential buyers.
Paccar has built a $400 million plant in Mississippi to assemble the engine, and began doing so this past summer. Trucks with the new MX-13 have begun arriving at Kenworth and Peterbilt dealers and are ready for your consideration.
Last spring I got to drive an MX installed in a Model 365, one of Peterbilt's vocational models usually built for construction work. This one was a daycab tractor spec'd for pick-up and delivery service, but pretend the van trailer is an end dump and the effect with the engine will be the same: It seems as happy at 1,000 rpm as at 1,900, and it's as smooth down low as up high. That was my main impression after about three hours behind the wheel of this rig, mostly on Interstate highways in northern Texas, near Pete's Denton headquarters.
Unveiled in late January, the MX-13 is now the data-book standard in all Class 8 KWs and Petes. Unlike the Cummins-sourced PX-6 and -8, the sole power for the companies' midrange trucks, the MX is an almost purely Paccar product. Initial units were built in Holland by Paccar's DAF subsidiary, which has been designing and making truck diesels for more than 50 years. It introduced the MX in 2005, and more than 200,000 have since been built. So it's new to North America, but highly proven overseas.
Mechanically the MX is interesting. It has a single Cummins Holset turbocharger, instead of dual turbos used by some competitors, along with a low-mounted camshaft-and-pushrod valve actuation, rear-mounted timing gears to cut torsional vibrations, and a precisely cast crankshaft that needs no counterweights. An integrated compression brake is standard, as are full-flow and bypass oil filters. A novel belt-driven water pump offset to the right is easy to get at and fix.
Like most other builders, Paccar meets federal 2010 exhaust emissions limits with advanced electronic controls, exhaust-gas recirculation, and selective catalytic reduction. SCR with urea injection causes a chemical reaction that converts oxides of nitrogen into nitrogen and water, all but eliminating the ingredients of atmospheric smog. It's not cheap and it's heavy and bulky, but it increases fuel economy by several percent, the builders claim and users have verified. It has been used successfully for several years in Europe and Japan.
Drivers will probably notice the lack of odor and smoke from the MX's exhaust—something true of all diesels since 2007, when they were fitted with particulate filters—and how clean the tailpipe stays, at least as long as the turbo and other upstream mechanicals remain intact (most '07-spec diesels have had problems in this regard).
Drivers will also notice that the MX is quiet, even in the Pete 365, which lacks the noise-proofing used on fancier models in which it can be barely heard. Sounds from this MX, which had the top rating of 485 horsepower and 1,650 pounds-feet, were noticeable but somewhat muted, and with no growls or barks to bring either enthusiasm or fatigue. The engine simply went about its work ably and efficiently.
My guide this day was Todd Wickstrum, Peterbilt's Paccar-engine field service liaison manager. He advises customers and dealer salespeople on how to set up trucks with the new MX and how to drive and service it. He explained that this Model 365 daycab tractor was built to deliver a "blend" of performance and economy for a fleet in Vancouver, B.C.
It was built to pull heavy trailers, such as the Utility 53-foot-long by 102-inch-wide test van hitched up for our run that was ballasted for a GCW of a little over 72,000 pounds. And it's designed for a lot of stops and starts; freeway dashes might get above 100 kilometers per hour (kph is what the speedometer's larger numbers were calibrated in) but not much more. So the stubby looking Pete had short legs—4.11 gears in the Dana rears and single-overdrive "C" gearing in the Eaton Fuller 10-speed tranny. This caused the engine to spin at a busy 1,600 rpm at 100 kph (62 mph), just as it would in a dump or mixer truck, Wickstrum said.
From our meet-up point at the Texas Motor Speedway, Wickstrum and I ran north on I-35W and I-35 into southern Oklahoma. He said some stiff grades up there would let the engine show off its lugging ability, but we ran out of time and turned around short of them so we could return to the speedway before it closed for the night. All that freeway running, and with no cab-roof fairing to push aside the oncoming air, made for less than impressive mile-per-gallon numbers on the in-dash readout—4.7 to 7 mpg.
The compression brake is said to be capable of as much as 460 retarding horsepower, but didn't seem as strong while decelerating down shallow grades and freeway off-ramps. It was quiet, though, and drivers might find they can ignore "no engine brake" signs posted outside many towns and cities. At slow speeds in low-range gears the brake aggressively slowed the truck and I had to declutch to keep the driveline from a-clunkin', and sometimes simply switched off the brake.
Although we had no real highway grades to climb, I did do some slow lugging during turn-arounds at the speedway and while positioning the truck for photos. At one point I let speed drop so the tachometer read only 1,100 rpm, then tromped on the foot feed; the engine picked up quickly, with absolutely no vibration or groaning of any kind. I did it again from 1,000 rpm, with the same smooth results. It surprised me until I read the engine's specs and found that its stated torque peak is 1,100 rpm. You sure couldn't lug like that with big ol' diesels in the good ol' days.
Lugability also begs for drivers to upshift early and often. I usually grabbed the next gear at no more than 1,500 or 1,600 rpm, and even that was a little too much. Most drivers today still rev their engines way too high, so if you're a manager with some new MXes—or almost any engine for that matter—beat the boys and girls over the head with a gearshift lever to get them to run the engines correctly. Once they learn to keep revs down, everyone will be happy.