By Larry Stewart, Executive Editor | September 28, 2010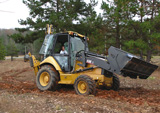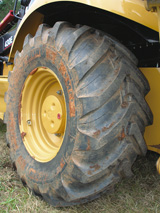 The trade press compared the new radials to competitive bias-ply tires by climbing a 9-percent slope cut through with gulleys. The Michelin-shod backhoe-loader soaked up the impact of driving into ditches and climbed out of them more smoothly and quickly than the backhoe on bias tires.
In an attempt to put more radials on backhoe-loaders, Michelin replaced its nearly 20-year-old XM27 and XM37 off-road radial tire designs with the industry's only backhoe-loader tire with steel tread belts — the new XMCL radial. About 280,000 replacement tires are sold for use on backhoe-loaders in the world each year. Only 5 percent of them are radials. In contrast, 77 percent of replacement tires for large earthmovers are radials.
"We've had fleet owners who have experienced an advantage of more than $700 per tire, comparing our radials versus bias-ply tires," says Todd Gillespie, North American training manager for Michelin Agro-Industrial Tires.
Priorities in designing the XMCL were to gain greater puncture resistance, resistance to sidewall damage, and longer service life. Two steel belts beneath the tread replace the Kevlar belts used in the XM27 and XM37, making the crown of the XMCL tire exceptionally puncture-resistant. More mass in the redesigned tread lugs protects tires and extends wear life. The new tires are about 5 percent heavier than comparably sized predecessors. A squared shoulder (transition from tread to sidewall) and raised sidewall ribs protect the XMCL's sidewall from damage.
The enhanced crown and sidewalls also improve the XMCL's load-carrying capacity. The XM27 had load limits of about 9,240 pounds at 6 mph and 6,400 pounds at 24 mph. The XMCL radial will carry more than 14,000 pounds at 6 mph and 9,900 pounds at 24 mph.
Michelin invited members of the press to its proving ground in Laurens, S.C., to experience the XMCL. This is hardly a perfect prospect, though, as many of the new tire's advantages accrue over hours or years of use. But Michelin mounted the new radials on one Caterpillar 430E tool carrier, and competitive bias-ply tires on a second 430E IT, and pointed us toward two sections of the testing facility.
First, we climbed a 9-percent grade crossed by gulleys to test the radials' traction and stability in rough terrain. Tires were inflated to manufacturer's recommended inflation pressure for the load. Four-wheel drive was disengaged in both tractors.
It's hard for an inexperienced operator to get a real sense for wheel slip in a straight pull, but diving into and climbing up out of the gulleys did suggest some radial performance advantages. Its steel belts and heavier tread bounced much less when they struck the bottom of the ditches, so the tread stayed in contact with the soil and pulled more consistently and quickly out of the depressions.
Then we moved to a flat gravel track with cones set in an easy slalom course. The backhoe on bias-ply tires floated through the cones in what felt like a scene out of Tokyo Drift. The XMCL radials tracked sure-footed at road speed.
Michelin launched the XMCL radial in January 2007 in 12 sizes from 18 to 28 inches to fit backhoe-loaders, compact wheel loaders and telehandlers. The new tire will be available as standard equipment on 2007 Caterpillar backhoes.