By Larry Stewart, Executive Editor | September 28, 2010
---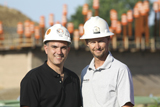 Tim Truex and Rodney Pew
In 1992 when Tim Truex started with Kokosing Construction in the company's electrical department, the Ohio contractor had a few grade trimmers that used touch sensors to follow a stringline. Truex got pretty good at troubleshooting those systems and keeping them operating properly. He and the company's commitment to supporting automatic grade control systems have grown dramatically as Kokosing has stayed near the cutting edge of adopting the technology.
The company had six laser-controlled systems in 1998 and beta tested ATS grade control that year. As they embraced the technology, company leaders invested in creating a machine-control group as part of Kokosing's electrical department within its equipment-maintenance operation in 1999. Some company surveyors were moved into a newly formed data-prep group within the surveying department in 2000.
Kokosing beta tested global-positioning-system (GPS) grade control in 2001, and by the end of the year had several GPS units in operation mostly on crawler dozers and motor graders. In 2004 they began exploring other applications of GPS grade control, such as on excavators and scrapers.
Today the company operates 22 dozers, 10 motor graders, three excavators and one scraper equipped with machine control, plus 16 base stations. Kokosing also owns 35 of Trimble's Cross Check units mounted on haul trucks for tracking and managing haul productivity.
"Electronic grade control ultimately gives the owner a more consistent finished product at a more controlled and productive level for the contractor," says Truex.
"From some Ohio districts, we're starting to see bid specs that call for us to provide the state inspectors with rovers to use for quality control checks," he adds. "Sometimes they're taking grade data off the memory card in our machine-control systems to support their quality control points."
Kokosing's machine-control group evolved to support positioning systems' competitive advantages. As technicians have been replaced or have moved on from the four-person team, the company has placed priority on new hires with advanced degrees in some form of electrical or electro-mechanical engineering. The company has upgraded training.
The electrical group supports two-way radios, office communications equipment, PLC and MCC controls, heavy electrical installations, and inspects overhead cranes. They also backstop heavy-equipment technicians dealing with electrical issues. "Anything new and electronic having to do with equipment, we get involved with," says Truex.
Four people in the machine control group have the ability to do hardware installations. Kokosing can completely install grade control on a bare motor grader in about two days at a significant cost savings. With the ARO (Accugrade Ready Option) that Caterpillar now offers, they complete the installation in one day.
"With an ARO machine, you still have to run some cabling and components, but the overall installation is quicker," says Rodney Pew, electrical coordinator.
The four machine-control technicians log 30 to 70 percent of their time working on machine control systems, depending on the season.
"We have one guy who does complete paving-equipment rebuilds," says Pew. "He completely rewires pavers in the winter when construction work slows down and we're doing major equipment maintenance."
"But those four guys' first priority is machine control," says Pew. "As machines or components come into the shop, they do a complete check-out procedure on them. We've set up a test stand that we can plug a component into, and we have a highway design behind the shop that we can run the equipment through to make sure it is operating properly.
"We make sure the firmware and software has all of the latest updates from Trimble," Pew adds. "You need to make sure these are the latest version or the equipment won't be at maximum productivity. The time to do it is when the equipment is not being utilized for production, typically over the winter months. Controlled conditions here in the shop allow for quick updates and an opportunity for preventive maintenance and equipment checkout."
Kokosing commits to training each of its employees at least 40 hours each year. Truex and Pew admit that some of the machine-control group's training has been trial and error because of the newness of the technology. But it's not necessarily less valuable than their classroom work.
"We start off with motivated and customer-service-driven people who have good mechanical and hydraulic backgrounds, and half of their training is OJT, on-the-job training," says Truex. "The other half of their training comes mostly from Trimble in the classroom, but they also learn from conducting our in-house training.
"Just knowing the machine-control system is not enough," he continues. "If machine control is on a machine, most grade problems get blamed on the machine-control system — it's hard to find the real cause of a problem.
"Our operators train the machine-control technicians about how the machine control systems interact with the machines. It helps them determine if a problem is with the machine-control system or the machine itself."
Another significant role the machine-control technicians play is making sure operators get maximum value — grade accuracy and efficiency — from their systems. This requires a third level of insight into how machine control works.
"The technicians also need to know how to read plans, grade charts, and understand road design to know if the operator is setting up the machine right," Pew adds. "We had our technicians take a plan-reading class with the Ohio Contractors Association (local AGC chapter). They can read Ohio DOT blueprints so they know what grade numbers mean. It really helps when they're talking with our survey people about problems that operators might have getting to grades."
"My four machine-control guys are no different than the field mechanics keeping that equipment running on the job. Having in-house machine control technicians allows Kokosing to be very responsive to machine-control needs," says Truex. "They've paid for themselves over and over by keeping our equipment productive."