By Katie Weiler, Managing Editor | September 28, 2010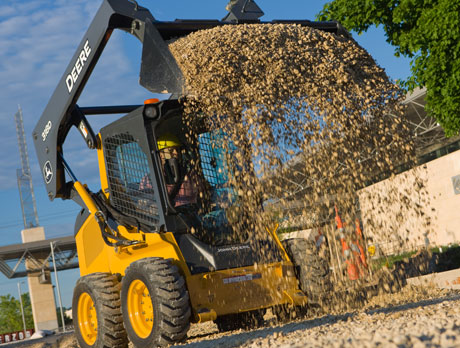 D-Series cabs are larger and quieter than predecessor machines, with increased visibility, improved HVAC system, larger door opening and more.
Upon visiting John Deere Construction's Web site, you'll be entertained by a virtual skid steer sitting inside a suggestion box, complete with interactive notes to click on and see what customers asked for in the way of improvements for Deere's D Series skid steers and CTLs. The company says the product launch results from years of research and partnering with skid-steer owners and operators from around the world.
"We've listened to what customers told us they wanted in skid steer and compact track loaders, and we've responded with nine new models that incorporate their suggestions," says Gregg Zupancic, Deere product marketing manager for the products.
New skid steers include models 318D, 320D, 326D, 328D and 332D, with net-horsepower ratings of 58 to 89; rated operating loads from 1,800 to 3,200 pounds; and tipping loads from 3,600 to 6,400 pounds. The new 319D, 323D, 329D and 333D compact track loaders have a horsepower range of 58 to 89 and rated operating capacity of 1,900 to 3,300 pounds. Tipping loads range from 5,600 to 9,425 pounds.
According to Deere, one of the most dramatic differences in the D-Series is the cab. Customers asked for larger, more comfortable cabs, and Deere answered with 24 percent more room overall and 6 more inches of headroom than predecessor machines. The cabs also offer a 50-percent noise reduction inside and out resulting not only from improved sound absorption, but also a hydraulic fan drive, auto-idle feature, and new electronically controlled Tier 3/interim Tier 4 PowerTechE diesel engines. Deere claims best-in-class visibility as well, with 100-percent more front glass and 50-percent larger top window and lower side windows. In addition, HVAC directs 50 percent more air flow and 30 percent more heat for improved operator comfort.
Three choices of controls are available on all D-Series machines. Foot controls come standard. Operators can also choose hands-only levers or electro hydraulic joysticks for steering, forward/reverse, and boom/bucket functions. Optional EH (electro hydraulic) Performance Package includes switchable controls from ISO to H pattern; creeper mode, allowing the operator to set wheel/track speed in 10-percent increments of top speed; and boom and bucket metering, with three settings.     
Other options include reversing hydraulic fan, which works with a computer program that monitors engine and hydraulic fluid temperatures to increase or decrease fan speed as necessary. The V-Plenum cooling system sports aluminum coolers that are larger, taller and positioned side by side. They are protected from air-blown debris damage because the fan is rearward of coolers, Deere says.  
Despite all the changes, D-Series units have retained many of the productivity features of the 300 Series such as planetary gear drives on the CTLs, "industry-leading" bucket roll-back and dump angles, and ease of maintenance.
Retail prices for the line range from $20,000 to $60,000.