Staff | September 28, 2010
Of the four product lines that make up the McConnellsburg, Pa.-based JLG Industries' family of telehandlers, the JLG 10-55A was the only homegrown JLG machine at the Showcase. Because it was a clean-sheet design, this machine has a unique look, design and feel.
Maximizing visibility was a key driver in the development of the JLG 10-55A, which is addressed with its high-mounted boom and how it is mounted to the frame. Gradall's influence is apparent in both the position and unobtrusive design of the boom uprights. Combine these boom attributes and the view is exceptional — especially in the carry position.
JLG also points out that the frame design was integral to the visibility parameters. The center spine, or "backbone," design is narrow and has two significant impacts. It allows the side-mounted engine to sit close to the operator — the tighter it sits, the better the line of sight to the right side of the machine. The narrow chassis also allows room for a wider cab, which is identified as a component of visibility.
Even though the JLG 10-55A is high-boom mounted, it is designed to sit low, producing a balanced, low center of gravity. That is not to say that it has poor ground clearance. At 18 inches, it is one of the best. Weight distribution is minimal, with a difference of less than 500 pounds from one side to the other. With the outriggers down, you can take 3,000 pounds to the maximum 42-foot horizontal outreach. The boom is designed to work quickly. When stowed, JLG reported the boom can be elevated in about 15 seconds and telescoped to full length in around 16 seconds. The frame-mounted outriggers are positioned high to improve approach angles.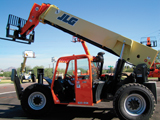 A 125-hp John Deere 4045TF275 Turbo diesel engine is side-mounted and drives a fully modulated four-speed ZF power-shift transmission. Hydraulic flow is provided by a load-sensing piston pump. All major component and service points are located under the vast, lockable ABS composition hood. With everything out in the open, service access is excellent to everything except the starter — you have to go underneath the engine for that chore. The cover is sloped to minimize any visual obstruction from the cab. Intake air is pulled through a two-stage dry air cleaner. It is centrifugally pre-cleaned with continuous dust ejection, and it also incorporates a replaceable dry filter element. A visual service indicator is located on the canister.
The low overall design facilitates easy access to the very roomy cab, where you will find a well-positioned suspension seat. A single joystick controller runs the pilot-operated lift and telescope functions. An acrylic cover protects the full array of analog gauges.
To expand the versatility of the JLG 10-55A, a variety of optional attachments can be utilized with its Quick-Switch system.