By Construction Equipment Editors | September 28, 2010
More Conexpo-Con/Agg products.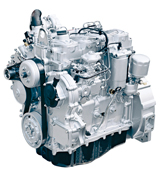 The new F-Series engines from Fiat Powertrain Technologies (FPT) — using an inline, four-cylinder design and having a displacement of 3.2 liters — are designed specifically for off-road and stationary applications. Meeting Tier-3 emissions standards and available in horsepower ratings of 74, 82 and 87 (at 2,500 rpm), the F-Series models feature two valves per cylinder, cast-iron cylinder head, mechanical fuel-injection, and structural or non-structural architecture. The new engines also may be configured with either an internal or an external EGR (exhaust-gas-recirculation) system and, further, as either turbocharged or turbocharged-and-aftercooled.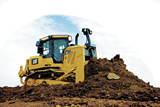 Caterpillar claims its 59,000-pound D7E track-type tractor's electric drive system will deliver 25 percent more material moved per gallon of fuel than the D7R Series II dozer. A 235-horsepower Cat C9 diesel drives a generator to produce electricity that ultimately powers two AC electric drive motors, which are connected to a differential steering system, final drives, and a low-sprocket undercarriage. The electric drive train has 60 percent fewer moving parts compared to previous D7s. The drive eliminates gears to shift and is said to perform much like a hydrostatic drive, albeit with faster response to load demands. It is expected to be available in 2009. See video, specs and more!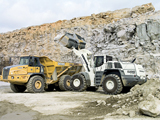 Liebherr's L 586 2plus2 wheel loader has a tipping load of 45,040 pounds, making it the largest hydrostatically driven wheel loader in the world. Trading on its 25 years of experience building hydrostatic wheel loaders, the company claims its drive systems reduce fuel consumption by as much as 25 percent, compared to mechanical-drive machines; reduce tire wear by 25 percent; and experience virtually no brake wear. It is powered by a 340-horsepower (at 1,800 rpm) Liebherr D 936 L engine.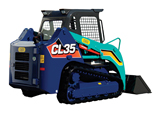 The first compact track loader IHI/CES has manufactured is the CL35, with a rated operating capacity (50 percent of tipping load) of 2,310 pounds. The 7,826-pound CL35 is powered by a 67-horsepower Yanmar diesel. With a radial lift path, the loader arm generates 5,710 pounds of breakout force and 6,474 pounds of bucket breakout force.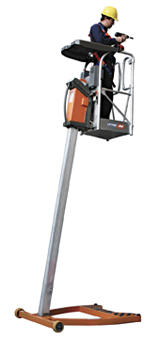 According to JLG, its new FS80 LiftPod is "the most portable aerial work platform in the world." Each of the LiftPod's five modules (base, mast and carriage, platform, power pack and work tray) is designed to be "carried by one person and can be assembled in around 30 seconds." The LiftPod is a practical alternative to a ladder and typically can be transported in the back of a utility vehicle. The 63-pound base of the LiftPod is made of high-strength steel and its mast (44 pounds) and platform (30 pounds) of lightweight aluminum. The unit's power pack (15 pounds) can elevate and descend with a worker an average of 20 times before recharging is required. The LiftPod has a platform height of 7 feet 8 inches, a platform size of 24×20 inches, and a platform capacity of 300 pounds.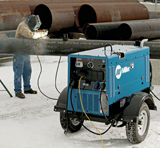 The PRO 300 diesel welding generator has been improved by using fewer and more robust electronic components. An optional 4-cylinder, 24-horsepower Deutz engine provides more power for using larger electrodes and gouging with carbons up to 1/4-inch diameter, the company says. More power also compensates for less oxygen when working in higher elevations. The unit offers better E6010 performance for downhill pipe welding, as well as better MIG, flux cored and TIG arc starts. It provides 20 to 410 amps of welding power, as well as 12,000 watts of peak generator power.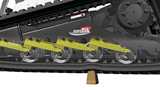 Responding to customer requests for a smoother ride from
compact track loaders, Bobcat developed a roller suspension system, which is currently available as an option for the T320 compact track loader and will become available for more of the company's rubber-track models later this year. In the new suspension system, the rollers are suspended by high-strength-steel leaf springs as a means of reducing vibration. In addition, the system used track idlers that have been raised to make the machine easier to turn. A further advance built into the new suspension system is provision for a larger area around the sprocket to facilitate cleaning. Video coverage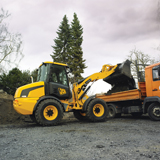 The JCB compact wheel loader range has been extended with the
launch of the 75-horsepower model 409. Weighing 12,831 pounds, the articulated machine uses a hydrostatic transmission that drives though mechanical axles to provide all-wheel drive. Using a standard 1.3-cubic-yard bucket, the 409 has a straight tipping load of 10,480 pounds, and a full-turn tipping load of 8,628 pounds. (When equipped with pallet forks, says JCB, the 409 can handle a 5,500-pound load.)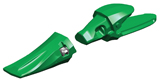 ESCO's new Ultralok Tooth System eliminates a separate pin from the tooth/adapter interface. Each tooth/point has an integral hammerless locking mechanism to simplify installation and replacement. The Ultralok retainer is integrated into the tooth, so there is no separate pin to manage during installation and removal. It will be offered in seven construction sizes. The tooth-and-adapter line will supply 6- to 75-metric-ton excavators and 3- to 12-cubic-yard wheel loaders. Key to the Ultralok system is that the adapter carries the load, and the pin simply retains the tooth on the adapter during most of the duty cycle. Video coverage.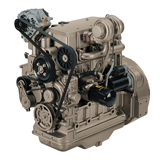 To achieve compliance with Interim Tier 4 off-highway emissions required in 2011 for engines 174 horsepower and up, John Deere Power Systems will not use selective catalytic reduction, but rather will add a diesel oxidation catalyst/diesel particulate filter unit to its Tier-3 PowerTech engine to achieve the 90-percent diesel particulate reduction required. Selective cata-lytic reduction requires the vehicle be fitted with a separate tank, a urea injection system, and a legislatively required tamper-proof diagnostic system. For the required 50-percent reduction in oxides of nitrogen, Deere will increase the percentage of cooled exhaust gas recirculation.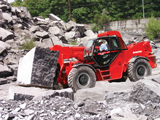 Manitou North America has introduced the MHT 10160 rough-terrain telehandler, which has a rated maximum capacity of 36,000 pounds. The new telehandler's capacity at its maximum lift height (31 feet 10 inches) is 15,430 pounds. Capacity at its maximum forward (18 feet) is 9,260 pounds. The MHT 10160 uses a 175-horsepower, Tier-3-compliant Mercedes diesel engine and features a two-speed hydrostatic transmission.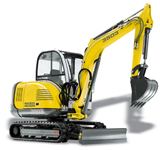 Ranging from 1.4 to 8.0 tons, a new line of five compact track excavators has been introduced to the U.S. market. Models 1404, 3503, 38Z3, 50Z3 and 8003 are powered by Yanmar diesel engines with horsepower from 24.3 to 69.5, respectively. Maximum digging depths range from 7 feet 4 inches to 14 feet 1 inch. The largest model in the line — the 8003 — is available as a canopy or full cab work platform with air conditioning. Standard features include high output hydraulics, rubber tracks, dozer blades, boom-mounted working lights and a control pattern selection system.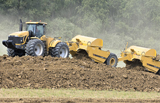 Caterpillar entered the towed-scraper business when it acquired E-Ject Systems in January. The company's four pull-type scrapers are now available in North America exclusively through Cat dealers, and will be sold under the Caterpillar brand beginning in October. There are two sizes — 17 and 22 cubic yards — and two configurations — standard two-wheel pans and an advanced design with four wheels. All models come with brakes as standard equipment, and feature 6.5-inch pins and tapered roller bearings inside the tongue and hitch. TheE-17XW and E-22XW four-wheel scrapers each have a parallel linkage that enables the cutting-edge angle to be adjusted for most efficient loading. A walking-beam suspension on the scrapers holds the blade more level. Video coverage.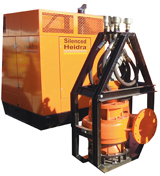 Godwin Pumps kicked off its Heidra hydraulic submersible line with a 12-inch model HS300 hydraulic-powered submersible pump. Capable of flow rates to 6,000 gpm and heads to 200 feet, the Heidra 300 is a self-contained, hydraulic powered submersible pump with a diesel-driven hydraulic power unit. The Heidra 300 is a cast iron pump with cast chromium steel impeller designed for general pumping with solids up to 3-3/4 inches diameter. An integrated steel cage on the pump end protects the pump while submerged.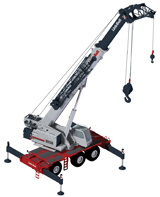 The new Link-Belt RTC-80130 Series II 130-ton rough-terrain crane is the largest rough-terrain Link-Belt has ever produced, it says. The new crane uses a five-section, 162-foot formed boom that is constructed of extra-high-tensile steel and has one double-acting, single-stage hydraulic cylinder with integrated holding valves. Five boom modes vary the extension of the telescoping sections, and wear pads with Teflon inserts self-lubricate the boom sections. Maximum boom tip height is 171 feet. The unit can be transported in two loads, with the main load less than 94,000 pounds, including the boom, both winches, three-piece fly and tires attached.
Dana Spicer 369 shift-on-the-fly hydrostatic transmission is designed for mid-sized construction, mining and material-handling vehicles. The transmission is composed of a single hydrostatic motor featuring a transfer case with low- and high-gear ratios, integrating the drive-train system into the engine's controller area network to improve shift quality and reduce acceleration jerk during vehicle operation.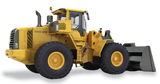 Volvo Construction Equipment promises that the L220F Hybrid wheel loader will offer 10 percent fuel savings as well as performance and environmental gains when deliveries begin late in 2009. The heart of the parallel-hybrid system is an ISG, Integrated Starter Generator, fitted between the Volvo D12 engine and transmission. The ISG allows the diesel engine to be turned off when stationary and then almost instantly restarted by rapidly spinning the engine up to optimum working speed using a burst of energy from the high power battery. Video coverage.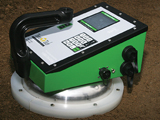 TransTech Systems' Model SDG Soil Density Gauge, similar to the company's PQI Asphalt Density Gauge, brings non-nuclear, impedance-based density and moisture measurements to soil applications. The SDG, says TransTech, is quick to set up, captures data in seconds, and is suitable for soil compaction jobs, such as sub-bases, embankments, fills, foundations, dams, landfills and utility cuts. Unlike sand-cone or rubber-balloon tests, which can be time-consuming and are subject to yielding results that can be influenced by the operator, the SDG offers readings taken in seconds by any member of the staff.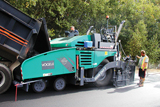 Vögele Vision Series asphalt pavers includes the 10-foot tracked 5200-2, 10-foot wheeled 5203-2, 8-foot tracked 5100-2, and 8-foot wheeled 5103-2. Machine slope and hood have been designed so operators can see sides, hopper and conveyors in the back, without having to move around. Operator's station swings out from both edges of the machine, and the control console slides from one side of the platform to the other, and also swivels and tilts. Independently operated hopper wings can be dumped individually or at the same time.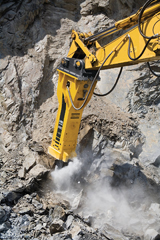 Standing 14 feet high, Atlas Copco's HB 10000 hydraulic breaker is the most powerful unit in its line. It weighs 10 metric tons, and delivers about 12,000 ft.-lbs. at the tip of the tool — 50 percent more impact energy than the company's HB 7000. It fits on excavators in the 85- to 140-metric-ton class. Featuring PowerAdapt, AutoControl and other Atlas Copco technology, the breaker is designed for primary rock breaking in quarries and is a viable alternative to certain drilling-and-blasting applications.
Terex TA30 articulated dump truck features the company's independent front suspension system with integral wet disc brakes. Suspension was developed in conjunction with Timoney Mobility Systems in Ireland, and is a parallel-linkage coil-spring system. Powered by a Cummins QSM11 350-horsepower diesel, the truck can haul 30.9 tons.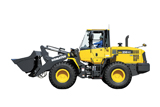 Komatsu WA250PZ-6 tool carrier replaces the WA250PT-5. It has an operating weight of 26,808 to 27,778 pounds and a heaped bucket capacity of 2.5 to 3.0 cubic yards. The machine is powered by a Komatsu engine with 138 net horsepower. Others in the Dash 6 updates include the WA200PZ-6 and WA320PZ-6.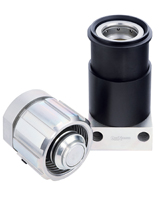 Snap-tite developed the QUIKXCHANGE quick disconnect coupling to survive hydraulic surge and pulsating flow of various work tools like hydraulic hammers, shears, and concrete crushers. The coupling mounts on the excavator's dipper stick, connects under static pressure, incorporates what Snap-tite calls a "dry-break" disconnection, and enables one man to change the work-tool hydraulic lines in five minutes or less with minimal effort.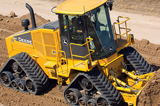 John Deere's new 764 High-Speed Dozer (HSD) is an articulated, rubber-tracked dozer that combines the speed of a grader with the flotation of a crawler dozer. It will grade and push moderate dozing loads at about double the speed of a similarly sized crawler. Deere says it will bluetop to 1/8-inch at up to 6 mph, and travel at 18 mph. The 764 HSD weighs in at 32,000 pounds and is powered by a 200 horsepower Deere PowerTech 6.8-liter engine. Video, specs and more
Astec says its Double Barrel Green System reduces the mixing and
compaction temperatures of asphalt without sacrificing the quality of the pavement. The new system is considered a warm mix process. However, unlike other warm mix technologies, the process does not require the addition of expensive commercial additives, Astec says. Instead, water is injected into the mix along with the liquid asphalt cement. Water causes the liquid asphalt to foam and expand in volume, yielding a temperature that is about 50 F less than traditional hot mix asphalt.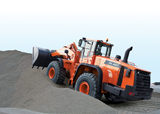 Doosan has added four new wheel loaders to its DL series: DL200TC, DL250TC, DL300 and DL450. Bucket capacities range from 2.6 cubic yards to 6.3. Engine and fully automatic ZF transmission communicate to provide smooth operation and traction. Lower gear speeds extend component life, and improved power train efficiency allows for fuel economy. Centralized remote hydraulic checkpoints and accessible filters and electrical components ease maintenance tasks.
Wirtgen W150 milling machine replaces the W1500. Optional milling drums of 4 feet, 4 feet 3 inches, or 5 feet are available for applications such as milling large surfaces, removing pavement layers at full depth, or leveling. Cutting depth is 0 to 13 inches. Cummins six-cylinder diesel delivers 350 horsepower. Four-fold, full-floating and height-adjustment system ensures that the machine aligns parallel to the pavement during milling and transport.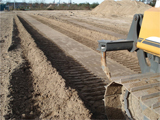 Topcon's newest machine-control system, 3D-MC2, is claimed to increase the travel speed of dozers by more than 200 percent while maintaining grading smoothness. With new sensor technology — a combination of inertial sensors and gyros — the calculation of positioning is sped up by a factor of 10. This reduces the inherent latency of traditional GPS technology and allows for faster, accurate positioning in real time. According to Topcon, 3D-MC2 breaks down the "last barrier" of grading productivity — speed — and will change the role of the dozer on the jobsite.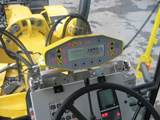 Backwards-compatible to prior MOBA products, the GS-506 grade-control system for graders and dozers likewise uses five sensors to control the blade. In this case, rotation, long-slope, and cross-slope measurements are combined with the new MOBA SonicSki+ ultrasonic sensor and/or the new LS-3000 laser receiver. The SonicSki+ utilizes extended side-shift functions, has a working range up to 4 feet, and can be used over a string line or curb edge due to the use of six transducers. The LS-3000 receiver offers a full 360-degree detection range for grading of large areas. For the machine operator, an integrated shield combined with manual contrast control allows for clear reading in all light conditions.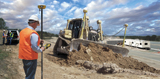 As part of the Trimble Connected Site portfolio of construction solutions, Connected Community allows heavy and highway contractors to build information portals; share information; and collaborate on any project between head office management, site office teams, field crews, subcontractors, suppliers, engineers and clients. The Web-based set of networking tools pulls together site-positioning systems, grade-control systems, and equipment-asset systems formerly independent of each other.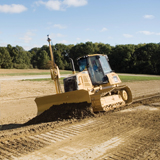 The MT900C active machine target offers additional support for Caterpillar AccuGrade advanced tracking sensor systems for use on graders and dozers. The machine operator can conduct real-time fine-grading operations with increased accuracy without the fear of losing instrument lock. The target uses a 360-degree ring of infrared light-emitting diodes (LEDs) to allow tracking from any horizontal direction. The infrared LEDs emit one of 16 programmable IDs that allow the instrument to lock on and track the correct target, which is particularly important in dusty site conditions.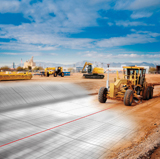 RedLine family of tracking devices from Leica includes GNSS sensors for on-machine, vehicle and pole rover applications, a ground-based robotic tracker, and new software applications to speed construction measurement and layout tasks in every project phase. RedLine sensors are designed for construction use — light for measurement and layout, and tough enough for 3D machine control — and all sensors can be used for multiple construction tasks at every phase, including on-board machine-control applications.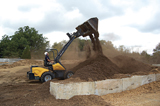 Compact Power's new 700 Series compact utility loaders — 726DT, 732DT and 749DT — have operating weights of 1,874; 2,271; and 3,440 pounds, respectively. According to the company, the machines use diesel engines with operating capacities comparable to skid steer loaders. Specifically, the 726D uses a 26-horsepower Daihatsu engine, and the two larger models use Yanmar engines, rated at 32 and 49 horsepower. All units feature a hydrostatic transmission, four-wheel drive and frame articulation. Hydraulic flow rates range from 6.9 to 8.9 gpm, and pressure is set at 3,050 for all three.
Six models in ITT Flygt's 2600 Series line of submersible dewatering pumps range from 1.2 to 27 horsepower, with 2- through 6-inch discharges pushing 150 to 1,400 gallonsper minute at heads from 40 to 230 feet. Flygt says the 2600-Series pumps are three times more wear resistant than competitive pumps. Closed impellers are made from high-chrome cast iron.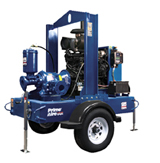 Gorman-Rupp introduced three new priming-assisted (dry-priming) pumps, models PA4C22-4045H, PA4C60-4045H and PA6C60-4045H. These models, which use a Tier-3-compliant power unit, are directly coupled to a Deere 4045HF285 air-cooled diesel engine. Each unit is equipped with an integrated steel base/fuel tank. Models are furnished with a standard pump priming chamber and an auto-start/stop engine control with a detachable single float switch assembly.
Mustang has added a fourth compact track loader, model MTL312, which is the smallest of the line. The unit is built as a track loader with a heavy-duty undercarriage. Operating weight is 5,952 pounds, and width is just under 58 inches. Spacious work station features a fingertip-control joystick.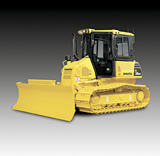 Komatsu D39EX-22 and D39PX-22 crawler dozers have the company's Hydrostatic Transmission (HST). As with its D51-22 Series, the D39EX-22 machines have a "super-slant" nose and cab-forward design for improved machine balance, ride, stability and blade visibility. Powered by a 4.5-liter, Tier 3 Komatsu SAA4D107E-1 engine, dozers have a net horsepower of 105 horsepower at 2,400 rpm. Operating weights range from 20,834 to 21,804 pounds, depending on the machine version. Power angle tilt blade has a capacity of 2.89 to 3.01 cubic yards.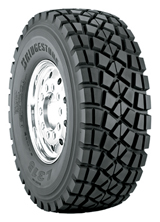 Bridgestone L315 on/off-highway tire is a wide-base tire for "superior traction and outstanding flotation," the company says. The tire is for axles carrying extra-heavy loads, such as front-discharge cement mixers, or for applications requiring high levels of traction, such as dump trucks. Design distributes footprint pressure, and the tire can carry 12,300 pounds at 120 psi.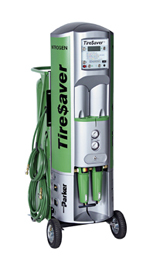 Nitrogen-filled tires will last longer, provide increased safety, offer better fuel efficiency, and reduce operating costs, says Parker Hannifin. The company recently introduced a portable Nitrogen Tire Inflation System that produces 95 percent pure nitrogen from standard, compressed air. TireSaver model TS051-0ABCBR features a 30-gallon storage tank, built-in auto inflator that purges and fills up to six tires simultaneously, built-in counter, pressure gauges to monitor inlet and outlet pressure, mounted cart and more.
Manitowoc Model 31000 crawler crane has a lift capacity of 2,300 metric tons and a ground-bearing pressure of only 15,000 pounds per square foot. That's because it includes an innovative lift enhancer that automatically extends when more counterweight moment is needed during the lift. The Variable Position Counterweight (VPC) is mechanically locked to prevent inadvertent movement during operation. The system's mechanical actuator is controlled by the crane's control system and is deployed based on boom angle and applied load. The VPC allows for pick-and-carry of all rated loads and, because it never touches the ground under normal working conditions, the amount of ground preparation work needed with a typical lift-enhancing attachment is reduced.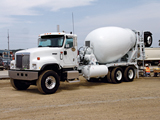 The Revolution composite mixer drum features more durable, refined interior surfaces that provide improved wear resistance and protect against concrete build-up. In addition, the company says its 2-inch channels allow water to get behind the fin, ensuring concrete does not build up and improving concrete mixing action. A more durable drum surface provides a tough, UV-resistant layer on the Revolution drum, which also allows for easier cleanup and a smoother surface for vehicle graphics.
The new grader mount profiler features a "Split System Hydraulics" design. It is designed to mount on graders and enable high mobility for asphalt recycling and reclamation. The Profiler is said to speed up the process by eliminating wait time on haul trucks. IronWolf also introduced the Slasher HSS slashing attachment for carrier machines ranging from 100 to 700 horsepower.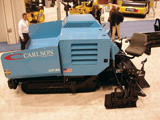 Screed manufacturer Carlson will enter the commercial asphalt paver business in the third quarter of 2008 with what is expected to be about a 19,000-pound machine that robs road-paving-capacity material-handling and undercarriage components from parent company Astec's big pavers. A Cat C3 diesel delivers 84 horsepower to a hydrostatic drive and Carlson-designed tracks. Carlson developed a new 8-foot screed which is, they say, in keeping with the overbuilt power train, and will be exclusively available on the Carlson paver.
According to Hydro Mobile, its new E-Series mast-climbing work platforms use forward and back extensions and swivel bridges to achieve various configurations for adapting to the contours of most facades. Its compact drive unit, says Hydro Mobile, allows the new mast climber to fit in the most restricted locations. Once installed, the all-electric E-Series climbs continuously at a vertical speed of 21 feet per minute to heights of 250 feet and higher, with the push of a button. In single-mast configuration, the E-Series offers a maximum capacity of 5,700 pounds and a maximum length of 39 feet. Several units can also be linked together, and no special bridge is required to do so. In a twin-mast configuration, the E-Series can reach a length of 98 feet. The platform's bridges provide a 5- to 7-foot-wide work space with an extendable lower working area. Power outlets are available for hand tools.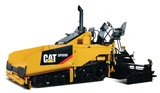 Caterpillar's 40,000-pound AP655D track-mounted paver is an 8 footer with capacity to pave highways, urban and rural streets, county roads, lane additions, industrial sites, overlays, airport runways and paving jobs. A 174-horsepower Cat C6.6 engine drives the Mobil-trac or steel track undercarriage. The deck-mounted cooling system draws air from under the paver and blows it up and forward over the hopper, providing a cool engine compartment and working environment around the paver. Dual, swing-out operator stations with tilting consoles offer four different operating positions.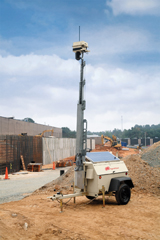 Ingersoll Rand MVS-6 Mobile Security System from Doosan Infracore Portable Power is designed to allow remote monitoring of jobsites or other outdoor areas at substantially less cost than employing security manpower. The MVS-6 (Mobile Video Surveillance) monitors and records images in various environments, such as construction sites and equipment yards. The MVS-6 uses a self-contained power unit, which employs a standard hybrid power system of solar and diesel technology to ensure six months of uninterrupted remote operation. It can be remotely operated, using software that connects the user to the system's day/night imaging camera and a 40GB DVR via a wireless connection. The operator can remotely control the pan, tilt and zoom functions of the camera, while also accessing the DVR to review recorded images.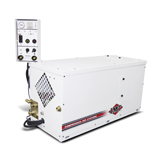 Iowa Mold Tooling CAS35WG is a hydraulic compressor/welder/generator combination. Designed to increase productivity and decrease vehicle weight, the company says, the unit combines the three into one. The hydraulic unit is composed of a 35-cfm reciprocating air compressor, a 250-amp welder, and a 5,000-watt generator. It takes up no more space than IMT compressed air units, and allows truck operators to free up payload capacity. It reduces overall truck weight by 280 pounds.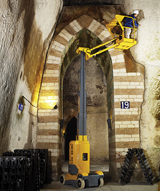 According to Haulotte, the electric, vertical-mast Star 26J was designed to provide a 32-foot working height in confined indoor areas. The machine has a stowed height of only 6 feet 5 inches, allowing it to pass through standard doors. With a width of 3 feet 2 inches and a 360-degree rotation with zero tail swing, the Star 26J is designed to be transported by trailer or van. The fly-jib provides 70 degrees of movement above and below horizontal.
Tuthill Drive Systems says its EZ Trac front-wheel drive system is the first steerable hydraulic drive axle for heavy-duty trucks that require both on- and off-highway capabilities. It can be retrofitted or installed on new equip- ment. Unlike with traditional off-highwayvehicle axles, EZ Trac is installed without altering the truck's ride height, maintaining the existing steering angles and suspension. Unlike many mechanical systems, EZ Trac can be engaged and disengaged on the go with the use of a cab-mounted switch.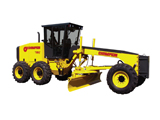 The largest machines yet produced by Champion motor graders are the new tandem-drive C110 C and its all-wheel-drive counterpart, the C116 C. The new machines weigh in at approximately 24,000 pounds and are powered by a 133-horsepower, Cummins QSB6.7 diesel engine that is Tier-3-compliant and delivers 431 pounds-feet of torque. A fully sequential, direct-drive, 8F/4R transmission provides a top speed of 27 mph. According to Champion, the new models are designed to bridge the gap between conventional compact motor graders and large grader models. The hydrostatic all-wheel-drive system in the C116 C allows the operator to engage only the front wheels (up to 2 mph) for enhanced fine grading control.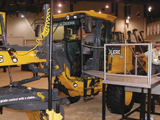 John Deere offered a preview of its 872G motor grader with Electro-Hydraulic (EH) controls. The 872G is Deere's largest grader, a six-wheel-drive unit with 245 net horsepower and more than 43,000 pounds of blade pull. Deere will be offering operators a choice of manual or EH controls when the machine is available in 2009. Integrated Grade Control gives operators a choice of laser/GPS providers, making installation easy with exclusive "plug-and-play" hardware, software and wiring — the grader arrives from the factory ready to accept grade control systems from top manufacturers.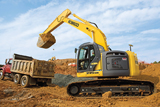 Kobelco added two short-radius crawler excavators: 215SR and 235SR ACERA. Both feature Integrated Noise Reduction (INDR) technology that reduces noise levels by 5 dB(A), the company says, by quieting both intake and exhaust air. Intelligent Total Control System (ITCS) works with the machine's tandem in-line hydraulic pumps for breakout force with smooth, precise hydraulic controls. Model 235SR has as standard a heavy-duty boom, arm and undercarriage.
The new Horizontal Reversing Mixer is said to deliver low maintenance costs, quiet operation, and aggressive mixing action. Sealed mixing drum with variable-speed drive optimizes mixing discharge rate and minimizes dust. Other features include: climate-controlled U.L.-rated service panel for longer life and dust-free environment, dual element paddles supported from the drum paddles, drive motors wired to individual dis-connects, and mixing/discharge paddles with open slots between paddles and drum.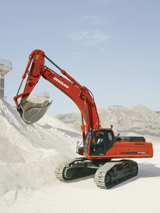 Doosan added eight new models to the DX series of crawler excavators: DX55W, DX60R, DX80R, DX140, DX180, DX420RCW, DX480RCW, and DX520. Operating weights range from 12,236 to 111,774 pounds. New models feature an electronic package that allows the engine and hydraulics to optimize performance and fuel economy.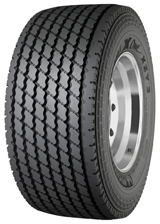 Michelin says its X One XZY3 all-position radial tire is designed for optimized weight savings and significant fuel savings in on-/off-road operations. Tread life is lengthened through a compound with chip- and cut-resistance. Infini-Coil Technology reduces irregular wear by keeping the tire's contact patch flat and stable. The technology uses a quarter-mile length of steel cable wrapped circumferentially around the casing to prevent casing growth. X One XZY3 tire is available in a 445/55R22.5 size.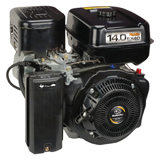 Now the largest model in Subaru's line of air-cooled, four-stroke-cycle engines, the new EX40 delivers 14 horsepower and incorporates a chain-driven, overhead cam. The new engine uses a pent-roof combustion chamber that is designed to utilize a high combustion ratio, resulting, says Subaru, in higher power and torque. The EX40 meets both CARB and EPA Tier-3 emissions standards. To more effectively dissipate heat, the new engine has cooling fins built into the mounting base, cylinder and both the inner and outer crankcase surfaces.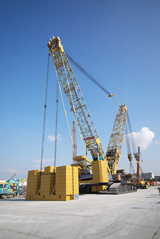 Using a Tier-3-compliant, 429-horsepower Hino diesel engine and six variable-displacement pumps, the Kobelco SL6000 crawler crane, with a rated lift capacity of 600 tons, has three basic configurations: standard; heavy-lift (with an additional mast); and super-heavy lift (with an additional mast and 551,400 pounds of added palette counterweight). Each configuration uses a standard boom of 276 feet; the standard and heavy lift have a long boom of 354 feet; and the super-heavy lift can use a long boom of 413 feet.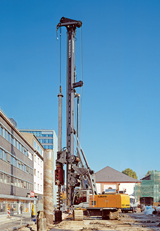 With the LB 28 large rotary drilling rig at Conexpo 2008, Liebherr presents the first in a new range of pure rotary drilling rigs to complement the range of LRB combined piling and drilling rigs. The LB 28 is designed for drilling diameters up to 98.4 inches and drilling depths of up to 230 feet. It generates 206,500 foot-poundsof torque and retraction force of 88,200 pounds. The sturdy, 2-foot-11-inch-wide leader is intended to offer stability and durability. The basic machine and leader can be transported in a single load, for rapid, simple transport.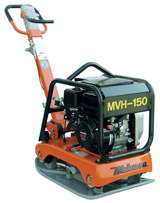 Designed for efficient compaction of sand, gravel and cohesive soils, the new Multiquip MVH120VGH and the MVH150VGH reversible plate compactors have exciter speeds of 6,000 and 5,400 rpm, respectively, and centrifugal forces of 5,060 pounds and 6,070 pounds. Both models use Honda engines. Standard features include the Anti-Vibration Handle System (AVS) that reduces vibration to the operator. Two eccentric weights, says Multiquip, increase compaction force, while creating a smooth transition between forward and reverse travel. A roll cage protects the engine and serves as a lifting bar.
Sermac's 5TR62 concrete pump nets out at a theoretical maximum output of 195 cubic yards per hour with a 9-inch concrete cylinder, nearly 79-inch stroke and5-inch pipe to the boom tip. The 0020A 5TR62 owner, Pepi Cancio Jr., president of C&C Concrete Pumping in Miami, says the Sermac pump is productive at low idle, saving fuel and equipment wear.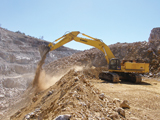 Kobelco added three crawler excavators to its line: SK485LC, SK170LC, and SK850LC. All have the ACERA Mark 8 nomenclature. SK485LC and SK170LC have Intelligent Total Control System (ITCS) on hydraulics. SK170LC has a 121-horsepower FPT engine. Model SK485LC is powered by a 326-horsepower engine and has four standard working modes. SK850 expands the line into the 80- to 90-ton class.
Bergkamp's EMCAD (Electronic Mix Control and Diagnostic) system simplifies material calibration on the M310 slurry seal/microsurfacing paver and shows current and average material ratios, total material used, and material rates to efficiently track costs and production. This advanced system also assists with onboard control troubleshooting, and comes standard on Bergkamp's new M3 Series.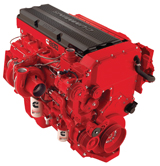 Cummins is moving beyond powerplant production to offer a fully integrated air-intake-to-exhaust aftertreatment system on its heavy-duty QSX engine that will meet Tier 4 interim off-highway emissions requirements effective January 2011. Incorporating the XPI high-pressure common-rail fuel system, the Tier-4 QSX engine will increase displacement to 16 liters and output to 650 horsepower. According to Cummins, the particulate filter exhaust aftertreatment will reduce particulate matter emissions by 90 percent, and the cooled exhaust gas recirculation technology will cut NOx by 45 percent.
Wearing a vest can actually keep a construction worker cooler on a hot day, thanks to a heat transfer system developed by Electric Fan Engineering. The Thermal Star cooling vest uses a battery-powered fan to circulate air through a cooling material that absorbs perspiration. On a hot day, the forced air moving throughthe vest provides thermal conduct-ivity. Fix-mounted systems are available for both 12- and 24-volt applications.
Model BC462EB soil compactor features four-wheel hydrostatic drive and 255-horsepower Deutz diesel engine. Its sealed frame design keeps jobsite materials from entering the frame or engine compartment and protects drive-train components. The machine also comes equipped with a scraper bar system designed to keep the wheels free from dirt. Bomag says unlike its full line of single-drum vibratory rollers, the BC462EB achieves superior compaction through sheer weight (51,000 pounds), the wheel design, and impact force of the teeth.