Tom Berg, Truck Editor | September 28, 2010


NHTSA engineers base their proposals for quicker stopping on tests of freight-hauling highway tractors like these. The agency has not yet tested a heavy haul tractor, but would like to.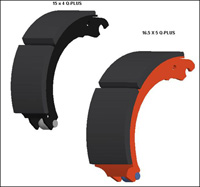 Wide S-cam drum brakes, which cost a few hundred dollars more than standard drums for a three-axle tractor, will be enough for most tractors to meet the proposed stopping distances.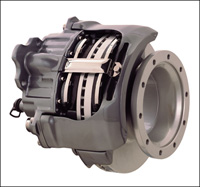 Air disc brakes fitted to all axles cost $1,200 to $1,500, but considerably less on a steer axle only. Discs might be needed by heavy haul tractors to meet the proposed stopping-distance limits. 
The federal government wants heavy trucks to stop better than now, and recently published proposals from its safety agency could require more expensive brakes on construction-type rigs. The proposals would affect only truck-tractors, but the National Highway Traffic Safety Administration said it would continue looking at brakes available to heavy straight trucks to see if their performance could also be improved.
NHTSA announced through a Notice of Proposed Rule Making that it would like to see heavy truck-tractors stop in 20 to 30 percent shorter distances. It will write a final rule that would change the current Federal Motor Vehicle Safety Standard 121 after it hears from industry people, including truck manufacturers, brake suppliers and truck users. It said it will give the industry two years' lead time to comply with a final rule, which could mean an effective date sometime in 2008.
NHTSA expects that most freight haulers, and probably tractors pulling end-dump trailers and other construction-type trailers, could meet shorter stopping distances with larger S-cam drum brakes now available as options. But heavy haul tractors like those that transport massive machinery might need more costly air disc brakes. The agency did not propose limits at speeds higher than already stated, which would have required air disc brakes on most vehicles.
Jeff Woods, a NHTSA safety standards engineer, said the agency's tests show that common 6x4 highway tractors would have little trouble meeting shorter stopping limits. Some might need beefier "wide" brakes, which are stronger and whose linings last longer under normal service. This type of tractor constitutes the biggest safety payback because their large numbers mean they are most often involved in truck-car collisions that kill and maim truck drivers and motorists.
Shorter stopping distances would prevent some collisions and reduce impact severity in others, NHTSA believes. Shortening stopping distances by 30% would cut the death toll by an estimated 257 per year and the number of serious injuries by 284 per year. Shortening stopping distances by 20% would cut those numbers by 104 and 120, respectively. Monetary savings from reduced property damage and societal losses would add up to hundreds of millions of dollars a year.
The current "121" safety standard requires heavy truck-tractors to stop in 335 feet from a speed of 60 mph. A 30% reduction would reduce that distance to 235 feet. Woods explained that tractors are tested while pulling a special short trailer with non-working brakes; the trailer is weighted to load the tractor to its full gross vehicle weight rating, which usually exceeds legal limits by thousands of pounds.
There is no stopping-distance limit for tractor-trailers because a trailer is a separate vehicle with its own braking system, and many are old and have less effective brakes. Trying to enforce stopping distances for widely varying combination vehicles, or for trailers alone, would be impossible, Woods said. That's why FMVSS 121 regulates tractors, trucks and buses, but not trailers.
A heavy haul tractor, which NHTSA calls "severe service," often has a lift axle that allows higher gross weights. The lift axle has brakes which help the tractor stop, but the forward transfer of weight during panic stops – which is what the safety standard regulates – puts extra stress on steer-axle brakes. Such tractors already use bigger drum brakes on their steer axles which are rated at up to 23,000 pounds, and sometimes on drive axles, Woods said. No larger drum brakes are available. That's why air disc brakes might be needed.
Air disc brakes on all axles might cost an extra $900 to $1,300 per tractor, according to NHTSA's estimates. A few freight-hauling over-the-road fleets now buy air discs on steer axles for much less than that, and gradual acceptance of air discs by fleet executives could lead to volume production that would further reduce prices.
Larger S-cam drum brakes now cost only a few hundreds dollars more than standard-size brakes, and pay for themselves through longer lining life, say fleets that now specify them on tractors. Longer lining life means fewer trips to the shop for relining, saving labor and other costs due to downtime.
Air disc brakes are the accepted norm for heavy trucks in Europe, but except for fire trucks and other heavy emergency vehicles, operators here have resisted them. Discs cost more and weigh more than drums, and drum brakes have gotten steadily better, operators note. Air discs are available from only a few commercial truck builders in the U.S., but suppliers say that more vehicle builders will soon introduce them.
Suppliers think air discs will become the preferred brake because of their superior stopping power and excellent balance among wheels and axles. Drivers, who are becoming increasingly scarce for OTR fleets, will demand disc brakes just as they did air suspensions and other comfort and convenience items now common in OTR tractors, suppliers believe. All this should make air discs more affordable for buyers of heavy haul tractors, should they be faced with ordering higher-capacity brakes.
Front suspensions might also require beefing up to handle the higher dynamic forces seen under more intense panic stops, suppliers say. But the answer won't be to simply increase spring and axle capacity, as the resulting harsh ride would not be acceptable to drivers. Rather, certain suspension components will have to be strengthened and front-ends precisely reinforced to take the extra weight transfers seen in quicker stops.
Neither NHTSA nor suppliers know exactly what heavy haul tractors will need because they haven't been tested like OTR tractors have. At least one vehicle builder is now testing such a tractor, according to one supplier, and NHTSA's Woods said he'd like to borrow one to test at the agency's facility in Ohio.
Manufacturers and industry groups lend equipment to NHTSA for its testing, but it hasn't yet seen a heavy haul tractor because they are comparatively rare and because the agency has been preoccupied with testing and regulating the much more populous OTR tractors. Woods said he'd welcome contacts at (202) 366-6206.
Anyone wishing to comment on this Notice of Proposed Rule Making, published in the December 15 Federal Register, must do so by April 14. First, download a copy of it at NHTSA's web site, www.nhtsa.dot.gov/, and then find the instructions for commenting on page 74279. The agency wants comments in a certain format and requests that any objections to its proposals be accompanied by practical alternatives. In commenting, refer to Docket NHTSA-2005-21462.