September 28, 2010
High-Horsepower Trenching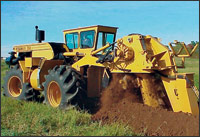 The HM2500 is a recent addition to the Hydramaxx wheel-mounted (rubber-tired) trencher line and is the only chain-type machine in the range. This 38,000-pound, 425-hp machine digs to 7 feet, and it has a trench-width spread from 10 to 28 inches. According to the manufacturer, the HM2500 features an "intermediate link design," which allows digging precisely to grade. The machine also features an automatic self-leveling system for trenching on slopes. Estimated list price is $275,000.
Number of models: 1
New models: Hydramaxx HM2500
Product-line features: The Hydramaxx line also includes three wheel-type (versus chain-type) trenchers — the 2400, 2600 and 2450P (Pipeline). All dig to 7 feet. Trench width ranges from 20 to 32 inches, horsepower from 225 to 375, and operating weight from 30,000 to 40,000 pounds. The 2900 and 2600 use Cummins engines, the 8.3L and M11, respectively.
Controls Swivel with the Operator
The latest models in the Vermeer ride-on trencher line are the RT450 and RT650. The RT450 (pictured), uses a 44-hp (net) Deutz F3L2011 diesel engine, digs to 60 inches, and has a trencher-width range of 5 to 12 inches. The RT650, with a 69-hp (net) Deutz BF4L2011 diesel engine, digs to 60 inches and provides trench widths from 6 to 16 inches. Both machines are fully hydrostatic and feature forward/reverse foot-pedal control of the ground-drive system and a patented Creep Overdrive system.
Number of models: 7
New models: RT650
Product-line features: An innovative feature for the Vermeer RT650, RT850, V8550A and V120 is a swiveling operator's station, which allows the seat and the attachment and ground-drive controls to swivel 90 degrees. Vermeer has a wide selection of trench chain types available, including a low-profile configuration (designed to reduce side-bar edge wear and to extend cutter life) and a new Anti-Back-Flex Super-Duty configuration that dampens boom bounce and kickback, while reducing joint and side-bar-edge wear.
Choice of Power-Train Configurations
New to the Ditch Witch ride-on trencher line within the past year are the RT36, RT40 and RT55. The RT36 and RT40 replace the 3610 and 3700, respectively, but the RT55 is a new addition to the range. The 57-hp (net) RT55 is fitted with a Deutz F4M2011 diesel engine and uses an integral front counterweight that eliminates extended weight racks. The new, all-hydrostatic model features four-wheel steering, 90-degree swivel seat, sloped hood for enhanced visibility, and an optional cruise-control system. The RT55 digs to 62 inches and can be equipped with digging chains ranging from 6 to 12 inches.
Number of models: 7
New models: RT36, RT40, RT55
Product-line features: The Ditch Witch ride-on trencher range includes a selection of ground-drive and trencher-chain-drive systems. Most models feature hydrostatic drive for both systems, but the RT75 and RT95 are available in a powershift configuration, which uses a powershift-transmission drive train for both high-speed travel and for digging. The RT36 is an all-mechanical unit, and as with the powershift versions of the RT75 and RT95, is available only with a trencher for a rear-mounted digging attachment. 
Smooth Power and Digging Efficiency
The largest machine in the Astec Underground range of ride-on trenchers is the RT960 (pictured), which uses a hydrostatic ground-drive system that incorporates a two-speed hydraulic motor that drives through a two-speed planetary powershift transmission. The machine features four-wheel steering and planetary axles with hydraulically engaged locking differentials.
Number of models: 5
Product-line features: Certain models in the Astec line (the RT960 among them) are available with the company's patented planetary trencher-chain drive that incorporates a flywheel (driven by the system's hydraulic motor), a torsion shaft and a planetary gear set. The system's flywheel stores energy to power through tough spots, says Astec, and the design also reduces pressure spikes in the hydrostatic chain-drive system. The torsion shaft, which runs between the flywheel and the planetary gear set serves as a spring to absorb shock loads from the trencher drive train.