By Larry Stewart, Executive Editor | September 28, 2010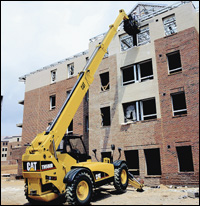 Cat-Built Machines Briefly Available
Caterpillar's B-Series telehandler product line introduced in 2003 continues to be available for the time being, but an alliance struck last fall will supply Caterpillar-specified and branded machines manufactured by JLG.
Number of models: 9
New models: TH220B, TH330B, TH350B, TH360B, TH460B, TH560B, TH580B and the compact TH210 and TH215
Product-line features: Since the line's introduction, the company has added the THP10 and THP24s Access Platforms. Both have controls for boom up and down, boom in and out functions in the basket.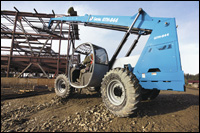 Genie Unites Terex Telehandler Sources
Genie announced at the American Rental Association tradeshow this winter that an extensive collection of blue Terex-sourced telehandlers will be marketed through the Genie distribution network. The GTH-644, 842 and 844 are manufactured in Redmond, Wash.; the GTH-636, 1048 and 1056 are made in Baraga, Mich.; and the tool-carrier-type GTH-5519 and GTH-6622 come from the Terex plant in Perucia, Italy.
Number of models: 8
New models: GTH-5519, GTH-6622, GTH-636, GTH-644, GTH-842, GTH-844, GTH-1048 and GTH-1056
Product-line features: Genie telehandler booms use pilot hydraulic controls (hydraulic over hydraulic). A variable displacement hydraulic pump minimizes hydraulic-system operating temperature and fuel consumption. Boom components can be accessed without taking the boom sections completely apart, reducing time and space required for repair.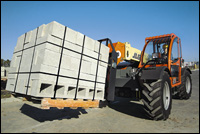 Compacts Dig Attachment Work
Compact telehandler models G5-19A and G6-23A come with a low-pivot design that improves their ability to work with buckets and other attachments. Remaining JLG models are high-pivot machines with Deere power. Lift heights range from 42 to 55 feet. The TF6-42 Transformer allows transitions between forks and an ANSI-certified work platform in minutes.
Number of models: 6
New models: G12-55A, G5-19A and G6-23A
Product-line features: JLG focuses on fast lift speeds of the telehandler brand that carries its name. Lift speed on the new G12-55A, with the boom retracted, is 15.8 seconds. The boom can be extended in 17.3 seconds.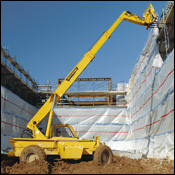 Standard GPS Tracking
Pettibone's Equipment Management System includes a contract with Qualcomm that makes the GlobalTRACS GPS-based service standard equipment. GlobalTRACS transmits vital machine information to a data center accessible via the Internet. The system locates machines in the field, tracks utilization, monitors unauthorized use, reports theft and records maintenance history.
Number of models: 10
Product-line features: Pettibone partnered with Carraro to develop the Carraro 26.43 Ackerman-corrected axle to reduce tire wear and improve fuel efficiency. Pettibone also developed Constant Pressure Compensated Hydraulics — a pilot-operated system that the company says eliminates hesitation inherent in load-sensing systems.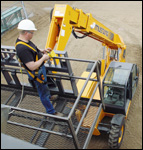 Two Joysticks Replace Three
Mustang replaced the 638 with model 642, increasing its lift height from 38 to 42 feet, and added the 844 to its line with a rated capacity of 8,000 pounds and 44-foot lift height. The 642 and 844 share boom designs with the larger Mustang Deluxe Series of telehandlers. Two pilot-hydraulic joysticks put boom control in one hand and frame leveling and attachment control in the other.
Number of models: 6
New models: 642 and 844
Product-line features: Mustang's Radio Remote Boom Control raises and lowers, extends and retracts the boom from a remote-control pendant. The remote can also start and shut down the engine. This feature is available from the Mustang line's origin, Gehl, and from Manitou (by virtue of its alliance with Gehl).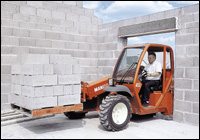 Turns in 88 Inches
Manitou's SLT415B Twisco is rated to carry 3,000 pounds and has a maximum lift height of 13 feet, but the castering rear wheel gives the machine a turning radius of only 88 inches. Width over tires is less than 5 feet 6 inches. At an operating weight of 5,200 pounds, Twisco can be trailered behind a light commercial vehicle.
Number of models: 18
New models: SLT 415 B, MT 6034, MT 6642, MT 8044, MT 1745, MLA 628, MLT 627, MLT 634, MRT 1432 and MRT 2150
Product-line features: Tier II engines and hydraulic-system modifications have improved Manitou's performance specifications.
Reach Replaces Some Skid-Steers
JCB's 520-40 measures just 61 inches wide and 78 inches high, which puts a machine with the ability to raise 4,000 pounds over 13 feet high in areas that only some skid-steer loaders can access. Capacity at maximum forward reach (8 feet 4 inches) is 2,000 pounds. JCB has emphasized tool-carrier versatility in its line, building only three models — the 506C, 506CHL and 508C — in the traditional pick-and-place configuration with high boom mounts and chains to extend the third boom section. The 550-170 is a three-section tool-carrier that extends to nearly 55 feet without use of chains or cables.
Number of models: 10
New models: TLT 35D
Product-line features: The new TLT 35D Teletruk — not actually a telehandler, but a counterbalanced industrial forklift on traction tires with a telescopic boom in place of the mast — will lift 7,000 pounds 14 feet in the air and extend 3,750 pounds 6 feet 6 inches out in front. Width over tires is just 4 feet 2 inches.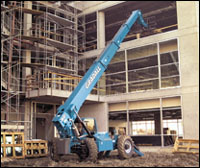 Hydrostat Improves Rear Steering
Gradall telehandlers feature rear-pivot steering, with rear wheels turning up to 90 degrees for great maneuverability. Hydrostatic transmissions precisely control machine speed with no interruptions in power delivery, and allow the machine to be inched into tight locations for critical load placement.
Number of models: 4
Product-line features: Gradall telehandlers use Deere diesel power. A single joystick controls boom lift and crowd.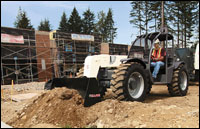 Consistent Improvements
Over the past few years, Terex has consistently improved the TH644, TH842 and TH844 manufactured in Redmond, Wash. In 2003, the turning radius was improved; then 2004 brought new frame welding and cab updates for improved visibility and serviceability. Terex introduced new boom assemblies and a Deutz engine option last year.
Number of models: 8
New models: TX-5519, TX-6622, TH-636C, TH-644C, TH-842C, TH-844C, TH-1048C and TH-1056C
Product-line features: Last year Terex released the TX-6622 configured for the North American rental market with 6,600-pound capacity and 22 feet of lift height. Its two-speed drive can take the machine to a maximum speed of 22 mph.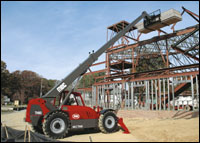 Camera Shows Load from Forks
Work-platform specialist, MEC, entered the telehandler market with two low-boom models, TH60 with a rated capacity of 6,000 pounds and TH80 rated at 8,000 pounds. Both models reach 41 feet 6 inches high. The TH80 is a rare 8,000-pound low-boom machine. Outriggers are an option that more than doubles the lift capacity with forks fully extended. The MEC Viewer is an optional industrial camera system that shows the operator the position of his load at the forks. And when the transmission is shifted to reverse, the monitor displays a view from the rear camera that shows what's directly behind the telehandler.
Number of models: 2
New models: TH60 and TH80
Product-line features: The MEC telehandlers were initially designed by Upright and owned for a time by Volvo (which never put them into production). The first of MEC's telehandler models are powered by the 100-hp Deutz diesel.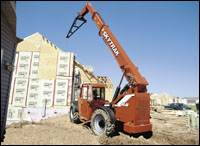 Automatically Stabilizes The Rear Axle
The three-mode Stabil-Trak system stabilizes the rear axle, transferring automatically from a three-point to a four-point stance as necessary. The system transitions automatically between free-pivot, final positioning and locked modes depending on the boom angle and other operating parameters. Five models range from 6,000 to 10,000 pounds of capacity, with lift heights from 36 to 54 feet.
Number of models: 5
Product-line features: JLG markets basic workhorse telehandlers with unitized box frames, four-wheel steering, and turbocharged Cummins power through its SkyTrak brand.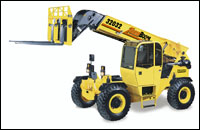 Industry's Biggest Telehandler
The frame design of Carelift's Zoom Booms lowers the cab-mounting position for easy entry and exit and 360-degree visibility from the operator's seat. In 2005, Carelift introduced the largest of the telehandlers — the 32,000-pound ZB32032 — which is rated to lift 15,000 pounds to its maximum height of 32 feet.
Number of models: 7
New models: ZB10044, ZB10056 and ZB32032
Product-line features: Carelift takes care to point out that its units are designed and built in North America with heavy-duty frames and booms to meet the demands of North American telehandler users. All of the models are powered by Cummins diesels.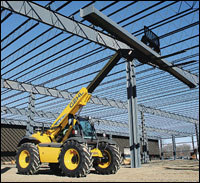 Compacts Have Joystick Options
Gehl's CT Series adds five compact telehandler models with maximum capacities from 5,000 to 7,000 pounds and lift heights from 16 to 23 feet. The new units expand the product line by nearly 50 percent courtesy of Gehl's alliance with Manitou. The CT5-16, CT5-16 Turbo and CT6-18 Low Profile have two joystick options: "loader configuration" or "pick-and-place."
Number of models: 7
New models: CT5-16, CT5-16 Turbo, CT6-18 Low Profile, CT6-18 Turbo and CT7-23 Turbo
Product-line features: The CT6-18 Low Profile is less than 7 feet tall at the top of the cab, putting a machine capable of raising 6,000 pounds nearly 18 feet high into garages or other low-access spaces.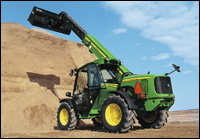 Ag Machines Get Hard-Hat Tough
Wearing John Deere's farm-line green, two telehandlers introduced in 2004 stepped up to construction-like quality. The 3220 (6,200 pounds rated capacity with 18 foot-6 inch lift height) and 3420 (6,600 pounds rated capacity with 23-foot lift height) replaced the 3200 and 3400 with Tier 2 engines rated at 114 horsepower — up 14 percent — and 360 foot-pounds of torque — up 17 percent. Variable-displacement pumps and closed-center hydraulic systems replacing the open-center system increased oil flow 20 percent. Deere says cycle times improved by an average of 35 percent.
Number of models: 3
New models: 3220 and 3420
Product-line features: All Deere telehandlers are equipped with enclosed, heated and air-conditioned cabs. Each has automatic self-leveling and a quick-attach carrier.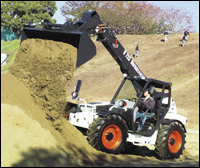 Compact Bridges to Pick-and-Place Work
With a rated lift capacity of 6,700 pounds, the new V638 is a more traditional pick-and-place telehandler than Bobcat's two compact machines. The V638's three-section boom reaches nearly 39 feet high — significantly greater than Bobcat's two-section-boom machines. For rough jobsites, the V723FL has a frame-leveling feature the operator can use to make safer lifts on uneven ground.
Number of models: 3
New models: V638
Product-line features: Booms on Bobcat's compact V518 and V723 are mounted low to maximize digging ability and reach. Like their Ingersoll Rand counterparts, all three machines have three steering modes, hydrostatic transmissions and Perkins power.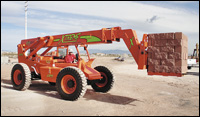 Improved Fork Leveling
Last summer Xtreme improved its fork-leveling system with separate master cylinders and fork hydraulic isolation block for the four models the company designed and manufactures — the XRM842, XRM1045, XRM1245 and XRM1254. The line's first redesign raised lift capacities for most models. Structural strength and wheel bearing loads were increased and steering geometry was improved. Xtreme protects its boom-extend cylinder inside the roller boom.
Number of models: 9
New models: XRM842, XRM1045, XRM1245 and XRM1254; XRM519, XRM621, XRM732, XRM844 and XRM1068
Product-line features: Xtreme partnered with Dieci of Italy to complete its telehandler line, bringing five models — XRM519, XRM621, XRM732, XRM844 and XRM1068 — to the United States. These include compact, tool-carrier-type machines and two machines whose upper frame rotates like that of a crane.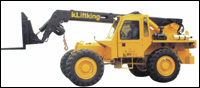 Biggest Traversing Boom
With the Tier 2 engine, Liftking also added a roller frame on which to mount the booms of its LK120R, LK150R, LK200R and LK300R, allowing the boom to traverse forward 80 inches and back to easily engage a load. At 12,000, 15,000, 20,000 and 30,000 pounds, they are all bigger than any other sliding-carriage telehandler available.
Number of models: 11
New models: LK120R, LK150R, LK200R and LK300R
Product-line features: Load-sensing hydraulics are now controlled by a multi-function joystick.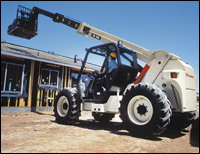 C Series Focuses on Ergonomics
Ingersoll Rand's C Series, introduced in 2003, was designed to boost operator productivity with cab ergonomics, an EPA Tier II engine, and greater hydraulic functionality. Single joystick control is standard. The VR-723 and VR-638 have subsequently been updated, and the VR-530 upgraded to C-Series status.
Number of models: 8
New models: VR-642C, VR-843C, VR-1044C, VR-1056C, VR-723, VR-638 and VR-530C
Product-line features: C-Series handlers are powered by Cummins electronically controlled QSB4.5-30T turbocharged diesel engines.
Sliding Carriage Lands Loads Easier
Lull's load-placement system allows the entire boom, raised to any angle, to shift forward 80 inches and back again, minimizing the need to coordinate multiple functions to place a load at height. The Series II version of the 1044C-54 brings a Deere diesel, like those used in JLG's Gradall and JLG brands, to the Cummins-dominated Lull and SkyTrak lines.
Number of models: 3
New models: 1044C-54 Series II
Product-line features: Like JLG's SkyTrak line, Lull offers the StabiliTrak system with three rear-axle modes: free-pivot, final positioning, and locked modes. StabiliTrak automatically switches from a three-point stance to four-point stance as necessary.
Could Telehandlers Be the New Skid-Steer Loader?