By Larry Stewart, Executive Editor | September 28, 2010
Choices Expand to Fit More Jobs

With the B Series, Caterpillar focused on improving capacity at reach and, in the process, expanded the range of lift heights of its machines with 6,000- and 7,000-pound capacities. Models with 30-, 36-, and 56-foot lift heights were added to the line. Cat also enhanced the ability to retrofit basic machines with upgrade kits such as stabilizers, cab, air conditioning, heat, and other options.
Number of models: 7
Load range: 5,513 to 10,000 lbs.
New models: TH220B, TH330B, TH340B, TH350B, TH360B, TH460B, TH560B
Product-line features: Cat credits longer preventive maintenance intervals and fewer service points with reducing operating cost for the B Series. The company's Electronic Technician system allows dealers and users to gather operating information directly from the machine with a laptop. Cat's low boom pivot and side-mounted engine provide stability, visibility and drive-train access.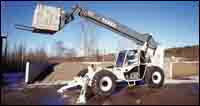 Low Price for Single-Stick Control
A single joystick controls all boom functions of the Terex C Series. Dual sway cylinders, which allow 10 degrees of oscillation either side of center, stabilize the machine and reduce wear on the right front axle. Terex is proud of the time-proven components used in the line—including the John Deere 4045T turbocharged diesel, Clark powershift transmission, and Dana Spicer axles—and says its ability to make them available at low acquisition cost is a key to their machines' value.
Number of models: 8
Load range: 5,070 to 10,000 lbs.
New model: TH844C
Product-line features: Rollers replace wear pads in all the load-bearing areas of the boom. Terex claims it's the lowest-maintenance boom on the market.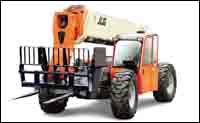 Four-Wheel Steer Soars
The parent company for venerable telehandler brand names Gradall, Lull and Sky Trak took "Gradall" off the all-wheel-drive models it had been selling under the JLG/Gradall name, shortened the moniker to JLG, and in October introduced two new models. The G10-55A and G12-55A stretch JLG's all-wheel-drive offering with 55-foot lifting heights and 10,000- and 12,000-pound capacities. The G12-55A carries the distinction of being one of only two 55-foot models available with a lift capacity of 12,000 pounds, although there are a few other 55-foot machines that can raise more weight to their maximum height. Three steering modes allow two-wheel, four-wheel and crab steer.
Number of models: 5
Load range: 6,600 to 12,000 lbs.
New models: G10-55A, G12-55A
Product-line features: The TF6-42 can operate as an aerial-work platform—with controls in the platform—that will lift 2,000 pounds to 43 feet, or a 6,600-pound telehandler with 42-foot maximum height.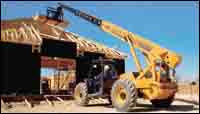 A-Frame Clears the View
The boom on Case G Series telescopic handlers is mounted on an open A-frame, allowing good visibility over the operator's right shoulder. Internal cushioning of the boom cylinders helps reduce wear and tear.
Number of models: 3
Load range: 6,700 to 8,000 lbs.
Product-line features: Maximum boom angle is 70 degrees on all models, with forward reach at 28 feet and boom heads that rotate up to 101 degrees. Case sources its telehandlers from Ingersoll-Rand, which also touts the visibility benefits of its A-frame boom mount.
Stability Adjusts Automatically
The Stabil-TRAK rear-axle stability system, like that featured on the Lull PlaceAce machines, is standard on the Sky Trak 6042, 8042, 10042, and 10054 modes. When the boom is raised higher than 40 degrees, it automatically locks the handler's frame to the rear axle. If the machine is repositioned with the boom raised, Stabil-TRAK allows the rear axle to oscillate.
Number of models: 5
Load range: 6,000 to 10,000 lbs.
Product-line features: The 8042, 10042, and 10054 were refit with Cummins QSB4.5T turbo diesels to meet Tier II emissions requirements. JLG has positioned the Sky Trak line to "provide more performance per dollar invested than the competition."
Fixed- and Traversing-Boom Options
The load-transferring boom of Pettibone's T8044 can place an 8,000-pound load at heights up to 44 feet. There are fixed-boom alternates of the first four models in Pettibone's line that have the ability to land a 5,000- or 8,000-pound load on the fifth or sixth tier of scaffolding without forcing the operator to drive the machine forward with the load raised overhead. All models will pass under an 8-foot door.
Number of models: 6
Load range: 6,000 to 10,000 lbs.
Product-line features: Four all-wheel-steer base models—designated 6036, 6044, 8036 and 8044—are available with either fixed, high-mounted booms or as T Class machines with a traversing boom. T-Class booms travel 70 inches horizontally at any lift height. Pettibone markets a nearly identical product line under the Traverse Lift brand.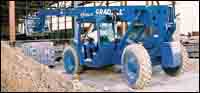 Attachments Stretch Utilization
The blue telehandlers in JLG's Gradall line got John Deere engines to bring the D Series into compliance with EPA's Tier II emissions limits. A full range of attachments—including fork carriages, truss booms, buckets, boom-mounted winches, swing carriages, a 6-foot mast, and the mast with 100-degree swing and side shift—extend the line's versatility.
Number of models: 4
Load range: 6,600 to 10,000 lbs.
Product-line features: Ninety-degree, rear-pivot steering allows Gradall machines to circle around either front tire in a radius no larger than the length of the machine. Rear-steer means the machine carries the forks and the load inside the turning radius. JLG says Gradalls have the longest wheelbase in the industry.
Lightweight Lifts Big Loads
Bobcat credits its rigid, unitized frame with endowing the lightweight VersaHandler line with great lifting power. For example the V518, which weighs 10,850 pounds, has a rated lift capacity of 5,500 pounds—that's 500 pounds more than comparable models. The 23 foot-4 inch boom on the V623 is relatively short for a machine rated at 6,500 pounds. There is scant competition of similar size, except for the VersaHandler's Ingersoll-Rand counterpart VR-623, even if you include 6,000- and 7,000-pound machines.
Number of models: 3
Load range: 5,500 to 6,500 lbs.
Product-line features: Bobcat's Lateral Operator Restraint System (LORS) swings down from the left side of the canopy to cover the width of the cab's left-side opening. The secondary restraint system is intended for use with seat belts and acts as an enhanced armrest during operation. Bobcat telehandlers (and the smaller end of the Ingersoll-Rand line) are manufactured in France in the Sambron plant that Bobcat acquired in 2000.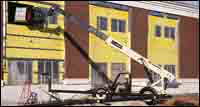 Hydraulics Upgraded with Tier-II Engines
Ingersoll Rand upgraded hydraulic systems in its C Series telehandlers at the same time that they were adjusting the design to accommodate new, emissions-compliant engines. Refined pilot hydraulics improve hydraulic response and feedback to the operator so boom operations are smoother. Operator stations also feature ergonomic and visibility improvements.
Number of models: 8
Load range: 5,000 to 10,000 lbs.
New models: VR-642C, VR-843C, VR-1044C, VR-1056C
Product-line features: IR claims its VR telehandler line has the widest track in the industry. It also attributes the best visibility around the machine to the A-frame boom mount on the larger machines in the line.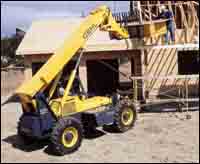 Turbochargers Upgrade RS Models
Gehl replaced the 553, 663 and 883 models with the all-wheel-steer RS5, RS6 and RS8 models last April featuring new turbocharged diesel engines. Gross engine horsepower jumped from 80 to 99, retaining the option for a 115-hp diesel.
Number of models: 7
Load range: 6,000 to 12,000 lbs.
New models: RS5, RS6, RS8
Product-line features: Gehl touts the ability to customize the DL Series, which allows customers the choice of 40-, 42-, 44-, or 55-foot booms on all models except the DL12H. There's also a choice of high- or low-mount boom. A third option is the choice of tool-carrier systems. Gehl's Dynacarrier is designed for high-force applications, while the Dynattach is for pick-and-place work. The final step in customizing is selecting a Tri-Function or Dual-Function joystick. Dual-Function provides pilot control of the tilt and auxiliary function. Tri-Function provides electro-hydraulic control of tilt and auxiliary functions, plus a trigger to activate a fast flow setting.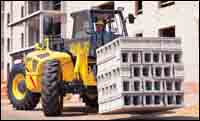 Tool Carrier with Pick-and-Place Reach
New Holland emphasizes the tool-carrier features of its telehandler line. The LM models are equipped with high-strength, tool-carrier-style booms mounted low for maximum transfer of crowding force. Boom sections are made from two U-shaped channels welded together, which limits the welds.
Number of models: 4
Load range: 6,000 to 10,000 lbs.
Product-line features: Despite the tool-carrier emphasis, New Holland's line includes a 10,000-pound machine with enough pick-and-place range to land 6,000 pounds nearly 52 feet high. New Holland gets its telehandlers from Manitou.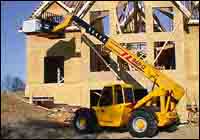 A Product Line of One
Load Lifter's 842-D Reach model fits right in the most common size of telehandlers, with the ability to land a 6,000-pound load at a maximum lift height of 42 feet. The all-wheel-steer unit's rated capacity is 8,000 pounds.
Number of models: 1
Load range: 8,000 lbs.
Product-line features: High boom mounts give the 842-D good visibility with the load in transport position. The unit is manufactured in North America.
Franco-Italian Venture Hits Popular Sizes
Pinguely-Haulotte, a French manufacturer with international presence in aerial-work platforms, gained access to the telehandler market by taking a 40-percent position in a joint venture with Italian manufacturer Faresin. The goal of the year-old venture is to gain 10 percent share of the global telescopic-handler market in five years. In North America, Haulotte is marketing seven models tightly clustered from 6,600 pounds to 7,700 pounds capacity. They offer a range of lift heights from 25 feet 5 inches to 55 feet 9 inches.
Number of models: 7
Load range: 6,600 to 7,700 lbs.
Product-line features: Special attention has been focused on cab design, and the cab is raised to improve the operator's sight lines over the boom.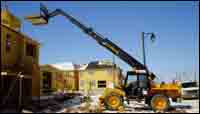 Load-Sensing Placing Refinement
Liftking added load-sensing hydraulic systems to its line of machines. Improved hydraulic sensitivity, combined with Liftking's carriage-mounted boom that hydraulically shifts the load forward 6 feet, dramatically improves the line's placing control. Choice of two-wheel steer, crab steer, or all-wheel steer makes the unit maneuverable.
Number of models: 10
Load range: 6,000 to 30,000 lbs.
Product-line features: Liftking builds the highest-capacity telehandler in the business with the 30,000-pound LK 300R. The 250-hp unit can raise 15,000 pounds to a height of 24 feet. Only Tovel's TL 20-22-25 can handle more weight (16,000 pounds) overhead.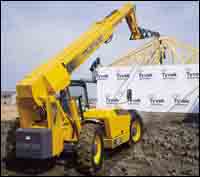 Clean Engines Boost Horsepower
Changing the standard engine in the 634 and 638 from naturally aspirated to turbocharged power (like their RS counterparts from Gehl) increased gross horsepower to 99. An optional 115-hp engine is still available.
Number of models: 5
Load range: 6,000 to 11,000 lbs.
Product-line features: Features of the Mustang line reflect those of Gehl machines because both lines are manufactured by Gehl. For example, Mustang's 742, 944 and 1155 models are designed like Gehl's DL Series to allow customers to choose from a high or low boom mounting, and either Quick Attach or a Quick Attach II tool-mounting systems (for pick-and-place or high-force applications, respectively). Like Gehl's PWP, Mustang's WPS (Work Platform System) improves safety when using an ANSI/ASME-compliant work platform. A person in the platform or basket can engage or disengage boom control using a remote control. The system constantly checks the attitude of the machine and locks out boom functions if it is not level.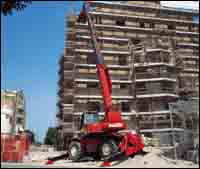 Crane-Like Handlers Top Lift Heights
Like most competitors in the telehandler market, Manitou North America (formerly K-D Manitou) updated models in 2003 with Tier-II-compliant engines. And it's using the mandatory design change to tout some value-added options. Manitou's two MRT-Series models refine picking and placing flexibility with an upper section that rotates like a crane's. The MRT models are available in 7,000- and 10,000-pound capacities and the largest tops telehandler lift heights, soaring to 68 feet.
Number of models: 15
Load range: 5,000 to 14,000 lbs.
New model: MT1033HLT, MLT630, MLT741, MLT940, MRT1432, MRT2150
Product-line features: Manitou NA is marketing and supporting three telehandler models that its French parent company had been selling to Omniquip. When JLG discontinued the Manitou/Omniquip agreement, Manitou NA stepped in to sell those models and support machines in the field.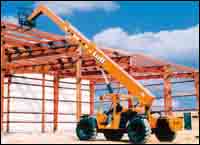 Load-Transfer with 360-Degree View
Two new models in the PlaceAce Series—the 644E-42 and 944E-42—fix the base of Lull's boom on a raised carriage to achieve what parent-company JLG claims is the first load-transfer machine with 360-degree visibility. Both PlaceAce machines are bigger than the models they replaced. The 644E-42 will land 6,000 pounds a full 8 feet higher than its predecessor and reaches 6 feet 6 inches longer. The 944E-42, with a capacity of 9,000 pounds, replaced the 8,000-pound 844C-42 and reaches 3 feet 6 inches further.
Number of models: 3
Load range: 6,000 to 10,000 lbs.
New models: 644E-42, 944E-42
Product-line features: Lull's boom mounts slide forward hydraulically on the main frame up to 80 inches, so loads can be delivered to their destination with greater control than could be expected if the operator had to drive over rough terrain into final position.
Buying File Feature: Options Expand to Catch Soaring Demand