By Lynn Landberg, Senior Editor | September 28, 2010
Capacity Reaches 40 Tons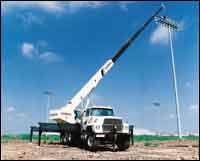 The largest capacity telescopic crane in the National Crane line is the Series 1800, with a capacity of 40 tons at 7-foot load radius. Vertical reach is 190 feet. Four booms and four jibs are available. National emphasizes the long life and low downtime of its cranes.
Number of models: 25.
New models: Series 1400, Series 1400H.
Recent changes: Internal anti-two block wiring, LMI system upgrade, simplified routing of plumbing and wiring.
Noteworthy features: Long boom lengths, internal ATB wiring, new ATB system, access and egress from operator's station, control metering and smoothness of operation.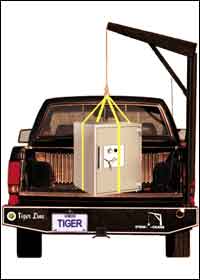 Crane Stows in Bumper
The Stow-A-Crane from Tiger Line mounts on a truck or van, folding away when not in use. The folding boom stores in the truck's bumper and may include snatch blocks, barrel and fork lifts, cable and hooks. Manual and electric winch models are available to fit pickup trucks, vans and utility vehicles. Brackets can be custom made for special applications. Models run from 300- to 2,000-pound lifting capacities.
Number of models: 10.
Noteworthy features: Fold-away crane package has power winch, trailer hitch and step bumper; manual or electric operation.
Easy Operation
Automatic overload protection found on Stahl telescopic cranes prevents lifting in excess of the crane's capability. In addition, a multi-function detachable remote control is lightweight for single-handed operation and prevents unauthorized operation. Crane lifting capacities range from 2,000 to 8,000 pounds, with ratings from 6,000 to 48,000 ft.-lbs. Options include anti-two block protection, feathering control, proportional valve kit and heavy-duty outriggers.
Number of models: 15.
Noteworthy features: Full crane line, overload protection, remote control.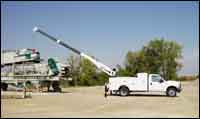 Remote Control Comes Standard
Heavy lifting at a long range typifies the Stellar 5728 telescopic crane, with a reach of 28 feet. The crane features a 36,000-ft.-lb. capacity and can lift a maximum of 5,000 pounds at 7 feet. Features include standard proportional radio remote control, a planetary winch with 60-fpm winch speed, hexboom construction and hydraulic extensions. The radio remote incorporates a proportional trigger that lets the operator feather the crane for precise control. In addition, the remote's handle includes engine start/stop functions, compressor on/off, engine speed controls, and emergency shut-off.
Number of models: 10.
New models: 4420.
Recent changes: Valve banks changed to multi-functional valve bank.
Noteworthy features: Hexagonal boom design, fully proportional radio remote control, full range of cranes.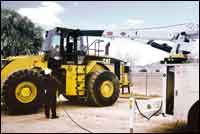 Rotates 400 Degrees
The new IMT 5525 telescopic crane has a capacity rating of 55,000 ft. lbs. and a horizontal reach of 25 feet 4 inches. With a standard rotation of 400 degrees, the rotation system consists of a turntable gear bearing powered by a high-torque hydraulic motor through a self-locking screw. Cylinders have holding valves that prevent crane collapse in the event of hose or other hydraulic component failure.
Number of models: 50.
New models: HandyCrane .5/4, 1.5/10. 1.7/12; 3820, 5525, 52/380, 72/516.
Recent changes: Electronic Vehicle Stability system.
Noteworthy features: Electric and hydraulic telescopic models, compact design, efficient winches, premium proportional remote controls, good lift-to-weight ratios, designs for unique applications.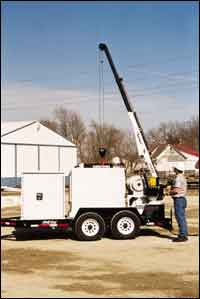 Compact Crane
New from Maintainer, the 115 E/ST is an electric-over-hydraulic, self-contained crane that requires only 14×15-inch mounting space. With a standard winch, overall crane height is 25.35 inches. Features include a 10,800-ft.-lb. rating and a hydraulic extension of 11 feet plus a 4-foot manual extension for a total of 15 feet. The crane is equipped with 65 feet of 7/32-inch cable and includes a hydraulic high-torque winch motor.
Number of models: 9.
New models: 3824, 1115 E/ST.
Noteworthy features: 3824 has reach of 24 feet.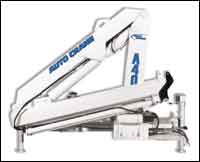 Lightweight, Compact Design
New from Auto Crane, the A40 articulating crane features a lightweight, compact design. Dual cross control allows identical control sequence on both sides of the vehicle. With a 40,000-ft.-lb. capacity, the crane has double-acting cylinders with counter balance and/or holding valves that are integrally mounted directly to the cylinders. A 370-degree rotation drive locks the load from moving in the event of a hydraulic failure. Vehicle requirements are a 17,500-pound GVW and a frame width of 34 inches.
Number of models: 17.
New models: A40, 8406H, 6406H, 5005H.
Recent changes: Single line pull of 60 ft./min.
Noteworthy features: Smart Crane Diagnostics, two-speed rotation planetary winch, FM remote tethered pendant standard.
Buying File Feature: Size Up the Service Crane for You