By Lynn Landberg, Senior Editor | September 28, 2010
Quick Turnaround Time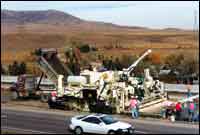 The S800 is a single telescopic design available with the Quadra Bolsters and JC Extenders that Guntert pioneered on the S850. The smaller S800's tractor frame telescopes only from the right side. The operator turns one set of tracks 90 degrees and the tracks will pull the tractor frame out to the desired paving width. JC Extenders can be pinned onto either side of the S800's tractor frame without unbolting a bolster or disconnecting a hose, stretching the 12-foot paving width to 34 feet. Quadra Bolsters extend the tractor side frames for longer distance between the front and rear tracks. Guntert says, with the bolsters retracted, the paver steers like a two-track machine.
Concrete paver models: 4
Max. paving widths: 34′ to 56′
Weights (lbs.): 70,000 to 110,000
New model: S800
Noteworthy features: Compact dowel-bar inserter (CDBI) mounts off the rear of all Guntert mid-sized pavers. The CDBI module can be unloaded and attached to the paver without assistance from a crane, and it can be ready to work in less than a day.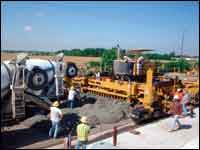 Change Widths While Pouring
The three- and four-track CMI 2000 Series Hydraulic Variable-Width (HVW) Slipform Concrete Pavers can change paving widths in minutes. Dual-element moulds, mounted in tandem, make seamless paving-width changes. One mould leads while the companion mould is hydraulically positioned to pave up to the full width. Specially designed telescoping attachments for the 2000 Series, such as super smoothers or spreading mechanisms, accommodate width changes to fit each paving project.
Concrete paver models: 8
Max. paving widths: 32′ to 50′
Weights (lbs.): 72,200 to 109,000
Noteworthy features: Caterpillar 150-hp and 240-hp diesels power the CMI 2000 Series HVW Pavers.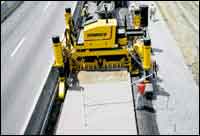 Next-Generation Electronics
The new generation GHP-2800 introduced this month is the first to feature Gomaco's G21 digital operating system. The system interfaces with stringless three-dimensional control systems and lasers. Network architecture enhances its ability to communicate with external computer systems. Solid-state controllers in the "smart" steering cylinders deliver dependable steering-control feedback and eliminate the sprocket, chain, and potentiometer at the top of each leg. Through the G21 controller, the operator can direct the cylinders to a desired degree of leg rotation.
Concrete paver models: 4
Max. paving widths: 25′ to 50′
Weights (lbs.): 70,000 to 110,000
New model: GHP-2800
Noteworthy features: The Commander III includes the G21 controller and smart cylinders. It will slipform widths up to 20 feet, as well as curb and gutter; monolithic sidewalk, curb and gutter; recreational trail; barrier wall; bridge parapet; and canals. A high-drive track package is designed specifically for minimum-clearance. It includes an additional standard track to use when not in minimum-clearance situations.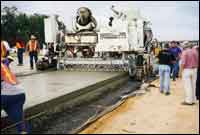 Versatile Street and Rehab Paver
The M-8100 can slipform pavement up to 12 feet wide to either the right or left side (or form curb, gutter, parapet wall, sidewalk, V-ditch, and cart or bicycle paths), and straddle-pave up to 16 feet wide. It is capable of zero-clearance paving. Equipped with a reverse-direction auger, the M-8100 matches traffic flow by pouring in reverse. A microprocessor control system is available.
Concrete paver models: 2
Max. paving widths: 16′ and 20′
Weights (lbs.): 25,000 and 36,000
Noteworthy features: Five-point suspension adds stability. Miller Formless says spring-tensioned tracks never need adjusting.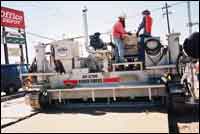 New Kid on the Block
A year ago, Power Curbers announced a new manufacturing company dedicated to concrete slipform paving equipment called Power Pavers, harnessing 50 years of experience amassed by Fred Hite and Randy Hashman at CMI and Curbmaster (both had recently downsized out of their jobs). The two-track SF 2700 is the first machine out of Power Pavers' Cedar Falls, Iowa, plant. Electronic controls optimize performance and fuel efficiency of the 215-hp Cummins QSB5.9 diesel. The manufacturer says that at 48,000 pounds, the unit has the weight and power to lay down single lanes within critical smoothness specifications.
Concrete paver models: 1
Max. paving width: 32′
Weight (lbs.): 48,000
New model: SF 2700
Noteworthy features: The standard SF 2700 comes equipped to pave widths from 12 to 27 feet, adjustable in 6-inch increments. Low profile and narrow side clearance fit residential street and road-rehab work.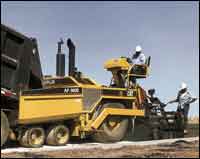 Speed Control Smoothes Mats
The hydrostatic drive's speed control allows the operator to dial in the desired speed. When the propel lever is pushed all the way forward, the paver accelerates to the preset