By Walt Moore, Senior Editor | September 28, 2010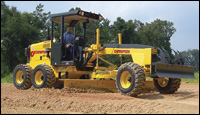 Compact Line Serves Diverse Buyers
According to Champion, its C60B and C66B are designed as "maintainer" machines, and the C70B is aimed at more cost-conscious buyers. The recently redesigned C80C and C86C, however, are full-featured compact machines that "think like big graders," says Champion.
Number of models: 5
New models: C80C and C86C
Product-line features: The tandem-drive C80C and the six-wheel-drive C86C are articulating, hydrostatically driven, Cummins-powered models that feature a heavy-duty front axle using spherical bearings and providing 50 degrees of steering angle (left and right). The 21-inch-tall moldboard is designed to minimize spillover and to allow ample adjustment, while the 4-foot blade-lift-stance is aimed at enhancing blade control.
Recent Design Overhaul
Deere's new D-Series range of motor graders, introduced a bit more than a year ago, reflect significant design enhancements compared to their C-Series counterparts. New to the Deere range with the D-Series are the six-wheel-drive 872D and its tandem-drive companion model, the 870D. The standard cab forthe D-Series is a low-profile design, but a full-height or "tall" cab is optionally available.
Number of models: 6
New models: 670D, 672D, 770D, 772D, 870D and 872D
Product-line features: In addition to new emissions-compliant engines, the D-Series features redesigned moldboard and draft-frame geometry, new pressure-compensated/load-sensing hydraulic system, new cab and new transmission-control system (Event-Based Shifting). The new shift-control system electronically senses load and speed parameters, and then determines optimum engagement/disengagement rates for hydraulic clutches to promote smooth shifts. Operational directional changes can be made without the inching pedal.
Floor-to-Ceiling Glass
According to Case, the operator's environment of its 800-Series motor graders provides optimum comfort and convenience. With 85 square feet of floor-to-ceiling glass, the cabs are designed to provide all-around visibility, plus the cabs are secured with an "Isomount" system that is designed to reduce noise and vibration. In addition, the cabs are located on the frame to provide clear sight lines to the moldboard and tires for precise blade positioning.
Number of models: 4
Product-line features: Case graders feature six-cylinder Cummins diesel engines, with the dual-horsepower 865DHP using the Cummins QSB5.9. All use direct-drive powershift transmissions with an inching pedal, and the 8F/4R transmission can be shifted manually or turned over to an automatic system. Optional extensions allow adding two feet to each end of the moldboard, and a five-position saddle can tilt the blade to 90 degrees.
Conventional and Tool-Carrier Models
PSI's (Pavement Services Inc.) motor-grader lineup includes five models, ranging from the 6,800-pound M406XT to the 22,800-pound MG622. The company's XT models are "tool carriers" that are fitted with universal-type couplers and auxiliary hydraulics to accept suitable skid-steer-loader attachments.
Number of models: 5
New model: M406XT
Product-line features: All PSI motor graders are fitted with Deutz diesel engines and feature a two-speed hydrostatic drive system with an electronictraction-control feature. The rigid-frame M406XT, M413 and M413XT are two axle (four wheel) machines with all-wheel drive. The larger articulated-frame models are tandem-drive types with available front-wheel assist.
Three Options for Front Wheels
The brand-new, four-model range of Terex motor graders features three choices for the configuration of the front axle: T version — non-driven with wheel lean; TA-1 — driven without wheel lean; and TA-2 — driven with wheel lean. According to Terex, these new models feature 90-degree blade positioning on both sides and have a 30-degree articulating frame.
Number of models: 4
New models: TG110, TG150, TG190 AND TG210
Product-line features: The new Terex models are all Cummins powered and use a 6F/3R "auto" powershift transmission with a torque converter. The front wheels, if powered, are driven via a hydrostatic system. Additional work tools include a ripper mounted between the front axle and moldboard and a front dozer blade, either articulated orremovable.
Six Machines in One
According to Huber, its Maintainer can easily become six machines: motor grader, bulldozer, loader, scarifier, side dozer and berm leveler. In its motor-grader configuration, the Maintainer uses a 9-foot moldboard (13.5 inches tall) with dual angle-control cylinders and a 19-inch power side-shift feature.
Number of models: 1
New models: M-850-D
Product-line features: The Huber Maintainer is Cummins powered and hydrostatically driven, providing travel speeds to 16 mph. An optional 10-foot moldboard is available and a gear pump producing a flow of 21.5 gpm supplies the implement hydraulic system.
Is Something Missing Here?
If you haven't yet heard, Caterpillar's new M-Series motor graders replace the conventional motor grader's steering wheel and multiple control levers with two multi-function, three-axis joysticks. These controls in its new seven-model M-Series range, says the company, can reduce operator hand and arm movement by as much as 78 percent. M-Series models will replace the 10-model H-Series range, beginning in October 2006 and continuing through mid-year 2007.
Number of models: 7
New models: 120M, 12M, 140M, 160M, 14M, 16M and 24M
Product-line features: The M-Series design goes beyond the new joystick controllers to include the company's ACERT engines, new direct-drive countershaft transmissions with electronic clutch-pressure control (except the 24M), modular rear axle and a new hydrostatic front-wheel-drive system (120M, 140M and 160M). Variable horsepower is standard on the M-Series, and a new power-management system delivers horsepower in increments of five as transmission gear ranges step higher. A new system for maintaining adjustment of the drawbar, circle and moldboard makes this chore much easier, says Cat.
Choose Compact or Production Models
LeeBoy's three-model range of motor graders includes two smaller, hydrostatically driven units — the 6,700-pound 635 and the 15,000-pound 685B — and a larger model, the 785, which weighs in at 25,000 pounds.
Number of models: 3
Product-line features: The 130-hp model 785, introduced in 2004, extends the LeeBoy line into the range of production graders. A 130-hp Cummins diesel engine and a Clark 6F/3R powershift transmission drive the 785's geared tandem (no chains). This largest LeeBoy has 20 degrees of frame articulation and 60 inches of blade shift.
"Features Beyond Its Size"
That's how NorAm promotes its 65E Turbo motor grader which, says the company, "is a compact grader with full-size-grader features built in." Nor-Am was formed in 1992, but its product's heritage stretches back more than 50 years to the first Allis Chalmers Model D motor grader. Under NorAm's watch, the already steadily refined former Fiatallis machine has undergone several major design overhauls, the most recent in 2005. NorAm dealer locations number more than 100.
Number of models: 1
Product-line features: The 65E Turbo features Cummins diesel power (QSB4.5T), ZF transmission technology (WG115) and a torque-proportioning rear differential. The ZF transmission is a full powershift with integral torque converter and electronic (6F/2R) shift control. The 53-inch, gear-driven circle provides 360 degrees of blade rotation, and the "A-frame" drawbar incorporates four contact points for optimum blade adjustment. The machine is available with an air-conditioned cab, optional 12-foot moldboard, front scarifier, dozer blade and rear ripper.
Compact and Easy to Transport
Flannegan Western literature shows its new FW motor grader neatly secured on an 18-foot trailer with a rated GVWR capacity of 12,000 pounds. According to the company, this 6,000-pound motor grader, which was introduced earlier this year, is easy to transport.
Number of models: 1
New models: FW motor grader
Product-line features: The FW motor grader is hydrostatically driven and provides two speed ranges in forward and reverse. The unit incorporates a 65-hp, turbocharged John Deere engine.
Exclusive 11-Speed Transmission
The seven models in Volvo's new G900 motor-grader line can be equipped with the Volvo-designed HTE840 8F/4R transmission with selectable manual, "autoshift" (optional) and travel modes, or with the company's new 11F/6R HTE1160 transmission with standard autoshift. The optional new 11-speed, says Volvo, allows more control at low speed, more efficient travel at high speeds, and more precision in normal working ranges. A shuttle-shift feature allows shifting between selected forward and reverse gears without using the inching pedal.
Number of models: 7
New models: G930, G940, G946, G960, G970, G976 and G990
Product-line features: The four smallest of Volvo's new motor graders use the company's 7.2-liter Volvo D7 engine, and the three larger models use the 9.4-liter Volvo D-9. These engines are Tier-3-compliant and utilize Volvo's Advanced Combustion Technology (V-ACT). All seven models have three power ranges, depending on the transmission gear selected. These new graders also incorporate Volvo's Proportional Demand Flow hydraulic system and a twin-gear, direct-drive circle-turnsystem. The two six-wheel-drive models, the G946 and G976, have a front-wheel-drive-only (Creep) mode.
Direct-Drive and Torque-Converter Modes
The drive train in Komatsu's Laterra Series motor graders allows the operator to choose a torque-converter mode, or to lock up the converter and use the machine in a direct-drive mode with an inching pedal. According to Komatsu, the torque-converter mode, available in the four lower gears, provides increased tractive effort and finer low-speed control.
Number of models: 7
Product-line features: Komatsu motor graders feature electronically controlled, 8F/4R powershift transmissions (the GD825A-2E has eight reverse speeds) that provide travel speeds to 26.2 mph (27.9 for the GD825A-2E). The implement hydraulic system is a load-sensing, closed-center type using a variable-displacement pump and Komatsu-designed and built valves.
Operator Comfort and Convenience
New Holland makes the point that large cabs for its motor-grader range are available in both low-profile and high-profile configurations to suit operator preferences. Large glass areas in both cab styles are designed to provide all-around good visibility, and provisions for sound and vibration reduction are aimed at minimizing distractions and fatigue. Operator convenience also extends to the details, says the company, such as the "bump-type" transmission controller that reduces effort for the operator.
Number of models: 4
Product-line features: New Holland motors graders all use Cummins diesel engines and direct-drive, 8F/4R powershift transmissions that yield a top forward speed of 26.5 mph. All feature a large-diameter circle (69 inches) and provide optional moldboards.
Loader System Uses Attachments
Basic Equipment's model 601 is a hydrostatically driven, articulating motor grader that can be fitted with an optional Loader System, which provides 9.5 feet of lift height and features a universal-type coupler and a 12-gpm auxiliary hydraulic system. According to the company, a number of skid-steer-loader attachments can be used with the coupler.
Number of models: 1
Product-line features: The 601's water-cooled Kubota diesel engine, rated at 49.5-horsepower, powers its four-wheel-drive, two-speed hydrostatic propel system. This 7,300-pound machine uses a moldboard that side-shifts 24 inches and angles 40 degrees left or right from center.
More Choices for Canada
The three-model Changlin motor-grader range is, currently, marketed only in Canada, but availability in the U.S. market is a future possibility.
Number of models: 3
Product-line features: Among the three Changlin models, the smallest and largest (PY-165H and PY-220H) use Shanghai diesel engines, while the 190-hp PY-190H is fitted with the Cummins 6CTAA8.3-C185. All models are equipped with a ZF WG180 powershift transmission (6F/3R) with an integral torqueconverter.
Cummins Power and Six-Speed Powershift
Two Intensus motor-grader models, the 180-hp GR180 and the 215-hp GR215, both use a Cummins engine and a 6F/3R ZF powershift transmission. The fully enclosed, high-visibility cab is standard equipment, and air conditioning is available.
Number of models: 2
Product-line features: The tandem-drive Intensus graders are articulated and feature replaceable nylon wear strips in the 360-degree-rotation circle. Separate hydraulic systems are used for the steering and implement circuits, with the latter employing a duplex gear pump.
Buying File Intro: Motor-Grader Technology Hits High Gear