By Lynn Landberg, Senior Editor | September 28, 2010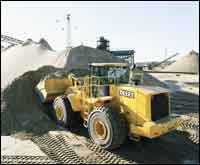 Loader is Highly Stable
The boom of John Deere's 824J is newly designed to exceed durability and performance levels required for loader applications. Because of its stability, the operator is more confident, resulting in faster cycle times. Counterweighting is deliberately placed and strategically distributed to provide front and rear stability and a lower center of gravity. The spin-control system improves operation in conditions that reduce traction. This reduces tire wear, fuel costs and operator fatigue. Smart shift technology continuously senses speeds and loads and adjusts clutch pressures accordingly. Ride control also is available.
Number of models (200–300 hp): 3.
New models (200–300 hp): 724J, 744J, 824J.
Noteworthy features: Spin control, stability, pilot hydraulic fingertip controls, electronically controlled engine, closed-center load-sensing hydraulics.
Fully Automatic Transmission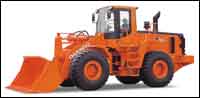 Advancing in size, Daewoo's Mega 300-V wheel loader replaces the Mega 300-III. With a fully automatic transmission, the loader has a modular cab design that offers top all-around operator visibility. Standard features include air conditioning and stereo AM/FM radio. A Daewoo-developed engine produces 230 horsepower. The steering consists of Load Sensing Orbitrol control. Weighing 38,150 pounds, the Mega 300-V is equipped with a 3.9-cubic-yard bucket.
Number of models (200–300 hp): 2.
New models (200–300 hp): Mega 300-V, Mega 400-V.
Noteworthy features: Large cab, good visibility, viscous mounting system, front and rear flow air conditioning, central remote hydraulic check ports.
High Torque at Low Revs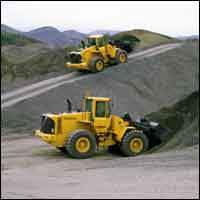 The electronically controlled engine of the Volvo L150E provides a rapid response and faster cycle times. Even at low revs, the Volvo D10B engine delivers almost maximum torque. The TP Linkage lift-arm system delivers a high and even breakout torque throughout the lifting range. The bucket is kept in a firm grip close to the front axle, resulting in a stable load and less spillage. In the cab, all air is filtered in two stages. At the controls, the forward, reverse and kick-down functions are situated both on the lever on the left-hand side of the steering wheel and on the hydraulic console at the right.
Number of models (200–300 hp): 4.
New models (200–300 hp): L110E.
Noteworthy features: Low emissions and sound engine, Contronic function monitoring system, cab comforts, TP Linkage, load-sensing hydraulics.
Easy-Cleaning Radiator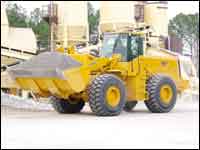 The cooling system on Kawasaki's new 90ZV features a larger plate-fin radiator with the hydraulic oil cooler and air-charged aftercooler being separated from the radiator by several inches. A hinged access panel on each side of the radiator cowl allows for easy cleaning between the cores. A panel below the radiator can be opened for cleaning out built-up debris. The hydraulically driven engine cooling fan can be regulated independently of the engine speed, and larger fans can be utilized to provide better cooling efficiency.
Number of models (200–300 hp): 3.
New models (200–300 hp): 80ZV, 85ZV, 90ZV.
Noteworthy features: Improved transmission, 275-hp engine, upgraded wiring system, easy-cleaning radiator, large cab, tilt and telescoping steering wheel, simplified braking system. 
Fuel Consumption Drops 15 Percent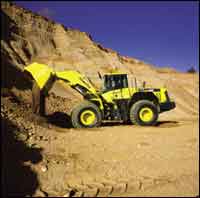 Powered by a 261-hp engine, the Komatsu WA450-5 has a 15-percent reduction in fuel consumption, thanks to the high-torque Komatsu engine and the large-capacity torque converter. In addition, the optional lock-up torque converter will lock up when the traveling speed reaches 6.8 mph in third gear and 13 mph in fourth gear. Two engine operating modes, normal and power, allow the operator to adjust the machine's performance to match requirements. The fully hydraulic braking system eliminates problems such as freezing and rusting caused by water condensation encountered in air-operated systems.
Number of models (200–300 hp): 3.
New models (200–300 hp): WA400-5, WA450-5, WA480-5.
Noteworthy features: Large cab, automatic transmission with four selectable shifting modes, EMMS, ECSS, reversible hydraulic fan, reduced operator noise.
Reverse-Flow Cooling System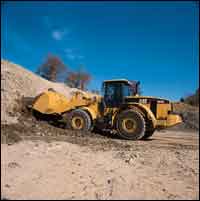 Caterpillar's 972G-Series II wheel loader has a net rating of 270 horsepower and can take buckets from 5 to 6 cubic yards. The engine, a Cat 3196, is turbocharged and air-to-air aftercooled to improve combustion efficiency and reduce emissions. A cooling system with a reverse-flow design pulls air through the rear grill and sends it out through the tops and side panels, reducing debris accumulation. Two cab configurations are available. One features a conventional steering wheel and pilot-operated implement controls. The other offers Command Control Steering, a pilot-operated, load-sensing steering system with integrated, ergonomic transmission controls and electro-hydraulic implement controls.
Number of models (200–300 hp): 3
New models (200–300 hp): 962G Series II, 966G Series II, 972G Series II.
Recent changes: Quieter engines, new cooling system, environmental enhancements, redesigned cab.
Noteworthy features: Number of bucket options, easy servicing, range of options, electronic management systems.
Shifts Dependent on Torque
With Case's proportional-shift control found on the C Series wheel loaders, including the 921C, shifting between gears is dependent on torque, not speed, allowing for a smoother transition between gears. According to Case, this not only results in increased productivity, but also longer transmission life. The improved autoshift transmission also features a cold-start mechanism and a manual mode, enabling the operator to tailor the shifting to fit the job application. In the cab, there's 42.5 square feet of glass for better visibility all around the machine. A slimmer steering column results in a better view of the bucket and more legroom.
Number of models (200–300 hp): 1.
Noteworthy features (200–300 hp): Proportional-shift transmission, closed center wide-angle steering, easily serviceable, cab visibility, efficient cab setup.
More Glass Provides High Visibility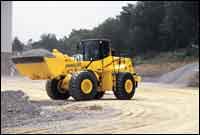 The LW230.B from New Holland has a cab that features plenty of view, thanks to a wide expanse of seamless glass, a tilting/telescoping steering column and an air-ride seat. Air conditioning is standard. The Z-bar linkage gives the operator better use of the tilt circuit, while adding to productivity with better breakout forces and faster dump cycles. For service, the wheel loader is equipped with gull-wing doors for easy access to both sides of the rear-mounted engine. In addition, the dipstick and oil fill are located on the same side, at ground level. A remote filter location allows easy access for routine maintenance. Hydraulic diagnostic ports have been banked, so all pressures can be tested from a single location.
Number of models (200–300 hp): 3.
Noteworthy features (200–300 hp): Hydraulically driven cooling fans, double-pump hydraulic system, Load Travel Stabilizer, roomy cabs, gull-wing service doors.
Automatic to Manual Shift Choice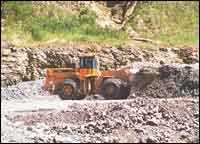 A number of features provide a modern control center for Hyundai's new HL780-3A. This includes an electronic engine diagnostic function, a transmission display indicating speed and driving direction as well as diagnostic error codes, and a centralized electronic monitoring system and attached instrument panel. The fully automatic shift lever lets the operator easily control speed and direction. The operator can change from automatic control to manual control if desired.
Number of models (200–300 hp): 3.
New models (200–300 hp): HL780-3A, HL770, HL760.
Noteworthy features: All-automatic transmission, HL780-3A has new Tier-2 engine, oil-cooled axles.
Buying File Feature: Mid-Sized Loaders Pack Plenty of Power