September 28, 2010
The G21 Proprietary Digital Operating System, found on Gomaco's Commander III trimmer/slipform paver, has 20 times more program memory for the many features available today, plus expansion capabilities for the future. Some of the capabilities of G21 include advanced system diagnostics that automatically pinpoint and identify circuit openings, shorts and fault codes; interfaces with stringless technology/3-D control systems and laser technology; and carries software for the slope transition system. The Commander III can trim and pour simultaneously and can be transformed from a three-track paver to a four-track one.
Number of models: 8. Noteworthy features: Slope/compensation system, automatic grade/slope transition system.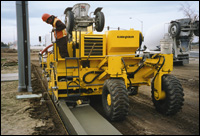 The Easi-Pour Compact 880 from Huron has a low profile, so the operator has 360-degree unrestricted visibility. The unit is capable of trimming the toughest material to a depth of 3 inches. A 1.7-cubic-yard-capacity hopper allows for continuous paving in tight situations. The front loading conveyor, when used with sliding leg options, allows even greater concrete loading capacity. Sensors eliminate servo valves and other electrical components. The machine can slipform barriers up to 42 inches high and can pave to 8 feet wide. An optional offset radius package allows for tight turns. Paving speed is up to 80 fpm.
Number of models: 5. New models: 880. Noteworthy features: Equipped with either track or rubber tires, 1.75-cubic-yard hopper capacity, sliding leg capability, high production.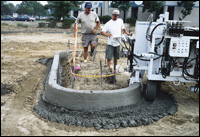 The Curb Fox 3000 from Messinger can slipform sections on subgrades, on pavements, or adjacent to existing pavement. This can be accomplished with or without steel reinforcement. The machine can turn radii down to 2 feet on curb and 4 feet on curb and gutter. Components are similar to those on larger slipform pavers; with the Curb Fox having a precise, proportional electronic over hydraulic control system. The machine can be transported behind a standard pickup truck. A curb and gutter up to 33 inches wide and curb up to 18 inches high can be achieved with the Curb Fox 3000.
Number of models: 2. Recent changes: Added automatic radius turning and rear-wheel drive to Curb Fox 3000. Noteworthy features: Paves high-quality curb and gutter and economical price, transport with a pickup truck.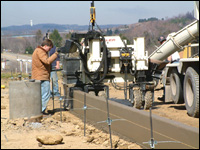 Designed to fill a gap between large, expensive curb-and-gutter machines and lightweight extrusion machine, the Miller Spreader MC 1050 Curbilder is a versatile machine with an operating weight of 3,700 pounds. It is stable enough to handle many large molds, yet compact enough to be transported easily. The unit has a 0–90 fpm travel speed and a 0–25 fpm curbing speed. It also features power steering, dual control stations and a three-point hydraulic undercarriage with horizontal adjustment to accommodate a variety of forms and conditions.
Number of models: 1. New models: MC1050. Noteworthy features: Fully adjustable undercarriage, dual range hydrostatic drive, conveyor feed hopper, pre-wired for automatic grade controls.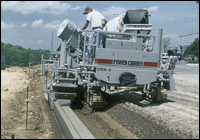 The hydraulically extended right-rear straddle leg of the Power Curber 5700-B allows more flexibility in crawler placement when pouring sidewalk or median barrier. While the 5700-B stays on line, the mold offset can be hydraulically adjusted 16 inches vertically and 24 inches horizontally for flexible construction work. Further, the trimmer can be adjusted 25 inches vertically, allowing it to be raised at catch basins or other obstacles.
Number of models: 4. Recent changes: New crawler design, smooth chain idler for front crawler, grease cylinder chain tensioner for crawler. Noteworthy features: 5700-B has fully enclosed auger, adjustable offset, compact size, transports at legal width, quick-connect mold mounting system, flexibility to handle many different applications.
The Miller Formless M-1000 has four tracks, yet can pour a tight radius of 2 feet using Miller's exclusive control system. Both left- and right-hand pours are possible, with the operator having a good view of the work. The four-track, five-point suspension is unaffected by poor ground conditions. Seventy-five-gallon stainless-steel water tanks provide water for easy cleanup. The M-1000 can be custom tailored to fit the job.
Number of models: 1. Recent changes: Enhanced radius capabilities, added hydraulic tensioning for tracks. Noteworthy features: Tight radius, choice of right- or left-hand configuration, hydraulic pitch out/pitch in molds available.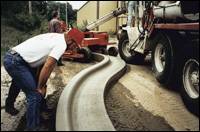 An economical way to slipform small curbs and gutters, the M-B-W curb-and-gutter machine works on dirt or pavement, straight runs or tight radii, flat or inclines. The machine is computer controlled for one-person operation. Pour speed is up to 40 fpm and travel speed reaches 2.5 mph. Molds can be custom manufactured to owner's specifications, and optional hopper sizes of 36 and 48 inches are available. Stringline and stake kits are available for the company's pavers.
Number of models: 2. Noteworthy features: Compact machine, low maintenance, five-minute mold change, easy transport, maneuverability.
Read the Buying File Intro: Must-Have Machines for Your Paving Fleet