September 28, 2010
Variable-Width and Conventional Competitor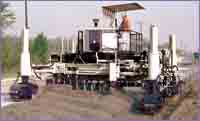 The Terex/CMI SF-2204 HVW changes paving widths, hydraulically telescoping from 8 feet 4 inches wide to paving 20 feet wide in moments. Its modular paving kit uses the telescopic mainframe to position tandem paving molds. Three HVW (hydraulic variable width) models in the Terex/CMI line range up to a maximum paving width of 32 feet. Three more-conventional four-track pavers range in paving width up to 44 feet. Modular design allows the SF-6004 to serve several functions, including trimming, placing/spreading, and paving with a dowel-bar inserter.
58,500 to 115,500 pounds: 6 models
Cat-Powered Alternative
HEM (Heavy Equipment Manufacturing) had built slipformers for Allen until about two years ago, and despite independent development during that time, the two companies' pavers are still quite similar. They're two-track machines riding on nearly 12-foot-long tracks. Weight increases in the HEM line have pretty much paralleled the bulking up of Allen's pavers. HEM offers smoothness options much like Allen, which include a Hydraulic Center Bar inserter and oscillating belt finisher. HEM slipform machines continue to be powered by Caterpillar engines.
33,100 to 80,900 pounds: 3 models
Easier Width Changes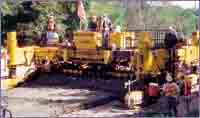 GOMACO has improved its slipform pavers' ability to change widths with detachable augers and strike-offs that telescope 6 feet. The auger/strike-off unit is based on GOMACO's 5000-Series open-front mold, and allows the mold to be used open fronted, as well. The unit moves independently with hydraulically adjustable mounts on the front of the mold. When a section of the paving mold is added or removed, the auger and strike-off can extend or retract to the desired width. When the auger/strike-off is detached from the mold and the wings on the side plates are folded in, a four-track paver with the mold still mounted underneath can be transported on one truck at less than 12 feet wide.
28,500 to 115,000 pounds: 4 models
New model: GP-2600 
S1000 and S1500 Pave Multiple Crowns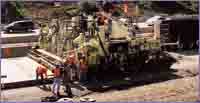 The redesigned S1000 and S1500 pavers allow multiple crowning points or profile breaks across the slab. Crowns are easy to locate across the main pan without disassembling the machine. The new S1000 and S1500 also can use front-mounted inserters to insert tie bars ahead of the pan. The S1000 accepts Guntert's patented Compact Dowel Bar Inserter as well as the large DBI. The QUADRA bolster system on the S850 allows for short overall shipping length and short paving wheelbase (in compressed mode). The bolsters allow 90-degree steering so the machine can pave close to structures and leaves smaller gaps between slabs.
80,000 to 110,000 pounds: 4 models
New models: S1000 and S1500
Combination Machine Paves 16.5 Feet Wide
The adjustable trimmer in Huron's Easi-Pour 1000 allows rebar into the mold without removing the trimmer. This combination paver (it also pours curb and gutter, barrier, bridge and parapet wall) will trim up to 10 feet wide, and with its fourth-track paving package, the unit will slipform slabs up to 16 feet 6 inches wide. Huron uses Deere power.
32,000 pounds: 1 model
Beefing up Its Own Designs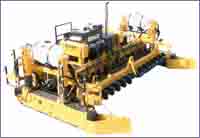 HEM had been building pavers for Allen until about two years ago, when Allen took over its own manufacture. Since the change, Allen has switched the three models to Deere diesel power, increasing horsepower in each model from 4 to 11 percent, and added weight to each machine. Maximum paving width, with optional extensions, on the ASF 2700 and ASF 3200 have increased to 36 and 40 feet, respectively. The 78,000-pound Model ASF 3200 represents most of Allen's development work. The 325-hp machine's paving widths stretch to 40 feet.
44,000 to 78,000 pounds: 3 models
New model: ASF 3200 2T HP SP
Paving Power on Two Tracks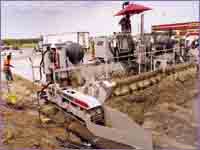 Power Pavers designed the SF-2700 and SF-3000 as two-track slipform pavers on 12- and 14-foot tracks. Both machines pave up to 32 feet wide, with integral curbs on one or both sides. The manufacturer describes the SF-2700 as having "the right balance of weight and size to excel at residential and inner city paving." At 65,000 pounds, the SF-3000 is 17,000 pounds heavier, and its 250-hp Cummins diesel packs 16 percent more power. Hydraulic loading legs on the SF-3000 lift the unit 42 inches so that a lowboy trailer can be backed under the paver. Power Pavers' two placer/spreaders, the PS-2700 and PS-3000, also have the self-loading legs. In 2002, Power Curbers founded Power Pavers in Cedar Falls, Iowa, and the subsidiary manufactures placer spreaders, form-riding pavers and texture cure machines as well as slipform pavers.
48,000 to 65,000 pounds: 2 models
Combination Frame Stretches Hydraulically
With 4 feet of hydraulic frame widening, Miller Formless' M8100 can straddle pave widths to 16 feet. The combination machine also pours curb and gutter, barrier, bridge and parapet wall. In offset paving mode, it can place 12-foot pavements to either side of the machine. The M8100 is powered by a 157-hp Deere diesel.
25,000 pounds: 1 model
Longest Two-Track Footprint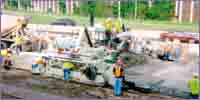 The Town & Country from Rexcon rides on two quick-detach tracks that are each 18 feet 6 inches long—the longest track frame available on a two-track slipform paver. The Town & Country II variation offers a choice of 16-, 14- or 12-foot track lengths. Rexcon's speed-controlled spreader auger measures 20 inches in diameter, and the finish pan has a power crown feature. There's an optional dowel-bar inserter. A 325-hp Cat 3306 engine powers the Town & Country.
60,000 pounds: 1 model
Buying File Feature: Slipformers Grow Versatile and Smooth