September 28, 2010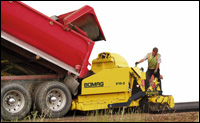 Bomag Pursues Big-Production Buyers
Bomag replaced its 813 RT ProPaver with the 814-2 and 815-2, upgrading to an 85-hp Cummins 4B 3.3T engine and adding half a ton of hopper capacity. Maximum paving speed increased to 180 feet per minute — a 48-percent jump. Heavy-duty crawler undercarriages and thicker steel in many fabrications increased operating weight by more than 1,000 pounds. The new Unimat 2 screed on the two pavers delivers standard paving ranges of 8 to 14 feet and 8 to 15 feet, respectively.
Number of models: 4
New models: 814-2 and 815-2
Product-line features: Material augers mounted directly to the hydraulic screed extensions provide a consistent supply of material at all paving widths.
Two Choices to 13-Foot-Wide Paving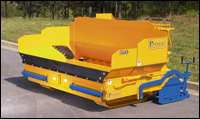 Puckett has designed and intends to begin production in 2006 of its Model 580 with a paving-width range of 8 to 13 feet and Kubota diesel power. A new screed extension on Model 560 extends the 8,250-pound tracked paver's maximum paving width to 13 feet.
Number of models: 3
New model: 580
Product-line features: Each Puckett paver comes with an exhaust-heated screed or optional propane heat. Sprocket drive and automatic track tensioning are standard features, and all models are powered by Kubota diesels. Folding wings on the 540 simplify loading for trailer transport.
Largest of Very Small Pavers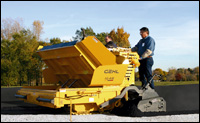 The Powerbox line straddles the smallest commercial work — driveways, cart paths, sidewalks, jogging trails and parking lots — offering two track-mounted pavers with paving-width ranges from 4 to 13 feet and 4 to 12 feet. The 1648, at 9,815 pounds, has 9-inch-diameter material feed augers that can be mounted on the screed extensions or gates. The steering valve allows the operator to pave ripple-free curves by turning a single lever into the turn. The 1448, with 4-ton hopper, is equipped with an exhaust-heated screed, and offers propane heat as an option.
Number of models: 2
Product-line features: Both the 1648 and 1448 are powered by Isuzu diesel engines through a direct-drive track system that is self-cleaning and self-adjusting. Steel tracks are shod with bolt-on polyurethane track pads.
Path Paver on Tracks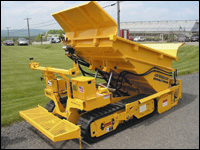 Salsco swapped the tires on its Mini Paver for rubber tracks to create a tracked paver capable of a width range from 3 to 6 feet. The dump hopper is upgraded with hydraulic dumping action and an added cut-off plate. Tracks are hydraulically adjustable, and screw jacks have been added on the end gates.
Number of models: 2
New models: 05012 Mini Track Paver
Product-line features: Salsco builds two units available for under $25,000 that are able to pave sidewalks, cart paths and trenches.
No Fuel, Flames or Fumes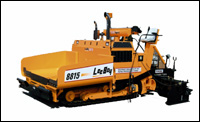 LeeBoy's electric screed-heat option provides commercial-class paving contractors an alternative to propane-fired heating systems. The Legend Electric Screed is exclusively available on LeeBoy Models 8500 and 8515 (as well as the 25,000-pound 8816). The Legend Electric Screed System retains the features of the propane-heated version, which allows for seamless paving from 8- to 15-foot widths.
Number of models: 4
Product-line features: The Legend Screed has a bull-nose wear plate and a bolt-on main-screed wear plate of 3/8-inch-thick AR400 steel. Extendable wallboards were added recently. LeeBoy uses Hatz diesels in all of its less-than-19,000-pound pavers.
Widest Paving Width in Class
Calder's Mauldin 1750-C is a 15,700-pound track-mounted paver challenging the competition at the top of the commercial class with 16 feet of paving width — a foot more than any others — and the only John Deere diesel in the size range.
Number of models: 8
Product-line features: Extension augers on the four-auger material feeding system extend with the screed. O-ring face seals in the hydraulic system carry a three-year, leak-proof warranty from Parker Hose.
Screed Improves Material Control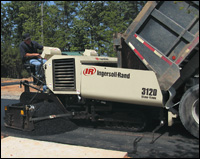 A new version of Ingersoll Rand's Liberty Screed has extensions with angled inner walls to control material when retracting the screed. A crown/invert indicator shows the operator the screed's setting. Depth screws are repositioned for better clearance when the screed is raised.
Number of models: 2
New models: 3120 and 3020
Product-line features: The 3020 and 3120, at about 16,900 pounds, are the heaviest commercial-class asphalt pavers, and the 3120's 87-hp Kubota makes it the most powerful machine in the class. Outboard tracks move maintenance points out from under the hopper.