By Staff | September 28, 2010
B-Series Offering Now Complete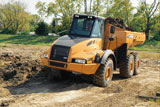 The B-Series updating of Case's ADT line was completed this year with the rollout of the 35-ton-capacity 335B and the 40-ton 340B models, each featuring a 13-liter version of the air-to-air-cooled, four-stroke diesel engine. Along with increased horsepower, the Tier 3 engines feature a variable-geometry turbocharger that provides an optimized air-to-fuel mixture for peak performance.
Number of models: 4
New models: 335B, 340B in 2007; 327B, 330B in 2006
Product-line features: Case retains the wide frame and low dump body that differentiates its ADT line. Along with a lower center of gravity, this design provides room for the dump cylinders to be housed inside the frame.
Smart Technology Enhances Product Line

With an industry-standard four-model ADT family covering the 25- to 40-ton-capacity market, John Deere now offers an electrohydraulic dump body tip control as part of its Tier 3-compliant D-Series. The system's Production Limit feature allows the operator to set the maximum dump height, which saves time during the dump cycle.
Number of models: 4
Product-line features: Most recently, John Deere grew a new product out from its ADT line. Purpose-built to serve the growing market need for dust control, the 300D Water Wagon combines the tractor of the 300D with a 7,000-gallon water tank equipped with up to eight spray heads, a gravity dump bar and remote water cannon.
Dump or Ejector Bodies Available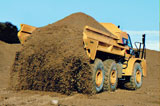 Along with the 25-, 30-, 35- and 40-ton-capacity-class articulated trucks, Caterpillar offers ejector-body versions of the 730 and 740 models. Interest in the 730 Ejector and 740 Ejector is continuing to grow among customers requiring a versatile hauling system for spreading on the go, say Caterpillar officials.
Number of models: 6
Product-line features: The differentials on Caterpillar's articulated trucks can be engaged and disengaged on the go. With the wet-clutch design, as compared to mechanical "dog" clutch systems, the operator does not lose momentum coming up to a slope or a muddy spot that requires lock-up.
Getting Bigger All the Time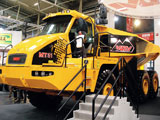 In the late 1990s, Moxy introduced the Plus 1 concept to the worldwide ADT market, moving beyond the standard 25-, 30-, 35- and 40-ton-capacity nomenclature with such models as the MT26, MT31, MT36 and MT41. Well, at the Bauma 2007 show last spring in Germany, the company went further, rolling out the ground-breaking MT51 with a payload of 102,008 pounds.
Number of models: 5
New model: MT51
Product-line features: Offering a heaped capacity of 37.7 cubic yards, the MT51 currently tops the worldwide ADT product offering. It is powered by a 508-horsepower, 15-liter Cummins engine.
More Horsepower, Better Fuel Economy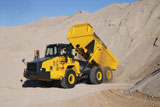 In rolling out the -2 ADT Series, Komatsu boosted the horsepower on its HM300-2, HM350-2 and HM400-2 models. In the case of the 30-ton-capacity HM300-2, torque also increased 9 percent, tractive effort increased 9 percent, and overall productivity in high-load applications increased 10 percent. Transmission control combined with steering and hoist hydraulic system enhancements to improve the fuel economy of each of the Tier 3-compliant trucks.
Number of models: 3
Product-line features: Boasting a number of industry exclusives, Komatsu offers full hydro-pneumatic suspension both front and rear, a full-size buddy seat, and a service-free center articulating hinge.
A Smooth Breakthrough for Artic Trucks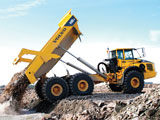 When the equipment world gathered in Germany for Bauma 2007, Volvo was among the ADT manufacturers turning heads. As part of its E-Series, the worldwide equipment manufacturer introduced a Full Suspension option for the larger A35E and A40E models, set to roll out later in the year. The system employs shock absorbers at each wheel position linked to microprocessors that automatically control the truck's stability.
Number of models: 6
New models: A25E 4x4, A25E, A30E, A35E, A35E FS, A40E, A40E FS
Product-line features: With the E-Series, the capacity of the two largest Volvo ADTs has been increased, to 37 tons for the A35 and to 43 tons for the A40. These models have new frames, axles, and a drop box with longitudinal differential and 100-percent lock-up.
Company Focuses on Smaller Models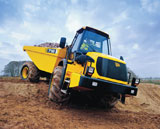 With its three-model product line, JCB offers smaller-capacity alternatives to the standard 25- to 40-ton ADT offering. Both twin-axle, four-wheel-drive units, the 14-ton 714 and 18-ton- 718 models offer payload capacities of 9.6 and 12.6 cubic yards, respectively. The tri-axle, six-wheel-drive 722 had a rated payload capacity of 15.6 cubic yards.
Number of models: 3
Product-line features: JCB's electronic management system facilitates communication between the truck engine and transmission, providing a single interface for monitoring and troubleshooting both components. The system also maps the transmission to the engine power curve to ensure maximum economical power output.
Compact Truck Offers Side-Dump Version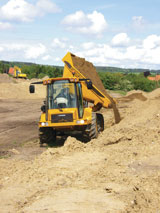 The updated D-Series model of the compact 912 articulated dump truck was recently rolled out, featuring a larger, redesigned cab with computerized displays, including onboard diagnosis. The old throttle cable has been replaced by an electronic speeder and features cruise control. Compared to the 912C Series 2 model, the 912D offers a 7-percent increase in horsepower and a 20-percent boost in torque.
Number of models: 3
New model: 712D, 712D MultiTip
Product-line features: The Hydrema 912D is also available in a MultiTip model, featuring side-dump capability. The 912D MultiTip has an optional auto bed return feature.