September 28, 2010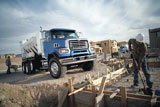 L- and tandem-rear-axle LT-Line are Sterling's heavy vocational trucks and come with 7500, 8500 and 9500 designations indicating weight classes. Various L models have bumber-to-the-back-of-the-cab (BBC) dimensions of 101, 111, 113 and 122 inches with set-back (SB) or set-forward (SF) steer axles. For 2009, a truck's BBC dimension and axle position will be included on door badges. Engine choices include the Mercedes-Benz 4000; Detroit Series 60, DD13 and DD15; and Caterpillar C13 and C15. Sterling will cease operations next March. But it will take orders for another month or two, and many Sterling dealers will continue to service and support existing trucks.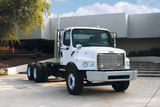 Business Class M2V series includes Baby 8 variants such as this 106-inch-BBC model, which uses a Mercedes-Benz 900 engine and other medium-heavy components. M2-112 models use the larger MBE 4000 diesel. The strictly Class 8 FLD-SD (for severe duty) dates to the 1980s but soldiers on, thanks partly to a long-running contract with the U.S. military. It is offered as a truck or tractor with several sleeper-cab options. Freightliner will build it through next year, but it will then be dropped and replaced by a new heavy vocational model. FLD-SDs come with the latest 2007-specification, 14-liter Detroit Series 60; the 12.8-liter Mercedes 4000; or the 15-liter Caterpillar C15. Freightliner and its sibling companies Sterling and Western Star offer several truck models as glider kits.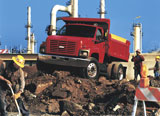 Since dropping the deal with Navistar, General Motors will continue to build GMC TopKick and Chevrolet Kodiak midrange conventionals and T-series tiltcabs. Both become 8500-Series Class 8 models when built with heavy-duty axles, suspensions, brakes and other appropriate chassis parts. The C8500 (shown) is available with high-capacity axles, up to 18,000 pounds up front and 46,000 pounds on tandem rears. Standard power for C8500s is the 7.8-liter Isuzu 6H with aftertreatment and other changes made in '07, and over the years its share of sales has risen from 10 to 90 percent compared to the once popular Cat C7. GM is one of two builders (the other is Ford) that still offers the midrange C7, but Cat will stop supplying that engine in January. The 8.1-liter Vortec 8100 gasoline V-8 will soon be dropped from Class 6, 7 and 8 models.
New Titan heavy haul tractor (shown) can be built with extra-heavy-duty components for GCW ratings as high as 300,000 pounds, and it uses only a new 16.1-liter (984-cubic-inch) MP10 diesel engine with up to 605 horsepower and 2,060 pounds-feet. Titan replaces the long-nose Cummins-powered CL, which was discontinued two years ago. Granite continues as the company's main vocational model and comes with a roomier cab and other refinements. Mack redesigned the MR low-cab-forward vocational truck with a lower doghouse that provides more room for the driver and gave the truck a new name: TerraPro. All use Mack Power diesels from Volvo Powertrain, either an 11-liter MP7 or 13-liter MP8, usually in Maxidyne tune; MaxiCruise and Econodyne versions are also available.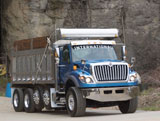 International WorkStar 7000 heavy trucks and tractors use steel cabs from midrange models and are available with a wide variety of chassis options. Integrated Dump Trucks (shown) combine a properly engineered chassis with steel or aluminum bodies and hoists. Because WorkStars come standard with a Diamond Logic multiplexed electrical system, they can accommodate the latest electronically controlled diesels, including International's MaxxForce 11 and 13. Also available for heavy models are Cat's C13 andCummins' ISM; midrange engines in-clude the MaxxForce DT and MaxxForce 9 and 10. The heavy PayStar 5000i series now has a setback axle version. Engines include Cat C13 and Cummins ISL and ISM, and 15 liter C15 and ISX in the PayStar 5000 Series; MaxxForce 11 and 13 are slated for 2010.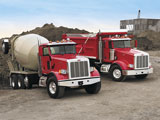 Vocational 365 and 367 (shown) are built as heavy trucks and tractors with forward- or rear-set front axles. A Model 340 is Peterbilt's "heavy 7" offering, using midrange power trains on heavier-duty chassis. The traditionally styled long-nose 389 with smoother exterior styling replaced the old 379 (a common dump-truck model on the West Coast), and the medium-nose 388 replaces the 378 tractor. Long-nose Class 8 vehicles will use the 15-liter Cummins ISX and Cat's C15, while medium-nose trucks will have the 11-liter Cummins ISM and Cat's C13. Cummins ISL and Cat C9 diesels will continue as lightweight options. As with Kenworth, Peterbilt's medium- and medium-heavy models will use Cummins-built 6.7- and 8.3-liter diesels, called PX-6 and PX-8, respect-ively.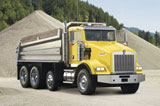 Vocational lineup for 2009 is led by the T800, a versatile heavy truck model now available with a Cummins-Westport LNG engine. Other recent options additions include a proprietary AG130 four-bag front axle air suspension, which is disc-brake compatible and available in a 13,200-pound rating; and Allison 4000 and 4500 series automatic transmissions for construction and shorthaul applications using a Cummins ISX with up to 1,650 pounds-feet of torque. The Extended Day Cab option is now offered on on/off-highway C500 vocational models. Available heavy-duty diesels are Cummins' ISL, ISM and ISX, and Caterpillar's C13 and C15. Class 6 T270 and Class 7 T370 models add the 2-bag AG210L, a 21,000-pound rear suspension; they use Cummins-built Paccar PX-6 and PX-8 engines.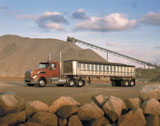 High-hood VT800 daycab tractor can be ordered with the Volvo D16 or a Cummins ISX, and is at home in vocational duties. The VHD continues as Volvo's main vocational heavy truck, and a VHD 430 tractor added last year has a short sleeper for overnighting; both come only with a D13 diesel from Volvo Powertrain. Volvo's VHD and VNL (for long-nose) tractors are newly available with 69,000-pound-capacity Meritor tri-drive rear axles now needed for extra-heavy loads in some northeastern states; the tridem rides on Hendrickson-Volvo PriMaax suspensions with up to 63,000 pounds capacity. The VNL is available with a 16,000-pound front axle, double-channel frame rails, and a pusher axle for heavy-haul operations; it can be ordered with the D16 or ISX.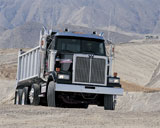 Western Star
The 4900 series is often built for vocational duty, and the extra-heavy-duty 6900 is as much at home off-road as on. As part of the Sterling organization (and therefore the Freightliner family), Western Star will use the Detroit Series 60 in its 4900 FA (forward-steer axle) and SA (setback steer axle) models, with the newer Detroit DD15 and soon-to-be-gone (by the end of '09) Cat C13 and C15 engines as options. The 6900XD will have the Series 60 engine as standard and the Cat C15 as an option; the DD15 will appear in 2010. Western Star has introduced a kit to convert any tractor with a Stratosphere sleeper to a daycab, giving it a new "second life." The kit includes a new overhead console, roof cap with reinforcements, headliner, back wall and trim panel, and new rear-window glass.
Heavy truck buyers are waiting in the weeds for an economic recovery, and many fleet managers are holding back on new-truck purchases until business improves. They might not know that the federal Economic Stimulus Package contains substantial tax incentives for capital expenditures, including money spent on trucks. Buyers can expense up to $250,000 for up to $800,000 worth of equipment that qualifies under IRS Section 179, and expense it all this year. There are many details, which tax consultants should have, but the tax breaks make it a good time to buy.
Meanwhile, January 2010 ushers in even more stringent diesel-emissions limits, and that will likely result in even more expensive engines and trucks. The upcharges of $6,000 to $10,000 that customers saw in 2007 are likely to be repeated in '10, builders say. Of course, there are alternatives to buying new. A variety of used vocational trucks are always available, and there are glider kits.
Basically new trucks with used powertrains, gliders are gaining popularity among operators who want to avoid expensive EPA-'02 and '07 diesels, say the specialty builders who assemble them. Gliders are the only way to use "pre-emission" diesels in a new chassis, and recycling of other power-train components saves considerable money.
Fitzgerald Truck Parts, which sells glidered road tractors and dump trucks, reports that business is up 20 percent over last year. Indiana Phoenix, a manufacturer of front-discharge mixers, says 75 to 80 percent of its admittedly slow production is now of glidered trucks. Terex Advance, also a maker of front-discharge mixers, says 40 percent of its also-slow production is of gliders, and orders for them are up substantially over last year. Oshkosh also offers gliders.
Tommy Fitzgerald Jr., co-owner of Fitzgerald, says high fuel prices push owner-operators to look for more economical power units. The rebuilt 12.7-liter Detroit Series 60 engines his crews usually install produce substantially better mileage than models with exhaust-gas recirculation introduced in October 2002.
"EGR engines get 5 to 5 and a half miles a gallon, whereas ours get 6 to 7 and a half, depending on how you drive them," Fitzgerald says. A newly glidered road tractor sells for about $95,000; a complete dump truck costs $98,000 to $105,000.
Fitzgerald offers Cummins N14s and Caterpillar C-15s as well as the Series 60s. For another $2,500 a buyer can get a three-year/300,000-mile warranty on a Detroit engine, which is completely rebuilt with new parts; only the block and crankshaft are used. Reman'd components usually carry a warranty from their manufacturers.
Indiana Phoenix president Joe Elkins says popularity of its glidered front-discharge mixer trucks has grown since the advent of the '07 diesels. Customers can send in major components for reuse or trade in worn-out trucks. Phoenix can also find "donor" trucks and components for so-called Certified and Super Gliders. Terex Advance offers similar products and sees much interest in the gliders due to the high cost of EPA '07 diesels, says Rob Turner, Midwest sales manager.
An assembled glider costs considerably less than a new truck — at least 25 percent less by federal regulation — and works just as well, say those in the business. And if done properly, it is not subject to the 12 percent federal excise tax on new trucks. To avoid the FET, the Internal Revenue Service requires that the price of a glidered truck must be less than 75 percent of the list price of a comparable new truck with the same equipment, according to Elkins and Fitzgerald. That's easy because new engines are so expensive.
Freightliner, Sterling and Western Star offer glider kits for several truck and tractor models. Peterbilt offers one. Manufacturers don't widely promote them because their appeal is limited and they compete with sales of new trucks. A few dealers assemble gliders and so do a few fleets.
In a startling announcement in mid-October, Daimler Trucks North America and its parent, Daimler AG of Germany, announced that they will eliminate Sterling Truck and close two factories, and consolidate remaining production in the Carolinas and Mexico. The major cuts will begin next March, with the closing of the Sterling plant in St. Thomas, Ontario, and proceed into 2010 with the closure of Daimler's Portland, Ore., plant, which assembles Western Stars and military Freightliners. Executives emphasized that existing Sterling trucks and any built before the shutdown will continue to be supported by Sterling dealers.
The restructuring will terminate about 2,300 assembly workers and another 1,200 to 1,500 administrative people, many in Sterling's headquarters in Redford, Mich. It will shift Portland production to Mexico and North Carolina, and keep Freightliner and Western Star operations intact, executives said. They blamed the cutbacks on the sluggish economy, poor truck sales and higher manufacturing costs. There is considerable overlap among Freightliner and Sterling models, and that will be ended by eliminating Sterling. Western Star has a premium image and will continue in highway hauling and heavy vocational markets.
Cat, Navistar developments
Earlier in the year, Caterpillar Inc. announced that it would drop out of the North American truck-engine business by 2010. Cat cited industry consolication and the trend by OEMs to develop their own engines, which has made it increasingly tough for independent vendors to compete.
Cat will continue to support all truck engines it has sold over the years, and will continue to build engines for its own off-road machinery, which comprise 90 percent of the Engine Division's activity. Cummins will be the sole surviving independent come 2010.
Cat and Navistar International, meanwhile, agreed to collaborate in truck sales, with Cat's overseas dealers to handle International medium- and heavy-duty trucks and Navistar supplying a Cat-branded heavy vocational truck starting in 2010. Navistar will thus greatly expand truck sales in China and other Asian countries, and perhaps elsewhere. And Cat dealers here will have something new to sell, a situation that has angered International dealers.
Navistar also announced a joint venture with American LaFrance that will have LaFrance building vocational trucks using International engines and possibly other components. LaFrance now makes the Condor heavy low-cab-forward truck originally designed by Freightliner, plus a Class 7 variant. These probably will be the basis for the new trucks, which will be sold through International dealers and perhaps LaFrance's, too.
Finally, Navistar and General Motors have cancelled a pending deal which would have had Navistar buying GM's medium-duty truck business. GM will keep the business for now, but indicated the sale could be revived when the economy brightens.